Live on Facebook and YouTube
Close Encounters: Theodor Kittelsen's "The Black Death"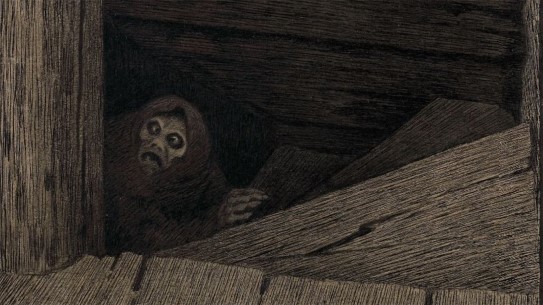 One year ago no one imagined that the dark theme of Theodor Kittelsen's "The Black Death" from the 1890's would become that relevant to us today. It is almost like you can feel her standing next to you when you peer into "Pesta's" hollow face. Why did Kittelsen choose this old, crooked creature as the symbol of the plague that hit Norway in the middle of the 14th century? What inspired the artist in his time? Which techniques did Kittelsen use to convey the sense of gloom in his drawings?"
In this live broadcast from the National Gallery's conservation studio, you will meet Tina Grette Poulsson, paper conservator at the National Museum, Møyfrid Tveit, curator at the National Museum and a specialist in Kittelsens works on paper, and, not least, the Black Death herself.
When we go live on Facebook and YouTube, you can ask questions about the work in the comments field and we will do our best to answer your questions.
Is there something you already know you want to ask? Feel free to send us your question right away. You can ask questions in Norwegian and English.
The event is in English. A version with Norwegian and English subtitles will be published on YouTube after the live event.
Close Encounters is a new online series from Nasjonalmuseet, where we get close to some of the highlights of the paintings and drawings collection.
Watch the recording of the event from 16 February 2021 here: