Live on Facebook and YouTube
Close Encounters: Harald Sohlberg's "Winter Night in the Mountains"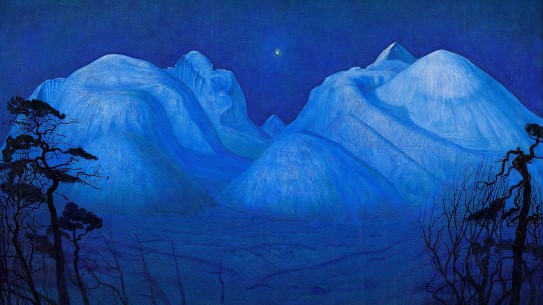 Get to know what has been called Norway's "national painting"; Harald Sohlberg's "Winter Night in the Mountains" from 1914. What does this blue painting of the cold winter night in the mountains symbolize? Did the artist actually paint this outside in the freezing cold? What are the challenges facing the conservators when they wish to preserve this painting for the future? 
In this live broadcast from the National Gallery's conservation studio, you will meet Thierry Ford, paintings conservator at the National Museum, Mai Britt Guleng, curator at the National Museum and Sohlberg specialist and, not least, the blue winter night itself. 
When we go live on Facebook and YouTube, you can ask questions about the work in the comments field and we will do our best to have your questions answered by the experts. 
Is there something you already know you want to ask? Send us your question via Facebook.
The event is held in English. A version with Norwegian subtitles will be published on YouTube after the live event. 
"Close Encounters" is a new online series from Nasjonalmuseet, where we get close to some of the highlights of the paintings collection. 
Watch the recording of the live broadcast here: