The Dance of Life – The collection from antiquity to 1950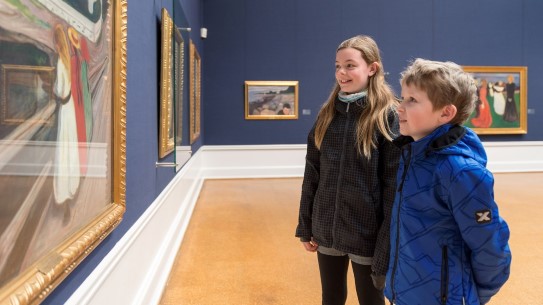 The National Gallery was temporarily closed 13 January 2019
With more than 4,000 paintings, 1,000 sculptures and nearly 50,000 works on paper, the National Gallery's art collection is the most comprehensive and wide-ranging in Norway, and one of the largest of its kind in Northern Europe. The public is invited on a journey through art history from antiquity to 1950, with an emphasis on Norwegian art after 1800.
Highlights
The exhibition presents a chronological overview of more than 300 Norwegian and international masterpieces from the Renaissance, the Baroque period, Romanticism, Realism, Impressionism, Symbolism, Cubism and modern abstract art. Special attention is devoted to paintings by J.C. Dahl and Romanticism, Christian Krohg and Realism, Edvard Munch's renowned works, as well as Norwegian evocative painting from the turn of the last century.
The Scream, Madonna, The Sick Child, and The Dance of Life are but some of the highlights of the museum's ample collection of works by Munch. Other highlights include Tidemand and Gude's national-romantic masterpiece Bridal Procession on the Hardangerfjord as well as the perhaps most important work of Norwegian neo-romanticism, Harald Sohlberg's Winter Night in the Mountains. Christian Krohg is well represented in the exhibition, with key works such as the poignant Albertine to See the Police Surgeon.
International works of art
International works of art include Greco-Roman sculptures and several paintings by the German artist Lucas Cranach. The Penitent Mary Magdalene by the Italian artist Artemisia Gentileschi, a woman who was also one of the most accomplished painters following Carravaggio, is one of the featured highlights from the Baroque era.