Gerhard Munthe. Enchanted Design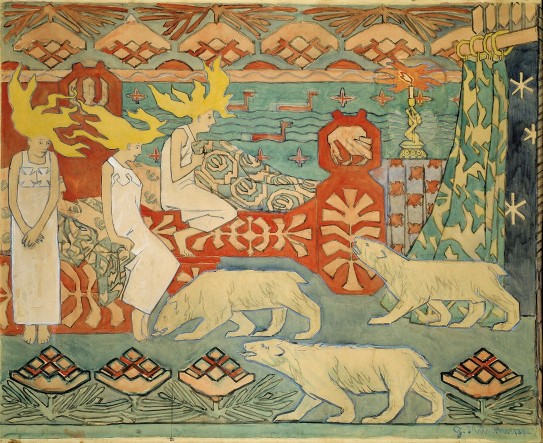 Although Gerhard Munthe (1849–1929) is probably best known as a painter, his most original, important contributions were in the areas of design and interior decoration.
The exhibition is the largest presentation of Munthe's design and craft since 1917, with 250 works showcasing his comprehensive efforts as an artist for the industry.
In 1891 Gerhard Munthe said that Norway's national industry did not incorporate any uniquely Norwegian pattern, but had borrowed everything from somewhere else. This "drew my attention to industry", Munthe said, and he went on to create over eighty different designs for wallpaper, textiles, porcelain and graphic art. He later expanded his repertoire to encompass furniture, silver, book bindings, illustrations, typefaces and bookplates.
Extravagant interiors
Munthe worked alongside, and somewhat in the forefront of, the Art Nouveau movement. His design is independent and original, drawing on Antiquity, Norwegian folk art and Japonisme.
Munthe was particularly devoted to interior décor and design. His largest works in these areas include King Håkon's Hall in Bergen, the fairy tale room at the Holmenkollen Tourist Hotel, the Museum of Decorative Arts and Design in Oslo, the Strand Gård Farmhouse in Numedal and Thomas Cathinco Bang's dining room in Christiania. In addition to the wall ornamentation, he also designed furniture, doors and other fixtures for these venues. In doing so, these works became part of the country's first Gesamtkunstwerk.
Snorri illustrations
Gerhard Munthe's most significant contributions as an illustrator/designer came in his work with the 1899 deluxe edition of Snorri Sturluson's Heimskringla. He drew the entire set of vignettes and a number of the illustrations as well as the book's binding.
Later works in tapestry, silver, woodcarving and porcelain were modelled on many of the vignettes Munthe created for Heimskringla. The Porsgrunds porcelain factory employed many of his vignettes on platters and vases and the J. Tostrup and David-Andersen goldsmith firms created jewellery based on Snorri motifs. In addition, Munthe decorated the Norwegian pavilion at La Biennale di Venezia in 1907 using, among other things, woodcarvings based on Heimskringla motifs.