Exhibition opening: "Coming into community"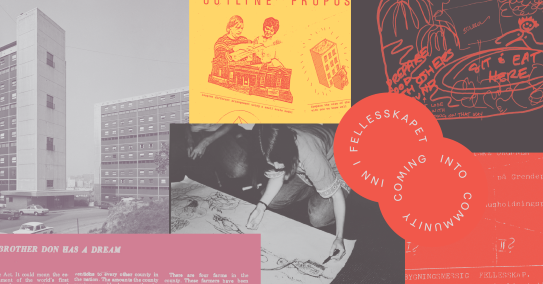 Welcome to the opening of "Coming into community", the National Museum's contribution to this year's Oslo Architecture Triennale!
What is the significance of community in LGBTQ+ circles? How have ideas about community influenced architecture and urban planning? What is it that makes us feel safe in a particular space? Can architecture help nurture our relationships with other people?
The Oslo Architecture Triennale, which has taken place every three years since 2000, is the Nordic region's largest festival of architecture. In 2022, the theme of the Triennale is the neighbourhood as community space. Coming into community at the National Museum – Architecture consists of an installation in the Pavilion by the Swedish architecture and art collective MYCKET and an exhibition in the Bucher Room. Coming into community is part of Queer Culture Year 2022.
The opening event at the National Museum – Architecture will include speeches and interventions by artists including the drag queen Penetra Schön. Refreshments will be served.
The event is open to the public free of charge.

Please use the entrance at the back of our building at No. 3 Bankplassen.