Pre-party: Coming into Community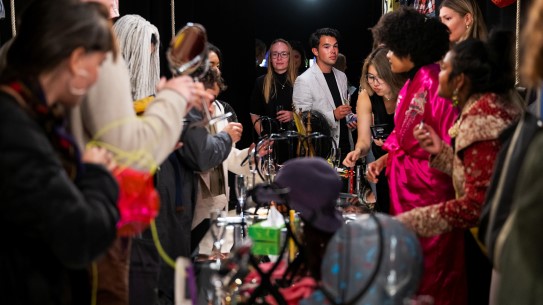 Join us for a jam-packed evening in the National Museum - Architecture! There will be an artist talk, drag performance, make-up, music and dancing.
The pre-party will take place in the installation by the Swedish art and architecture collective MYCKET, in the museum's pavilion.
The program starts at 6pm with an artist talk by MYCKET. Katarina Bonnevier, Thérèse Kristiansson and Mariana Alves Silva, who together make up MYCKET, will talk about their practice based on the club-inspired installation they have created in the museum. This will be a performative conversation, with elements of drag and make-up.
After the conversation, you will have the opportunity to put on a little extra make-up and get ready for the party. Drag artists Briar The VaudeVillain and Kiki Helsinki, and designer and make-up artist Lars Terje Gudem Hansen will be present at the make-up station to help you!
DJ Soldal from Kiki house of Meraki plays B2B (back to back) with DJ Dahir after the artist talk. Throughout their set, we'll be granted a visit from members of the Oslo ballroom scene; Thor, Hamda and Iris 007, Bodil, Celina and Karim Meraki, Gigi Angels and Vioma 007 on the mic. A universe of vogue femme, face, sex siren, runway and new way.
The pre-party is part of the public program for the exhibition Coming into Community, the National Museum's contribution to the Oslo Architecture Triennale. The Oslo Architecture Triennale is the Nordic region's largest architecture festival and has been organised since 2000. In 2022, the triennale focuses on the neighborhood as a place for community.
Coming into Community is part of the National Museum's program for Queer Culture Year 2022.
Entrance and participation is free, no booking required it is first come, first served. Drinks and light snacks will be available to purchase in the museum throughout the evening.