Girjegumpi. Sámi Architectural Library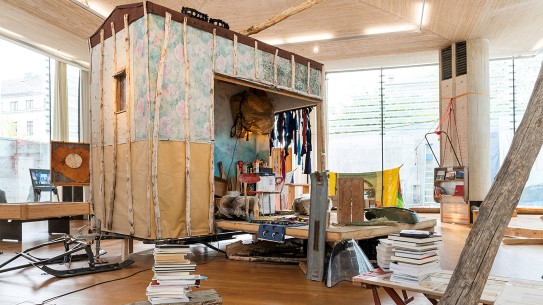 Opening hours
Sunday and saturday: 12–17
Monday: Closed
Tuesday, wednesday and friday: 11–17
Thursday: 11–19
The architect and artist Joar Nango has for several years collected books and other materials relevant to Sámi architecture. The title Girjegumpi is derived from two North Sámi words: "Gumpi" is a mobile cabin on runners, most often pulled by a snowmobile. "Girji" means book.  The compound word, and the work Girjegumpi, include a library, an archive and the construction in which these are stored and transported.
Nango's collection includes literature on Sámi building customs, indigenous architecture in general, architectural theory and postcolonial theory. It is also an artistic project and a platform for investigation and discussion. What actually is Sámi architecture? What can Sámi architecture be? When is architecture an exercise in oppression? And what is the role of the architect in the overall process?
Girjegumpi is a nomadic project that changes in different situations and contexts. It was exhibited for the first time in Harstad in 2018, during the Arctic Arts Festival. It has also been exhibited at the winter market in Jokkmokk, at the National Museum of Canada, and during the Bergen International Festival. When Girjegumpi is not travelling, it is based at the Sámi Center for Contemporary Art in Karasjok.