Guided tour Villa Stenersen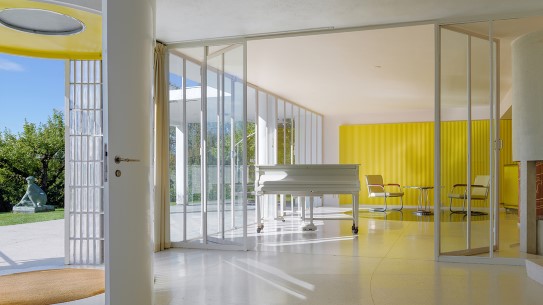 Book your guided tour
The guided tour at 2 pm is in english. The tour is free, but for only 10 people, and you have to book in advance.
Welcome to open house at Villa Stenersen every Sunday this summer! 
The guided tour at 2:00 pm is in English
Villa Stenersen was designed by architect Arne Korsmo, and is considered one of the most significant buildings within Norwegian functionalism.  
The house is one of Korsmos most famous works, and was drawn on commission from the art collector Rolf E. Stenersen in 1937-1939. The villa is protected by the National Heritage Board, and a gradual restoration of the house back to original colors and materials is underway. 
Feel free to stop by to play in the garden as well! 
Free entrance
Nasjonalmuseet is following government guidelines to make it safe to visit Villa Stenersen:
Max. 12 people inside the Villa at the same time 
Visitors must keep at least one meter distance from each other and from our employees 
If there is a queue, we ask our visitors to queue outside with necessary distance between each other
Antibac will be available at the entrance  
Wayfinding to Villa Stenersen
T-bane line 1 (Frognerseteren) to Vinderen or line 2 (Østerås) eller line 3 (Kolsås) to Borgen stasjon. The villa is a 10 min walk from both Vinderen and Borgen stasjon. The villa is located at the top of a small driveway accessed from Tuengen allé. NB: It is not possible to access the villa via Borgenveien.  
Visitors with a car can not park on the grounds or access the property by car, but will need to stop/park in Tuengen allé.  
Accessibility
The villa is sadly inaccessible for some. There is a staircase outside and inside with rails, and there is access for wheelchairs narrower than 90 cm to the 1st and 2nd floor with assistance from a member of staff at the villa.  
Opening hours: In the period May 30th to October 31st the villa is open to visitors every Sunday 12 - 01 pm.
1 pm guided tour in Norwegian
2 pm guided tour in English
3 pm guided tour in Norwegian