One early morning in February 2019, our conservators opened a box containing a blouse that once belonged to Queen Maud. It had only briefly been out since it was donated to the museum in 1961.
Text by Reidun Solheim, Communications Adviser.
As the box was opened, it released a scent of roses. Queen Maud's engagement to King Haakon VII was announced on 29 October 1895, when they were still Princess Maud of Wales and Prince Carl of Denmark. According to an older protocol, the blouse was originally wrapped in paper bearing the inscription "To be kept always".
A photograph of Queen Maud and King Haakon taken around the time of their engagement suggests that it may have been this lilac-coloured blouse the princess was wearing when the prince proposed to her.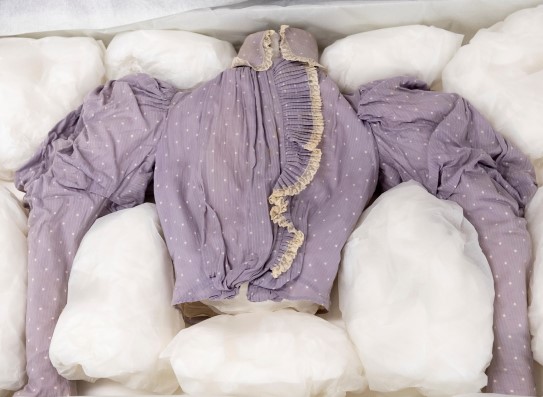 The information about the inscription comes from notes written by the chambermaids who evacuated Queen Maud's wardrobe. Just before the Royal Palace was occupied, the chambermaids Hilda Cooper and Violet Wond went fearlessly back and forth between the Royal Palace, the fashion house Molstad and The Museum of Decorative Arts and Design in city center. With them they brought some of the queen's most important garments, to hide and thus preserve them. They also provided the museum with crucial information about each garment.