Under the slogan "art and craft – a new unity", Bauhaus was founded by architect Walter Gropius in Weimar in 1919. For political reasons, Bauhaus had to move to Dessau and then to Berlin, before the Nazis closed it down in 1933. But the idea of art for everyone and the unification of all art forms had a major influence in the 100 years since the school first opened its doors.
The Bauhaus school
The art school was founded in 1919 in Weimar. It moved to Dessau in 1926 and then to Berlin in 1932, before the Nazis closed it down in 1933.
Exerted tremendous influence on modern architecture, design and art in its time and up to the present.
Also heavily influenced graphic design and typography.
Based on the idea of creating "Gesamtkunstwerk", or "total work of art", which aimed to combine all art forms, including architecture.
Was concerned with the principle of "art for everyone" and "Neue Sachlichkeit" (new objectivity), rationality, simplicity and functionalism.
Well-known teachers at the school included Walter Gropius, Mies van der Rohe, László Moholy-Nagy and Hannes Meyer.
The word Bauhaus comes from the German word Hausbau, which means "house building".
Celebrated its 100th anniversary in 2019 with several major exhibitions internationally and at the National Museum – Architecture with an exhibition and a lecture by Widar Halén.
Bauhaus had an immediate effect on contemporary aesthetics and the physical form of art, architecture and design – an impact which also reached Norway. There are many links with Norway and a number of Norwegians studied at Bauhaus.
– Widar Halén, DPhil, senior researcher at the National Museum
One of the Norwegian students was the sculptor Maja Refsum. She studied at the Weimar Academy, part of the Bauhaus school, in the early 1920s. Today she is best known for the Amalie Skram statue in Bergen; a prize-winning proposal for terracotta panels in front of Oslo City Hall, and for reliefs decorating the bar aboard the transatlantic passenger ship Oslofjord in 1937.
Refsum was a highly productive and active artist for several decades. She was also committed to promoting more women artists and improving their situation through many years of service in the Association of Women Artists.
– Widar Halén
Refsum exhibited at the Paris International Exhibition in 1937 and her extensive artistic production resulted in several exhibitions and commissions in the 1930s and 1940s.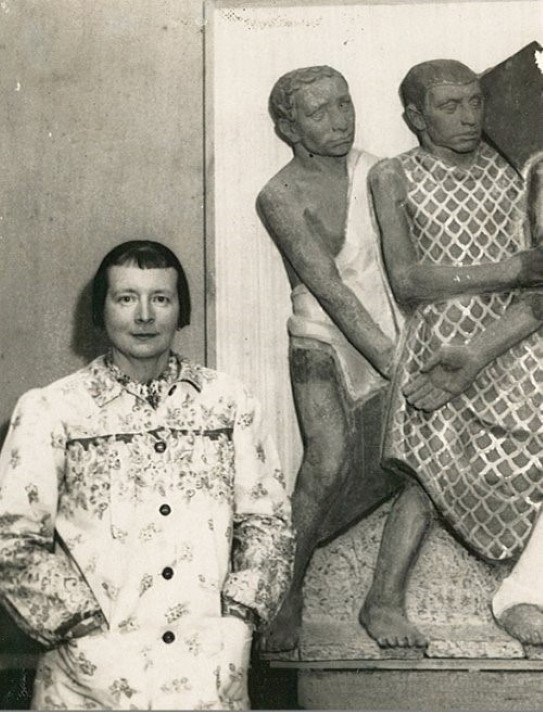 Iconic tea services
During her studies at Bauhaus, Refsum studied with Marianne Brandt, who became one of the best-known Bauhaus designers. She was married to Norwegian painter Erik Brandt. They therefore spent a great deal of time in Norway until their divorce in 1935.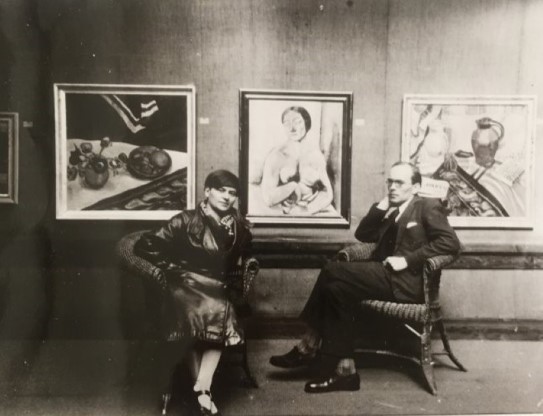 Marianne Brandt originally studied visual arts, but she was so profoundly affected by her meeting with architect Georg Muche's modernist residence Haus am Horn in 1923, that she left the visual arts for good. She began instead in the arts and crafts department at Bauhaus. In 1924, she became the first and only female student in the metalwork department of the well-known Hungarian artist László Moholy-Nagy.
Director Walter Gropius had previously placed all female students in the weaving workshop, based on the idea that "where there is wool, there are women". Women were not usually allowed in the metalwork department, and it would seem that they gave the young Brandt particularly difficult tasks to make her give up. Among other things, she had to hammer out spherical objects in hard metals. But Brandt did not give up.
– Widar Halén
The result was coffee and tea services with spherical and hemispherical shapes in metal, considered iconic today.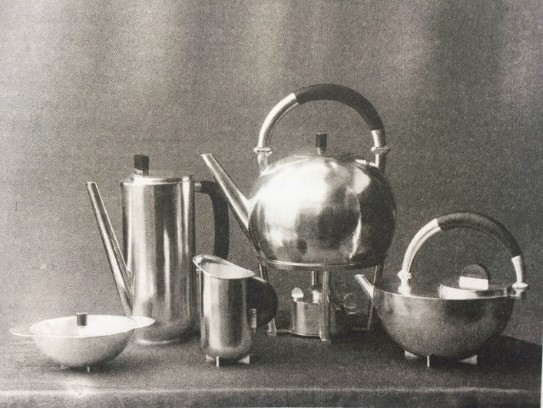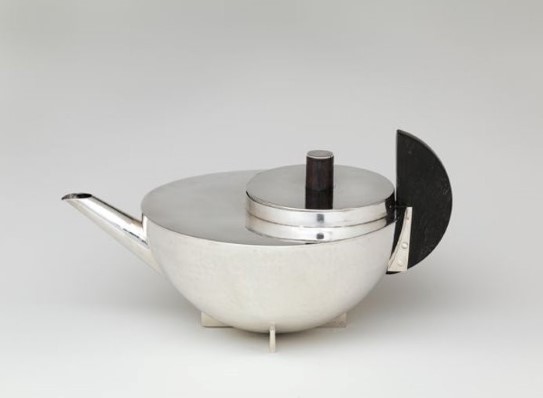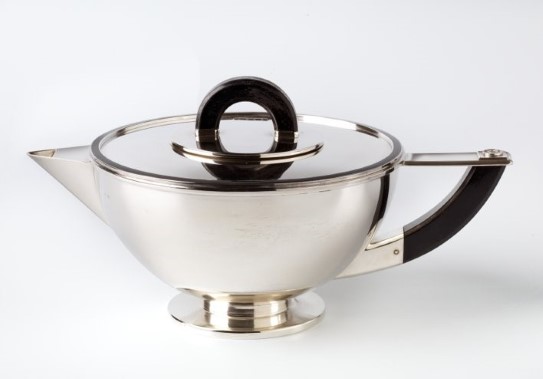 Marianne Brandt left Bauhaus in 1929 and was hired by Director Walter Gropius' architects' office in Berlin. In Berlin, she was also involved in the construction of the housing project Karlsruhe-Dammerstock (1928–29) and was a designer for the metal products factory Ruppelwerk, where she revitalised the factory's entire design range.
Something radically new
Inspired by Brandt, Bauhaus and the new shapes, the artist and goldsmith Thorbjørn Lie-Jørgensen created a radical pitcher, consisting of two simple shapes – an oval body with a truncated cone as neck and spout. The pitcher was innovative in its simplicity and was exhibited during the international exhibitions in Brussels in 1935 and in Paris in 1937. Several of Lie-Jørgensen's works are inspired by forms found in Marianne Brandt's design, and by what she called "the eccentric oval".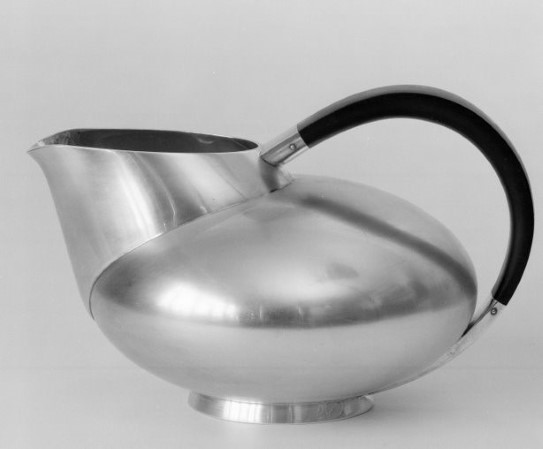 When "Gold-Jørgen" exhibited in Stockholm in 1929, Swedish newspapers saw references to "German tendencies" and "something radically new" in his silver designs for David-Andersen. The principle of an "objective", rational, and user-friendly design – "Neue Sachlichkeit", was important at Bauhaus and permeated Lie-Jørgensen's designs.
Lie-Jørgensen never studied at Bauhaus, but knew Marianne Brandt well personally and was likely greatly influenced by her designs.
– Widar Halén
Textiles for a new architecture
The Yugoslav Bauhaus weaver and designer Otti Berger (1898–1944 or 45) travelled to Norway in the summer of 1929, when she visited Oslo and Bergen.
She was impressed by the textiles she saw in the Museums of Decorative Arts and Design in Oslo and in Bergen.
– Widar Halén
"These works are exemplary and you should continue to weave in this way", Berger enthusiastically told Bergens Tidende, 18.07.29.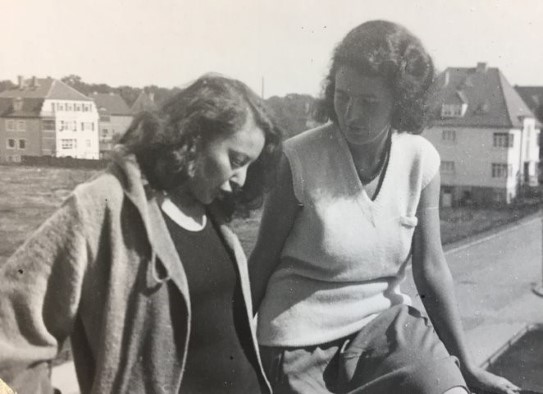 Berger started at the weaving school at Bauhaus Dessau under Gunta Stölzl and studied design and colour with Paul Klee and Wassily Kandinsky. In 1927, architecture was added to the studies offered at Bauhaus. At the weaving school, textiles were to be made for the new architecture. Berger became one of the leading textile producers. Unfortunately, her career was cut short – she died in Auschwitz in 1944 or 1945. The date of her death remains unknown.
A Norwegian on a motorcycle
The Norwegian architect Ola Mørk Sandvik arrived at Bauhaus in style, on a motorcycle. From 1931 he studied under the German architect Ludwig Hilberseimer, who was engaged to Otti Berger.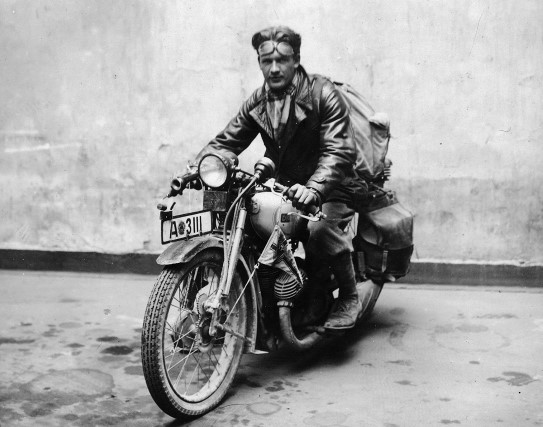 Today Sandvik is perhaps best known for Slemdal school, built in 1939. He was also an assistant on Finn Bryn and Johan Ellefsen's project for a new vestibule in the Physics building at Blindern and worked especially with the interiors. This is a building that is clearly inspired by Bauhaus.
– Widar Halén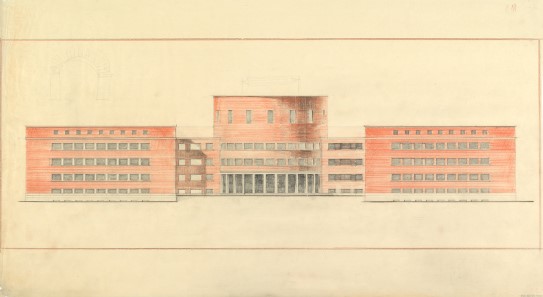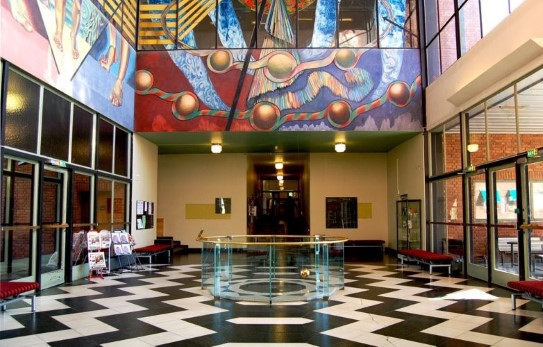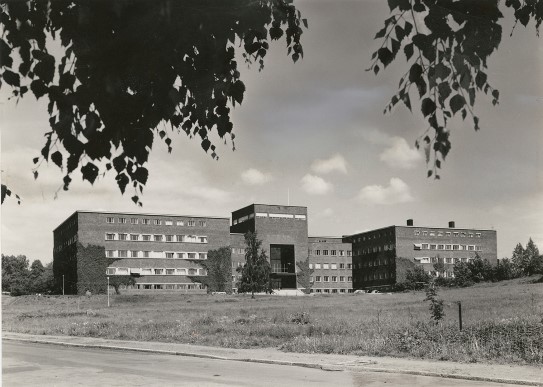 Sandvik worked the rest of his life in the Bauhaus tradition, but rarely mentioned his stay there. For a long time after World War II, German affiliation and influence remained a taboo subject in Norway.
Artists and designers rarely talked about their studies or other connections to Germany. So we can assume that there are more connections between Bauhaus and Norway than we know about. This was confirmed in the exhibition Bauhaus in Norwegian at the Henie Onstad Kunstsenter in 2014.
– Widar Halén
Bauhaus in Norwegian houses
Another Norwegian architect, Hans Mollø-Christensen, studied at Bauhaus at the same time as Sandvik. Upon his return to Norway, Mollø-Christensen was hired by Arne Korsmo. He was, among other things, Korsmo's assistant on the project Villa Benjamin (1935).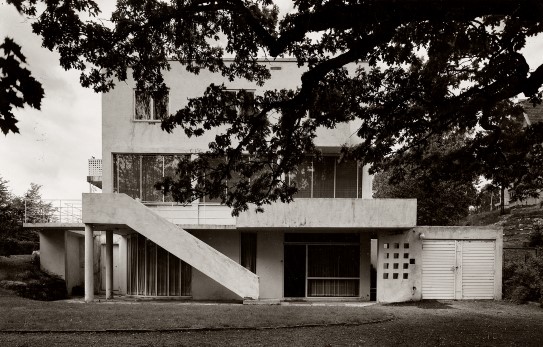 Villa Benjamin combines the practical with the aesthetic, as well as several personal features requested by Benjamin himself. Here there are many large windows and large rooms with open layouts. You can clearly see the Bauhaus style in many of Korsmo's works, including in Villa Stenersen.
– Widar Halén
Korsmo studied at the New Bauhaus in Chicago in the 1940s and '50s. Villa Stenersen (1937) is one of Korsmo's best-known works and one of the most important buildings in Norwegian functionalism.
The Norwegian architects Finn Bryn and Herman Munthe-Kaas, as well as the artists Sigurd Alf Eriksen and Finn Nielssen also visited Bauhaus. Eriksen was one of the first Norwegian professional artisans in the arts and crafts tradition to have their own studio. Here he created abstract enamel works and the first modernist jewellery in Norway.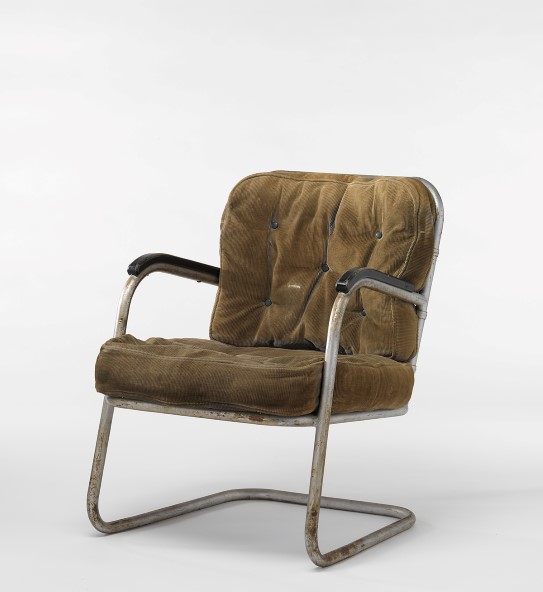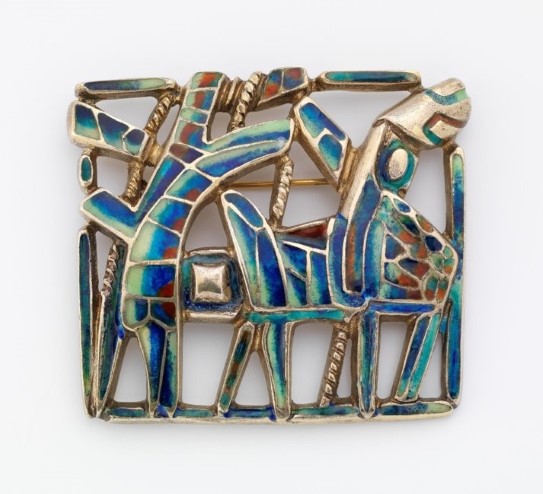 When Finn Berner, architect and professor of architecture, was appointed as head of the Norwegian Institute of Technology (today's NTNU) in 1927, expectations were raised of a renewal that were not fulfilled. The students protested and demanded new studies "based on the new methods at Bauhaus Dessau" (Dagbladet 02.04.30).
The students were encouraged when the two well-known German functionalists, Erich Mendelsohn and Hannes Meyer, visited Oslo in 1932. The former was in Oslo in connection with a feasibility study for the Dobloug building. In the end, the Norwegian Institute of Technology had to accede and give the studies a more social focus.
Hannes Meyer, head of Bauhaus from 1928 to 1930, moved the school in a more social and industrial direction, but he eventually had to leave Germany because of his radical approach. From 1932 to 1936 he worked in the Soviet Union. During the Oslo visit, Dagbladet reported that Meyer was "the innovator who was thrown out of Bauhaus" (Dagbladet 13.12.32).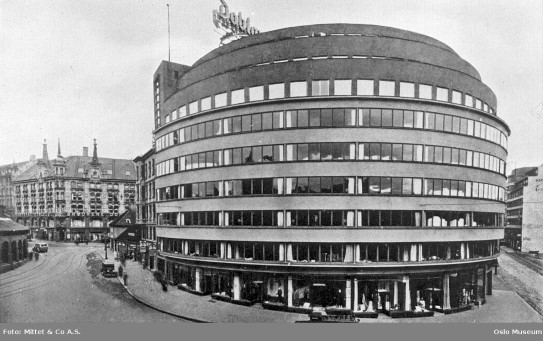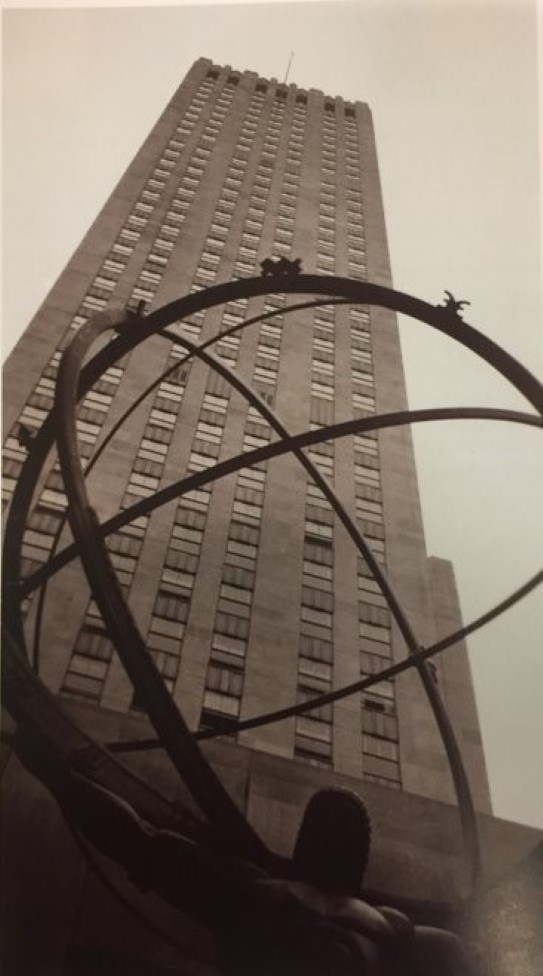 "Flat roofs are unGerman"
The exhibition Recent German Art, at Kunstnernes hus in 1932, was inspiring to many of the German-oriented Norwegian artists. Among the 78 artists participating were four professors from Bauhaus; Oscar Schlemmer, Leyonel Feininger, Paul Klee and Georg Marcks. Schlemmer and Marcks had previously taught Maja Refsum. The newspapers reported that "a particular rigour" characterised the exhibition (Stavanger Aftenblad, 16.01.32).
In the summer of 1932 it became known that the Bauhaus school was under threat by the Nazis. "Unfortunately, it looks like Bauhaus must close", Ola Mørk Sandvik told Aftenposten on 16.07.32. He continued:
The National Socialists demand it. We build flat roofs and they say this is "unGerman".
Just before the school was closed down in the fall of 1932, the young painter Finn Nielssen visited Bauhaus. He reported to the newspapers Fædrelandsvennen, Gudbrandsdalen and Dagbladet in November 1932 on the closure: "Bauhaus is glass, steel and concrete", he wrote. Nielssen strongly regretted that he arrived just as the school was closing and condemned the Nazis for closing down the school. He continued:
Many people have a sense of what Bauhaus stands for, but few fully understand the importance it has for everything called modernism in architecture, room decor, the furniture industry, photography, advertising, etc.
During his visit, he was shown around by the influential architect Mies van der Rohe.
What an inspiring, clean work environment – bright and airy. I condemn the Nazis who stick their ignorant hands into this. I continue to condemn them while sitting on a local train in the evening. Across from me in the compartment I have a petty bourgeois group who voted for Hitler during the last election: 'now you see the glass building for the last time – now it will be demolished'.
Rebirth for Bauhaus
In spite of its sad end, Bauhaus had a major impact long after the school closed. Gropius became a professor at Harvard; Moholy-Nagy, Mies van der Rohe and Ludwig Hilberseimer founded New Bauhaus in Chicago in 1937 – which later became the Illinois Institute of Design.
Norwegian artist Carl Nesjar said he heard Moholy-Nagy's lecture in New York just after arriving in the U.S. This was in the fall of 1937 at the Pratt Institute – School of Fine and Applied Art in Brooklyn, where Nesjar was a student from 1936 to 1938.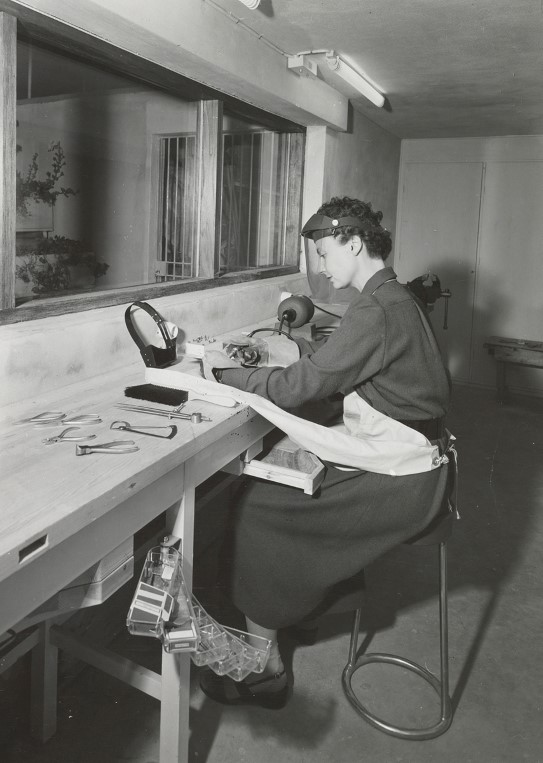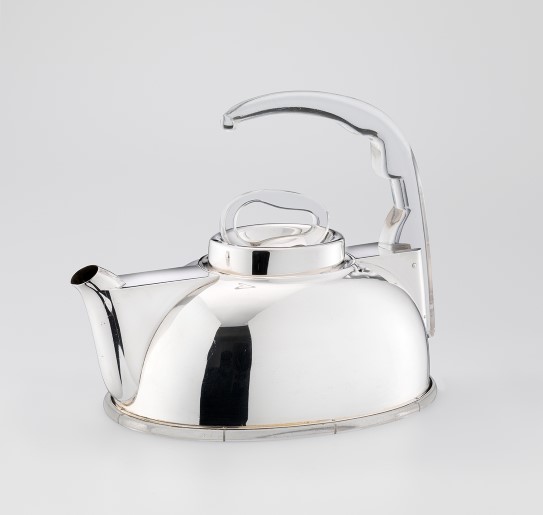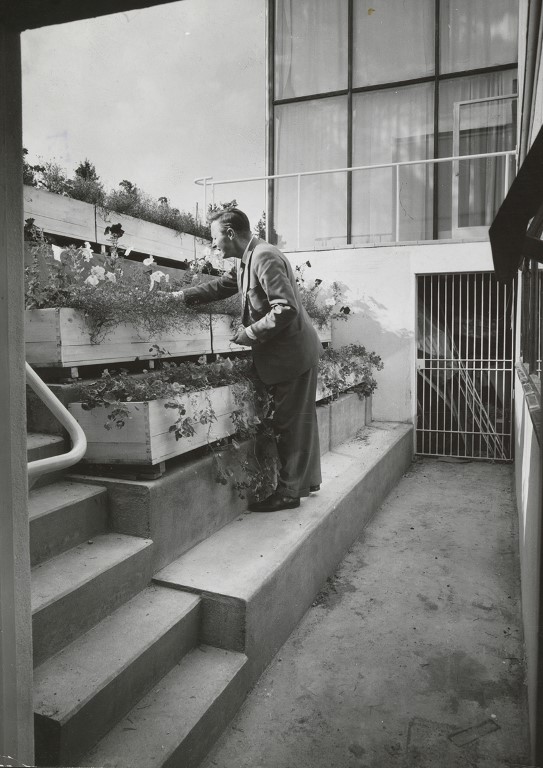 Two other key Norwegian designers and architects – Grete Prytz and Arne Korsmo – studied at the New Bauhaus – Illinois Institute of Design in 1949 and 1950.
In the U.S., they met Gropius, Mies van der Rohe, Anni Albers and several other Bauhaus teachers. Via them, Bauhaus came to leave its mark on much of post-war design and architecture in Norway.
– Widar Halén
When did they live?
Bauhaus professors and directors:
Walter Gropius (1883–1969)
Oscar Schlemmer (1888–1943)
Leyonel Feininger (1871–1956)
Paul Klee (1879–1940)
Georg Marcks (1889–1981)
Ludwig Hilberseimer (1885–1967)
Wassily Kandinsky (1866–1944)
Gunta Stölzl (1897–1983)
Georg Muche (1895–1987)
László Moholy-Nagy (1895–1946)

Bauhaus students referred to above:
Otti Berger (1898–1944/45)
Ola Mørk Sandvik (1911–1993)
Hans Mollø-Christensen (1912–1971)
Maja Refsum (1897–1986)
Marianne Brandt (1893–1983)
Erik Brandt (1897–1947)
Arne Korsmo (1900–1968)
Grete Prytz (1917–2010)

Other Norwegians who were influenced by Bauhaus:
Hanna Visund (1881–1974)
Finn Bryn (1890–1975)
Herman Munthe-Kaas (1890–1977)
Sigurd Alf Eriksen (1899–1991)
Finn Nielssen (1908–1962)
Carl Nesjar (1920–2015)
Thorbjørn Lie-Jørgensen (1900–1961)
Sources
Senior researcher at the National Museum, Widar Halén, DPhil.
The lecture Bauhaus 100 år: Forbindelsene til Norge (Bauhaus at 100 years: Connections to Norway), held by Widar Halén, PhD, at the National Museum – Architecture, 10.10.2019.
Lars Mørch Finborud and Milena Hoegsberg (ed.), Bauhaus på norsk(Bauhaus in Norwegian), (Henie Onstad Kunstsenter, 2014).
Ibid: Widar Halén, "Marianne Brandt, Bauhaus og Norway", pp. 10–37.
Widar Halén, "The Bauhaus Weaver and Textile Designer Otti Berger (1898–1944/45): her Scandinavian connections and the tragic end of her career", The Decorative Arts Society Journal, No. 43, 2019, pp. 114–149.
Kirsten Ruud Salomonsen, "Norway before the Bauhaus: the teaching of Norwegian Design, 1919–1952", Scandinavian Journal of Design History No. 15, 2005, pp. 90–99.
Elizabeth Otto and Patrick Rössler, Bauhaus Women – A Global Perspective, (London 2019).
Bauhaus, Wikipedia: https://en.wikipedia.org/wiki/Bauhaus
Maja Refsum, from Norsk-biografisk leksikon entry on Maja Refsum - nbl.snl.no: https://nbl.snl.no/Maja_Refsum
Funksjonalisme – arkitektur (Functionalism – architecture), from Store norske leksikon: https://snl.no/funktionalisme_-_architektur