Text by Janne Arnesen, Collections Assistant
Before World War II pirated copies of dresses from major international fashion houses were common. Several fashion designers tried to combat this by demanding stricter legislation and trying out different licencing schemes.
After the war, the French fashion industry was even more on the offensive. The press could be ordered to censor pictures of garments that were genuine products. This was done by printing broad lines over the garment, leaving only the silhouette.
Those who wanted to attend the fashion shows also had to pay a hefty admission fee. This is how the fashion houses tried to lock out the more questionable spectators. In the 1950s, Norwegian fashion companies such as Molstad, Silkehuset and Steen & Strøm paid NOK 5 000–10 000 to attend Dior's shows. At current exchange rates this would amount to around NOK 100 000–200 000.
Copy on licence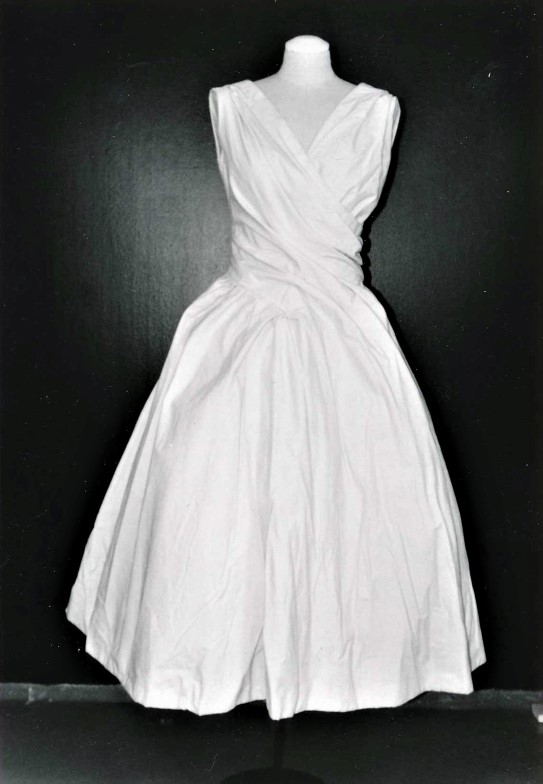 This was not a total waste of money for the Norwegian fashion houses. The payment served as a kind of deposit, guaranteeing that the companies would purchase products equivalent to the amount of the admission fee. This amount did not buy them a complete collection, however. The sum included one original Dior creation, two samples in cotton – so-called toiles – or three paper patterns. The test samples and patterns allowed buyers to produce their own copies, so-called licenced versions, also referred to as bonded couture models. Since the original outfits were often too small for Norwegian customers, the Norwegian buyers preferred toiles and paper patterns. Toiles also had the advantage of demonstrating both construction and seams, as well as the various fabric layers.
This form of licencing was an attempt by Dior to prevent piracy by offering original designs to European and American fashion houses. Having the rights to the licenced copies also conferred great prestige on the buyers.
Licenced production of Parisian fashion was common in Norway between 1950 and 1970. Later, the fashion industry faced fiercer competition from manufacturers of mass-produced garments, and the Norwegian companies closed down what were referred to as their model salons. This is where they had produced tailor-made clothing according to French and in-house designs. Over time, this chapter in Norwegian fashion history ended up in the museum.
Piracy
Fashion design piracy is a phenomenon as old as the fashion industry itself.
Pirate copying of dresses from the major fashion houses was also a big problem even before WWII.
Madeleine Vionnet and Coco Chanel were among those who spearheaded moves to stop design piracy. They fought for stricter legislation and tried out different licencing schemes.
In the period before and after WWII, the fashion industry was one of France's most important sources of income. This has meant that the country today has some of the world's most stringent laws for protecting fashion designs.
How can we know if something is a legal copy?
The National Museum has a number of dresses from various French fashion houses in its collection. Some of them were purchased by customers visiting Paris, while others are known to have been sewn in Norway, either because the donor has provided detailed information or because the garment is tagged with one or more brand labels. The collections also contain examples of the toiles mentioned above.
Professionally manufactured garments can often be identified by the labels sewn into them. Today, it goes without saying that garments carry a label, but this has not always been the case – not until English fashion designer Charles Frederick Worth founded the legendary House of Worth in 1858. Worth believed that clothing could and should be considered a work of art in itself. Accordingly, it should be signed, just as artists sign their canvas. This was reflected in the House of Worth's label, which was a reproduction of Worth's signature.
Labels are also invaluable when design historians want to identify historical outfits. Sometimes labels are the only tangible evidence garment detectives have to go on. This is also the case with the Dior creations that are currently in the National Museum's collection and at which we will now take a closer look.
Dior in the National Museum's collection
The National Museum has a total of 25 Dior objects in its collection.
Nine of these are toiles.
Eight are actual garments.
Seven are pairs of shoes and accessories.
There is also one paper pattern.
Most of the museum's garments were made in Norway, often by Molstad, but also at Silkehuset and Steen & Strøm.
A genuine Dior?
A central licensed dress in the collection is a green silk dress from around 1958. It does not have a label, but according to previous information it previously had labels from both Dior in Paris and Silkehuset in Oslo. We do not know what happened to the labels.
The dress was long registered with little Dior information in the museum's database. During a review of the toiles in the collection, the same creation suddenly turned up. The toile is marked with "Patron Original Christian Dior Paris 89487" and "Robe Venezuela". The latter is the name of the actual model, and through this information the dress can be traced to the Fuseau collection of Fall/Winter 1957–1958. The dress thus gets both a name and a context. Although both the sample and the design are French, the green dress was made in Norway. It was made for a Norwegian customer at Silkehuset in Oslo. Here we have nothing less than a Norwegian-made Dior dress!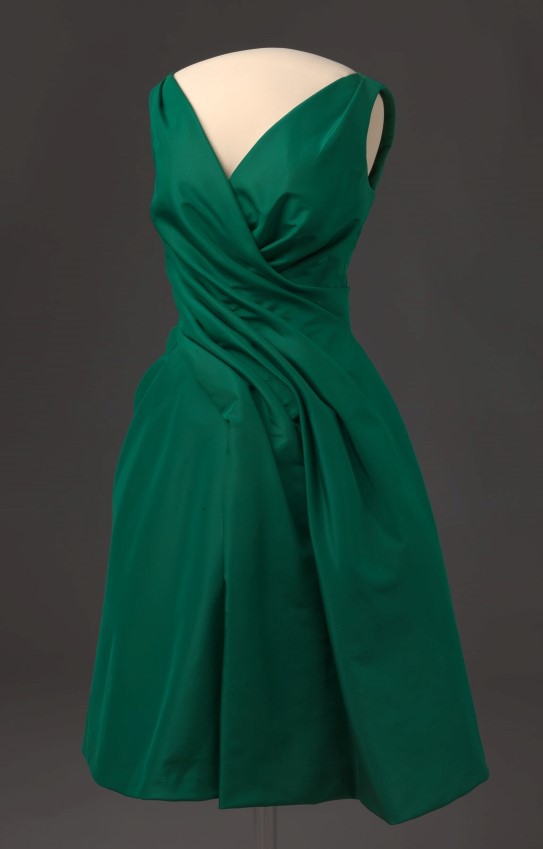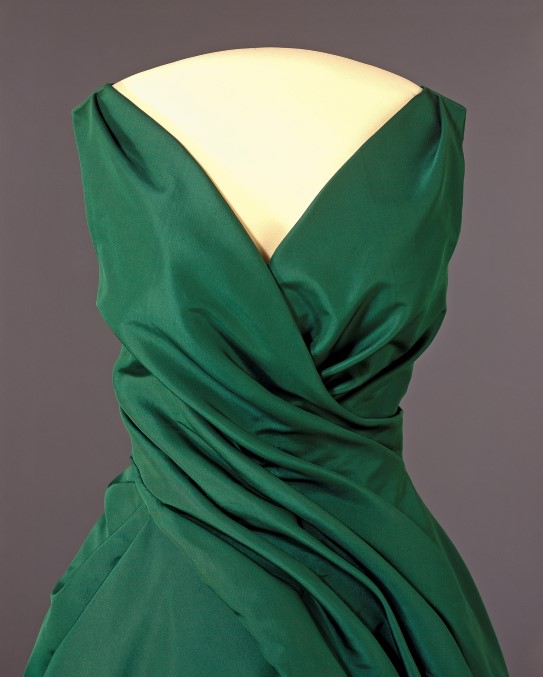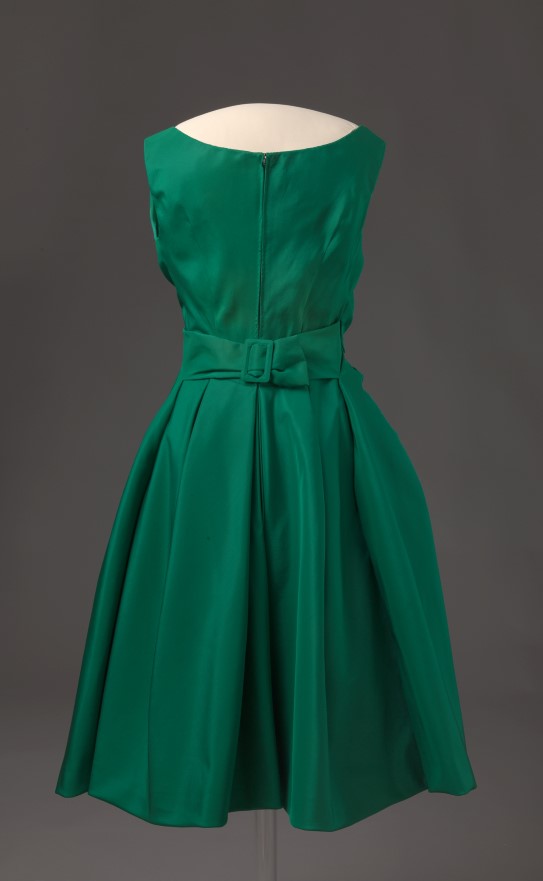 The long-sleeved dress below, with a bell-shaped skirt, only occurs as a toile in The National Museum's collection. The dress has an intricate waist detailing which flows out to form the bell shape of the skirt. This Y-shape, combined with the brand label "Patron Original Christian Dior Paris 76473" allows it to be traced to the Y collection from Fall/Winter 1955–1956.
The dress model itself is called Zémire, and was intended to be made in black, though a version in red is held by the Royal Ontario Museum in Toronto, Canada. Unfortunately, the National Museum does not have a finished version of this garment. However, it does have a light blue dress from the 1950s that is very similar, but with short sleeves and no buttons. It may have been made according to the same pattern, but altered to the customer's specifications. The dress was made by Molstad in the 1950s, and carries only Molstad's label.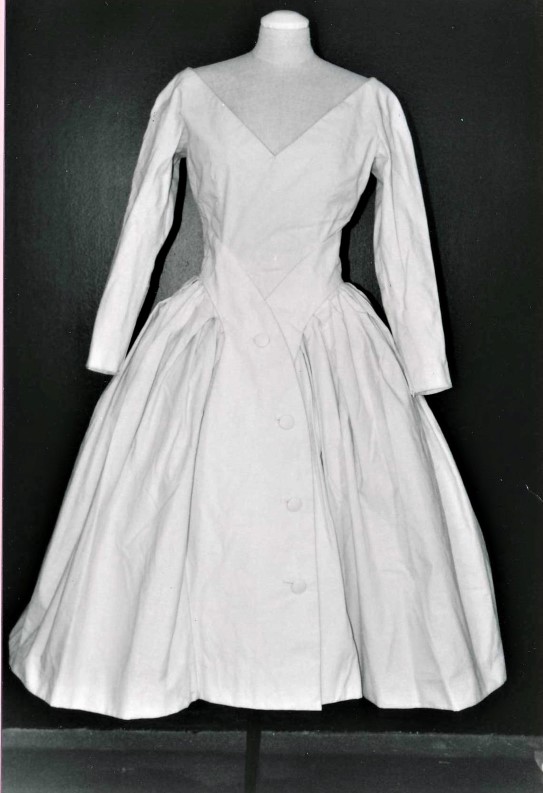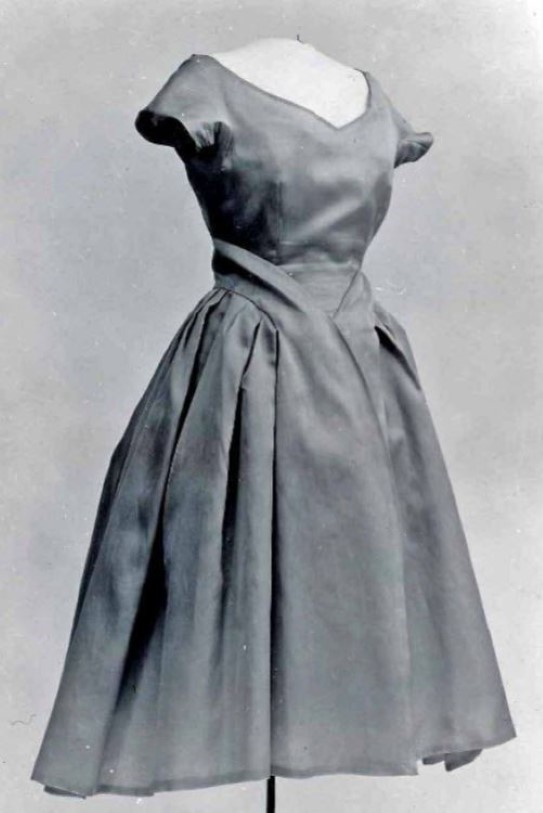 Another toile, a short top with a wide collar and bow at the front, is marked "Patron Original Christian Dior Paris 91823". Originally it was missing a date in the museum's database, but by using the creation number it can be traced to a red dress ensemble by Dior from 1958. By this method the garment is placed in context and accurately dated.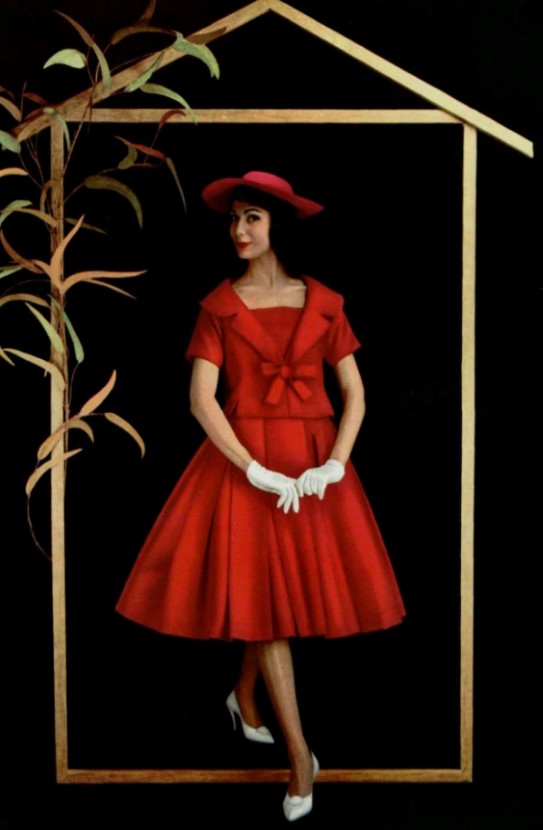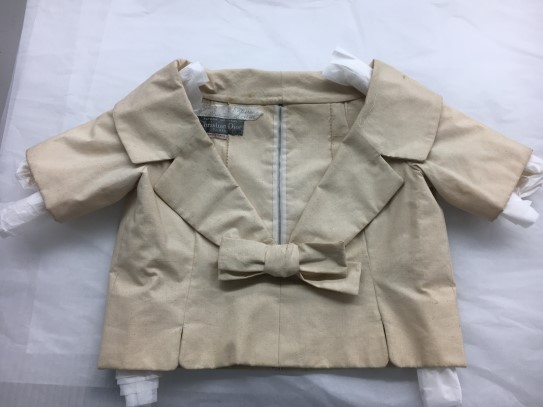 The National Museum's collection also contains an original paper pattern. Looking up the inventory number in the database today, only reveals a pink typed index card, but the information on this card is valuable. It describes an original pattern from Dior, and a hand-drawn copy made by master seamstress Karin Hornnæs (who was associated with both Molstad and Silkehuset). The pattern is marked Monte Carlo. A search of other museum databases shows a bell-shaped dress which is draped over the bust, from Dior's spring/summer (alt. SS) 1956 collection. The dress is found in different types of fabrics in other museum collections, including the original cream version in the National Gallery of Victoria in Australia, and a floral version at the Victoria & Albert in London, UK.
This side of Norwegian fashion history is unknown to most people today. But for those who got to experience the Norwegian fashion houses in their heyday, "Paris creations" such as these from Dior were a natural part of the big fashion dream of the time.