Text by Curator Anne Sommerin Simonnæs
Frida Hansen was an important representative of art nouveau and symbolism. She made her major breakthrough during the Paris Exposition of 1900, where she received a gold medal for the tapestry Melkeveien (Milky Way) (1898). By renewing traditional weaving techniques she created her own distinctive textile style, adapted to contemporary art. She was a pioneer at a time when the women's rights movement in Europe was gaining momentum.
Provided a livelihood for many women
In addition to being an independent artist, she taught weaving and made sure that more women learned a trade and earned a livelihood. It was important for her to share her knowledge with others. In Tullinløkka in Oslo in 1892, she established a workshop where extensive production of marketable textiles was carried out by her assistants.
In 1893 she wove a large-scale tapestry entitled Løvetand (Dandelion). It was a commissioned work from the Norwegian Association for Women's Rights for the Chicago World's Fair that year. The symbolic motif depicts a woman in the middle surrounded by women bearing dandelions in bud, bloom and seed. The tapestry became an important work of art for the early women's movement and an expression of Norwegian women's struggle against oppression.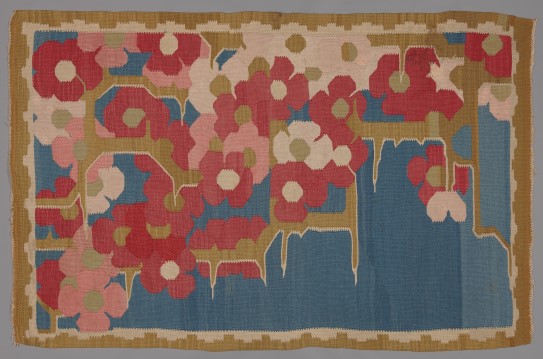 Childhood dream
Already as a child, Frida Hansen dreamed of becoming a painter, and was taught by Kitty Kielland, among others. She grew up in a wealthy business family in Stavanger, with a supportive network and opportunities to travel abroad for inspiration.
When she married at 19, she had to give up her own artistic aspirations. A few years later the worldwide Long Depression also reached Stavanger, and the family's trading company went bankrupt. This forced a new reality on Hansen, who had to abandon her magnificent home with the exotic garden she had so imaginatively landscaped. Her husband travelled abroad to find work. In the midst of all this, two of her three children died.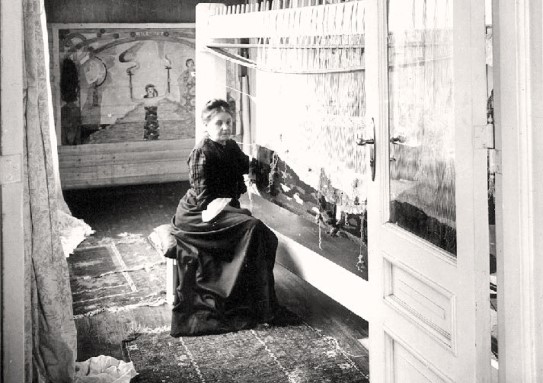 She started an embroidery business to earn a living. She soon came across some old Telemark coverlets that required repair.
She became fascinated by traditional woven textiles with local patterns. She quickly learned to weave, and in the years that followed she established a new foundation for the future of Norwegian textile art.
Frida Hansen
Frederikke Bolette (called Frida) Hansen, born Petersen
Born: 8 March 1855 in Hillevåg in Stavanger
Learned weaving from Kjerstina Hauglum in Sogn
Established Norway's first natural dye works in Stavanger in 1889
Founded Atelier for haandvævede norske Tæpper (Studio for Handwoven Norwegian Tapestries) in 1890
Established a weaving studio at Tullinløkka in Oslo in 1892
Established the limited company Norsk Aaklæde – og Billedtæppe-Væveri (Norwegian Coverlet and Tapestry Weaving Mill) together with Randi Blehr in 1897
Patented the weaving technique Transparents (Transparence) in 1897
Awarded the King's Medal of Merit in gold in 1915
Died 12 March 1931 in Oslo
Her very own colour palette
Frida Hansen had clear ideas about the use of colours, and is regarded as an outstanding colourist. In Ryfylke and Jæren she collected formulas for plant colours and experimented until she established her own colour palette.
For me, design is first and foremost a means of bringing out the colours. The colours are like the sun in my art. Therefore, the design must often accommodate the colours which I absolutely must have in a collection.

Frida Hansen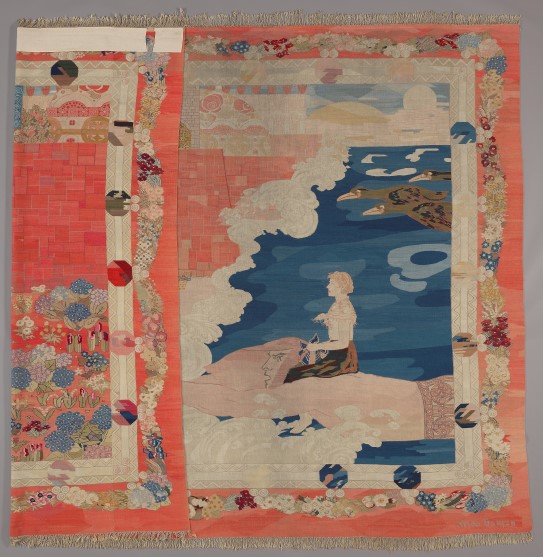 An independent artistic expression
Her in-depth knowledge of the craft gradually enabled her to compose her own motifs which she simplified and adapted to the textiles. It was important to her that tapestries should not simply be woven paintings, but should have an artistic expression of their own. The artistic movements of the time, both at home and abroad, became major sources of inspiration.
Frida Hansen was influenced by the Arts and Crafts movement, which focused on quality craftsmanship. Travelling and studying in Europe exposed her to contemporary artists who in turn were influenced by Asian culture. Japan had opened its borders in 1854, which had a significant impact on European art, and also influenced Frida Hansen. This inspiration appears in simple compositions of flowers, plant life, birds and animals. Wavy lines and stylisation formed the basis for the development of Art Nouveau, which also embraced the organic and the biological. Biblical, literary and mythological texts also provided starting points for Hansen's tapestries.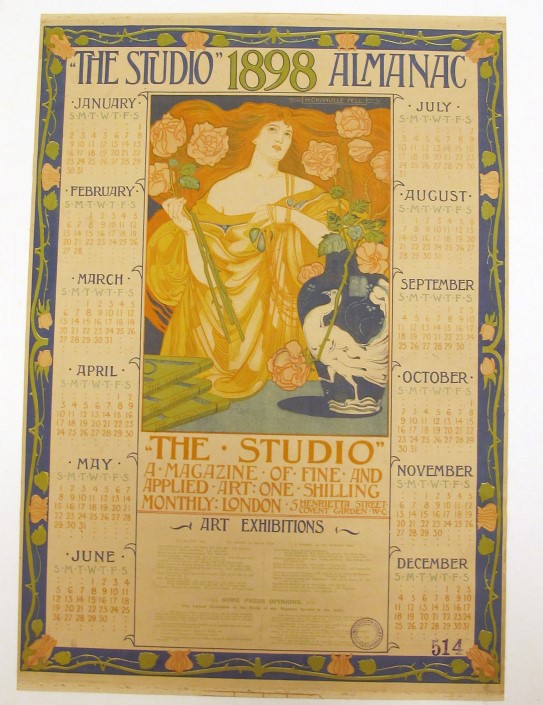 The Studio
The magazine The Studio: An illustrated Magazine of Fine and Applied Art was first published in England in 1893. It showcased the most prominent artists, architects and designers of the time. Frida Hansen subscribed to The Studio, which was an important source of inspiration.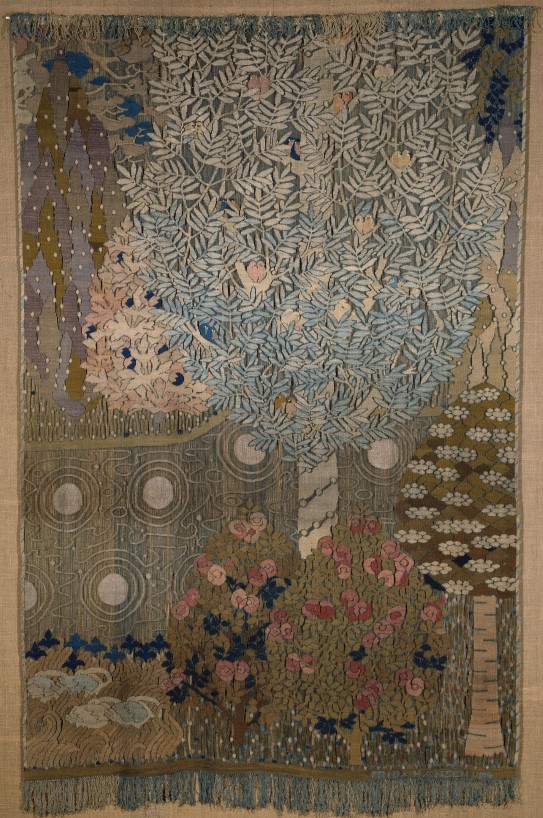 A transparent technique
In 1897, Frida Hansen patented her transparent technique where she alternated between dense and translucent parts in the weave. This decorative technique allowed her love for flowers and organic plants to fully blossom. The airy and elegant textiles became very popular and could be used as room dividers and curtains.
Un-Norwegian?
Hansen's tapestries were enthusiastically embraced abroad, but at home her work was often criticised for being "un-Norwegian". In the time around the dissolution of the union with Sweden, decorative artists were expected to reflect Norwegian national identity. Gerhard Munthe's textile patterns were popular, taking their inspiration from Norwegian folk tales, legends and stories from Viking times and the Middle Ages.
Frida Hansen was also influenced by national themes, but was particularly associated with international impulses that were opposed to creating a national identity. This was the reason why her works were purchased by most of the major museums in Europe but were not recognised by Norwegian museums until much later.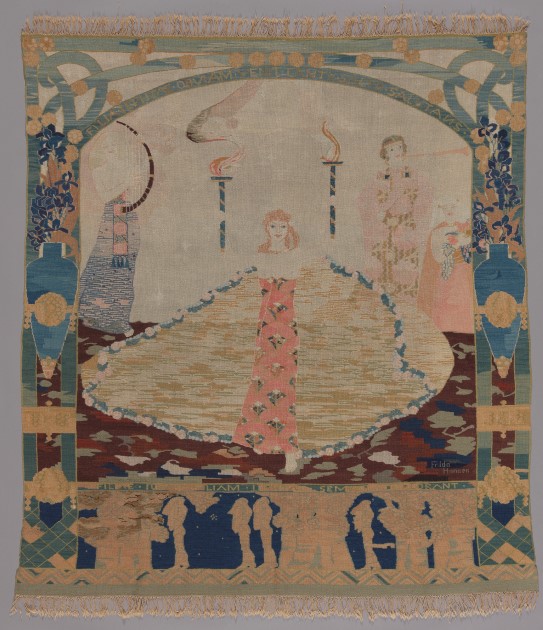 Resources
Anniken Thue, Frida Hansen: En europeer i norsk tekstilkunst omkring 1900. Universitetsforlaget, 1986.
Anniken Thue, Frida Hansen (1855–1931) – europeeren i norsk vevkunst. Kunstindustrimuseet i Oslo, 1973.
Hanne Beate Ueland (red.) Frida Hansen, art nouveau i full blomst. Stavanger kunstmuseum MUST, 2015.
Randi Nygaard Lium, Tekstilkunst i Norge, Trondheim 2016.