Text by Senior Communications Advisor Ellisiv Brattfjord
Bourgeois first broke through as an artist at 71 years old. Despite her advanced age, she was to live almost 30 more years as a recognised artist. In total, she was active as an artist for over 70 years and eventually became an icon in the art world.
Are artists supposed to live that long?
One of the myths surrounding artists is that they live hard and perhaps also die young. Yayoi Kusama and Håkon Bleken are both 94 years old. Carmen Herrera, whose art you can see in The Pillars at the National Museum, lived until she was 106 years old. Edvard Munch was supposedly "surprised" to have lived to 81 himself, despite much illness and a very unhealthy lifestyle throughout much of his life.
 
Bourgeois shatters the myth of the artist whose candle burns out at a young age. How did she live so long and have, at least from what we can see, a meaningful and creative life more or less the whole way?
Remain playful
After studying painting in the 1930s, Bourgeois eventually switched to experimenting with sculpture. Throughout her artistic career, she worked with everything from drawing, painting and textile art, to marble and bronze sculptures and large installations.
 
"She liked to experiment. She may have started by creating works in plaster, then in bronze and finally in rubber", says Jerry Gorovoy, Bourgeois' assistant during the last 30 years of her life, in conversation at the National Museum.
 
"She felt no allegiance to any particular material", he says.
 
There are probably few other artists who can match her variety of styles and techniques.
 
"Like many great artists, from Picasso to Hockney, Louise retained the show-and-tell charm of childhood well into her 90s", stated John Cheim, co-owner of the Cheim & Read gallery in New York, in W magazine.
 
"Once, she invited me down into the lair-like basement of her Manhattan town house. There, in the dark, she slipped into my pants pocket a slender carving of a pair of eyes. I was flattered, surprised, stimulated – and her art will no doubt continue to do the same for many others".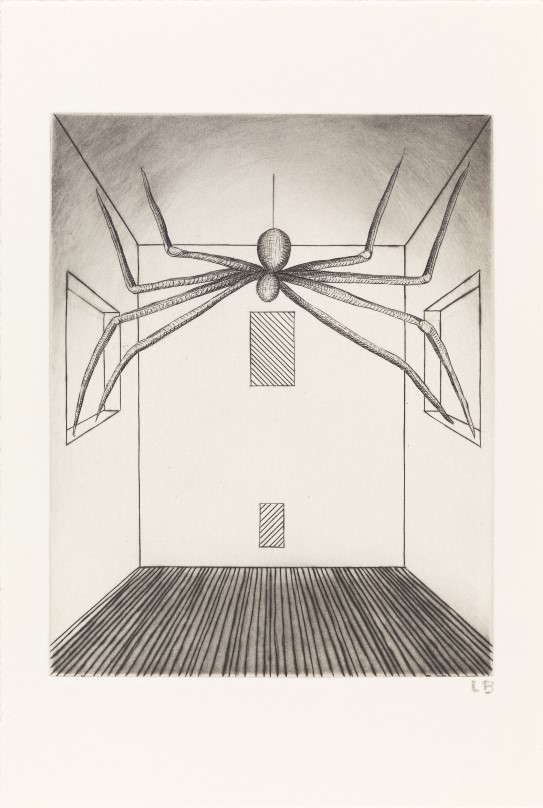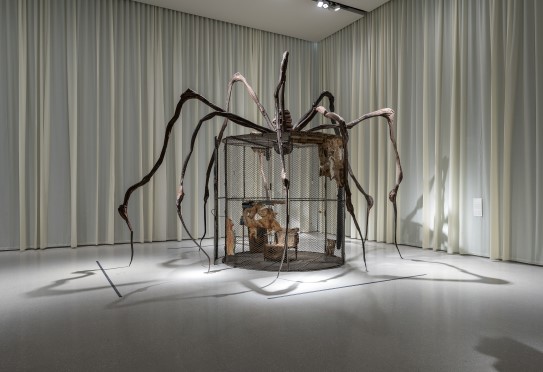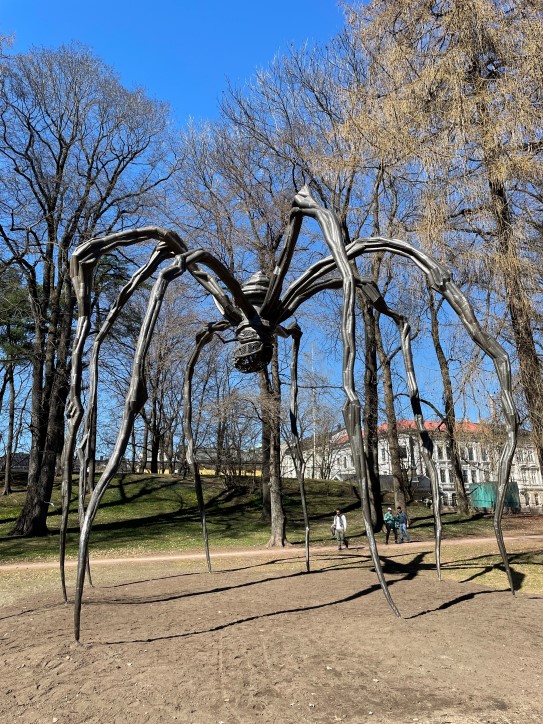 Bourgeois often worked with the same motifs over many years. Recurring themes included loneliness, love, illness, sexuality and gender roles. However, she constantly changed how the themes were expressed. The spiders, for which she is probably best known, are a good example of this. They were first pencil drawings in the 1940s and eventually became huge sculptures in bronze, such as Maman (1999) which you can now experience in The Palace Park in Oslo in connection with the exhibition at the National Museum. The spiders also appear in several variations in Bourgeois' "cells". 
When Louise Bourgeois was 8 years old, her mother Josephine got sick, probably with the Spanish flu. Josephine survived, but never fully recovered. In the years that followed, Louise tended to her sick mother. Josephine died when Louise was 20 years old. This had a big impact on the artist, who brought forward the memories of her mother several times in her art.
Her mother had been a weaver and was responsible for the Bourgeois family's textile workshop. For Louise, the spider became a symbol of the protective mother she herself was missing.
In the National Museum you will also find Cell VIII, where a small spider clings to the wall of a cage-like installation.
 
"The artwork recreates memories from Bourgeois' childhood when she hid among the tapestries that her family restored. Concealed by the textiles, she listened to the adults' conversations", writes National Museum Curator, Randi Godø, in Highlights, Art from 1945 to the Present.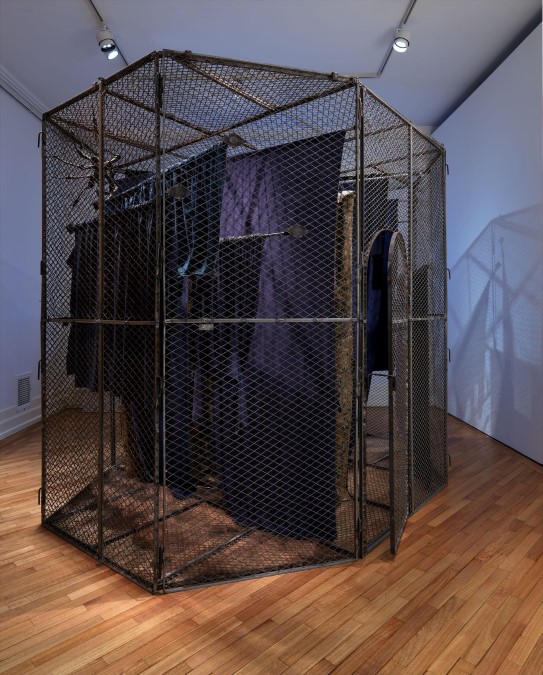 Be social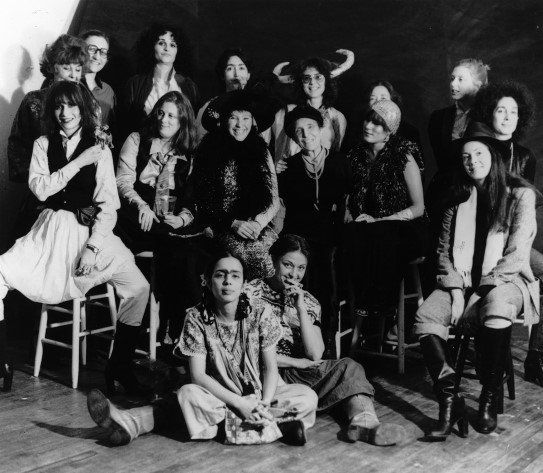 From the beginning of the 1990s, Bourgeois held salon conversations at her own home. She invited young artists and offered them the possibility to give each other feedback on their artworks in production. For the artists, it was a major honour to be invited to the legendary Sunday salons.
 
"She was keen to get to know other artists and surrounded herself with younger artists throughout her life", says Senior Curator Andrea Kroksnes, one of the curators of the exhibition "Louise Bourgeois. Imaginary conversations" at the National Museum.
 
Kroksnes also refers to how Bourgeois was an outspoken feminist in the 1970s and was praised by other feminist artists for her fight for their rights and the right to use explicitly sexual motifs.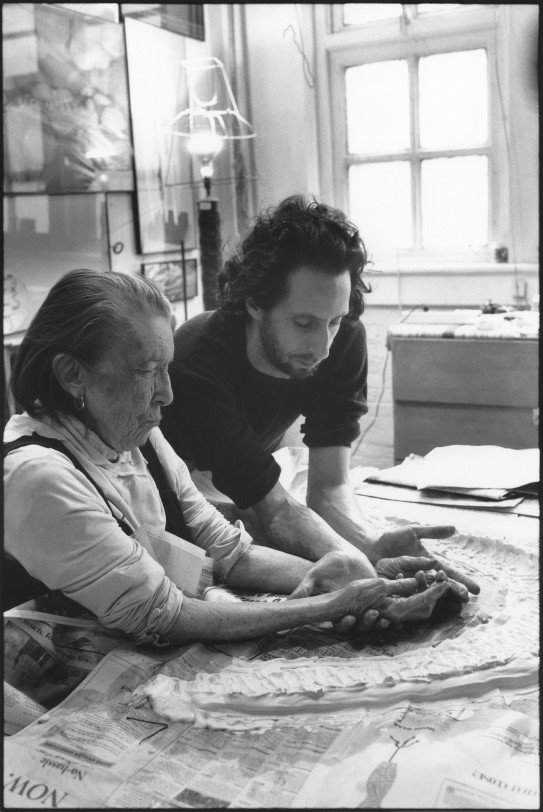 In 1979, artists Ana Mendieta and Mary Beth Edelson organised a feminist party in honour of Bourgeois. The invited women were asked to come dressed "as their favourite artist", and several of them chose – with a twinkle in their eye – to come as themselves.
 
"Louise never hung out with older people. She only hung out with younger people", says Jerry Gorovoy.
 
Perhaps the continuous stimulation from younger artists helped Bourgeois retain her playful spirit?
 
Curator Learning for the Bourgeois exhibition at the National Museum, Elin Therese Aarseth, likes a piece of advice Bourgeois gave when she was asked what advice she would give younger artists, as quoted by The Associated Press in 2008:
 
"Tell your own story, and you will be interesting, Don't get the green disease of envy. Don't be fooled by success and money. Don't let anything come between you and your work".
 
"I was sort of hooked by Louise when I met her. She was 69–70, but she had the energy, a spark in the eye, of someone much younger. I never felt her as an older person", says Gorovoy.
Let your feelings out
What Louise Bourgeois experienced in life, she worked with in her art. She used a lot of herself, her family and friends, and her own experiences and memories in what she created. Maybe this was also a form of therapy?
 
From the late 1940s to the mid-1950s, Bourgeois created around 80 abstract totem-like sculptures, which she collectively referred to as "Personages". The slender sculptures are symbols of people that Bourgeois no longer had around her after moving from France to the United States in the 1940s. She personified them in the individual sculptures.
Bourgeois was in psychoanalysis for many years. Siri Hustvedt writes in the essay My Louise Bourgeois that Bourgeois was a patient of psychoanalyst Henry Lowenfeld in New York from 1953 until his death in 1985. According to Hustvedt, Bourgeois later denied that she had undergone psychoanalysis in an interview in 1993: "Have you undergone analysis yourself"? "No", L. B. replied, "but I've been working on self-development all my life – self-analysis, which is the same thing".
 
Hustvedt also writes about how Bourgeois handled aggression:
"I have a lot of fear in me", Louise Bourgeois said in an interview, "but ... aggressiveness feels liberating. I don't have a bad conscience at all – until the next morning. That's why I'm fierce, and I take great pleasure in smashing everything possible. I freak out the next day ... but I'm enjoying it while it's happening".
 
Jerry Gorovoy recalls how Bourgeois could smash her own art in anger.
 
"Sometimes she could be in a foul mood. She would start smashing everything. I then knew that she shouldn't be working on a piece, because suddenly she'd get aggressive and smash it into the wall. And then the next day she would regret it and then she'd have to adjust everything, because she'd screwed up."
 
Gorovoy would often remove artworks Bourgeois was working on, to save them, if he noticed she was in a bad mood.
 
Bourgeois grew up outside Paris, with her mother, father, an older sister and a younger brother. For several years, Louise's father had a relationship with her English teacher, which Louise experienced as a great betrayal. She processed her own relationship with her father in several works of art. In the exhibition Imaginary conversationsat the National Museum, you can experience The Destruction of the Father, an installation that imagines how Louise and her brother became so fed up with their father that one day they killed and ate him.
"She had immense confidence, she wasn't playing to an audience", says Gorovoy.
A healthy diet
There are countless diets and bits of dietary advice that you should follow in order to live a healthy, long life. But have you tried Bourgeois' diet?
 
"The first time I had dinner at Louise's house, the appetizer was a bed of lettuce with pieces of octopus and banana sprinkled on top, followed by ham hocks, and a Klondike bar with alcohol poured over it for dessert. I had expected the conversation to be memorable, but it's the menu that's stayed with me to this day." — Wendy Williams, CEO of the Louise Bourgeois studio, as quoted in W magazine in 2010.
 
Artist Marit Følstad visited Bourgeois in 2002 and thought it was a bit scary to meet the big but small artist.
 
"She was a bit like an old-fashioned aunt, small and strict. And wonderful"! said Følstad, during a salon conversation at the National Museum on 6 June.
 
Følstad had received a tip before the visit that Bourgeois was very fond of chocolate.
 
"We ordered a rather large 'double chocolate cupcake' which was decorated with wonderful flowers".
 
The bakers had made an extra effort when they heard that it was for Louise Bourgeois. When Følstad set it on the table in front of Bourgeois, she was "super chuffed".
 
"I think she asked who had brought the cake four or five times while I was there".
 
Artist Lars Elling also remembers a situation with food from his salon visit to Bourgeois.
 
"A lady came into the room several times with a plate and a small silver fork with a piece of pasta on it, which she gave to Louise".
 
Bourgeois chewed on the piece of pasta and sent the plate back out three times during the visit, according to Elling.
 
Live fast or slow?
Bourgeois lived to be almost 99 years old and was active in creating art in various formats and materials more or less right until the end. She lived a long time and worked tirelessly on new things.
 
Thomas Hylland Eriksen, author and professor of social anthropology at the University of Oslo, asks in Morgenbladet whether the best way to extend life might be to slow down or speed up:
 
"by picking up the pace ... you get more done, you don't waste time vegetating in the shade while your teeth are stained red by betel juice, thus making the pain of everything you didn't manage to do less pressing? In reality, it's like this: The more you manage to do, the more you can't do. Only when you have found the balance between a fast and a slow pace are you ready for a long life, whether it lasts forty or ninety years".
 
Perhaps Bourgeois found the answer to this? Throughout an almost 100-year-long life, which more or less followed the entire 20th century, she held many real and imaginary conversations with other artists, movements, changing surroundings and personal experiences. Perhaps this openness and processing through art could be the secret to a healthy and long life?
Sources:
 Salon conversation with Marit Følstad and Lars Elling at the National Museum on 6 June 2023
Jerry Gorovoy on life with Louise Bourgeois at the National Museum on 6 May 2023
Siri Hustvedt, A woman looking at men looking at women, 2017