Otti Berger and the Nordic countries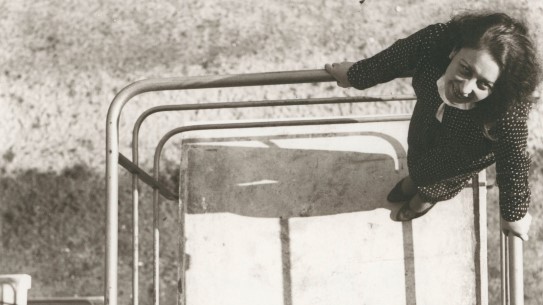 Bauhaus weaver and designer Otti Berger helped raise the status of weaving. She created innovative fabrics using techniques which she herself developed and had patented. Berger died young, but managed to leave a lasting mark in design history.
Text by Senior Researcher Widar Halén
Otti Berger was at the forefront of the Bauhaus avant-garde in the 1920s and 30s, as a student, weaver, designer, inventor and teacher and for a short time head of the weaving workshop at the Bauhaus school in Dessau.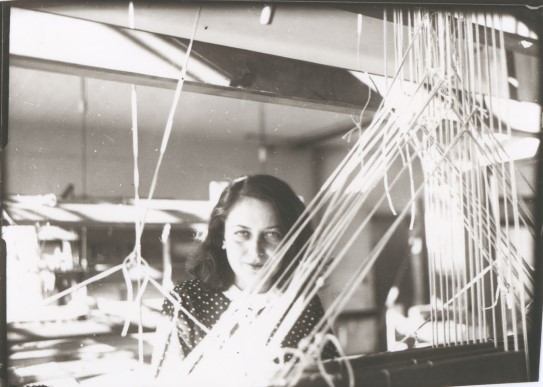 She fully accepted that manual and machine weaving should go hand in hand, and with her patents on innovative weaving methods and textiles for industry, she helped to raise the status of the artisan in an otherwise anonymous field of work.
Berger (1898–1944) always wove her prototypes directly on the loom without drawing them first, and she developed innovative fabrics and industrially produced textiles for a wide market in Germany, Switzerland, the Netherlands and the United Kingdom. Her professional ties to Norway and Sweden have so far been less known. She visited Norway and Sweden in 1929 and delivered designs to Aino and Alvar Aalto's interior design company Artek in Finland. Otti Berger is often mentioned along with her contemporary Bauhaus colleagues Annie Albers and Gunta Stölzl, but she was brutally murdered in the Auschwitz-Birkenau concentration camp in 1944 (actual date is unknown) and therefore could not build her legacy as the other Bauhaus weavers did. She had a short but incredibly hectic and successful career that deserves more attention. 
Otti Berger was born in 1898 in the town of Zmajevac in the Baranya region of the Hungarian part of Austria-Hungary. The area has rich textile traditions and was part of Yugoslavia from 1918–1945. Today it is part of Croatia. Berger attended the Academy of Fine Arts in Zagreb from 1922–1926. In October 1926 she moved to Dessau in Germany, and in January 1927 Berger registered at the Bauhaus school in Dessau. She first took the introductory course held by Josef Albers and fellow Hungarian László Moholy-Nagy. At the same time, she attended Wassily Kandinsky's lectures in form and design and Paul Klee's course in colour theory. Albers and Moholy-Nagy focused particularly on what was referred to as work theory, i.e. the different properties of the materials, and during this course Berger did some experimental work that would guide her career.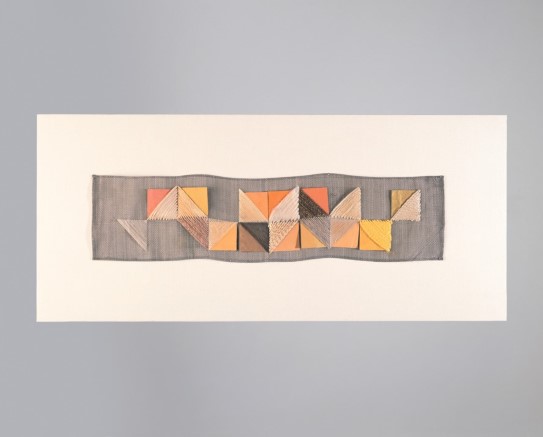 Industry-oriented teaching
In October 1927, Berger was accepted on a six-month trial semester in the weaving workshop at the Bauhaus school, and in January 1928 she formally enrolled as a student in the same studio under Gunta Stölzl. Stölzl was the only female "master" (professor) at Bauhaus, and after Bauhaus established its architecture department in 1927 she completely restructured the teaching approach in the weaving programme, from a craft orientation to a more industrial orientation. Now textiles were to be made to suit the new functionalist architecture (Neues Bauen) and industrial prototypes were supplied from Bauhaus on a larger scale. The studies of texture and structure in fibres and textiles were most important. Students were also encouraged to work on the side in industry or to take a semester at a school abroad. 
Bauhaus in Sweden
Berger travelled to Stockholm, where in April 1929 she took an 11-week course at Johanna Brunsson's Weaving School, known as the Practical Weaving School. Bauhaus Rector Hannes Meyer wanted her to give a lecture in Stockholm about Bauhaus, which she did. This must have given new impulses to the design community in Stockholm and the Norwegian textile artists Solveig Mortensen and Else Poulsson, who studied at the school around the same time.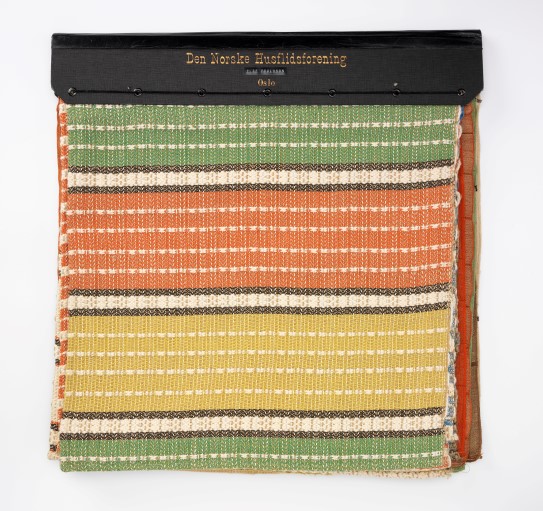 The most important activity was the planning of an exhibition of Bauhaus textiles, which together with an exhibition on Swedish "Radical Architecture", opened at Gallerie Moderne in Stockholm in January 1930. The exhibition showed significant works by Berger: portieres, bedspreads, tablecloths and furniture coverings, as well as a cellophane and viscose fabric for wall coverings. Dagens Nyheter described silvery horsehair-like textiles for cold tubular furniture, thick terrycloth-like furniture fabrics, tablecloths and curtains, "which in many ways resemble Swedish folk textiles".
So it was not flamboyant textiles she exhibited, but fabrics with simple, abstract and geometric patterns which emphasised the structure of the fibres – most of them with artificial materials such as cellulose, viscose, rayon and cellophane, which in turn accentuated the textile's gloss, softness and irregularities. At the same time, she published "Tyg i Rum" (Fabric in Space) in the magazine Form, where she was one of the first to debate the new function of textiles in modern interiors with emphasis on texture, structure and fracture – and the textiles' ability to form their own patterns. In 1933 she published a similar article "Rätta stoffer på rätt plats (The right fabrics in the right place)" in the magazine Spektrum.
Norwegian source of inspiration
When the course ended in Stockholm at the end of June 1929, Berger travelled to Norway, where she was interviewed in the Bergen Museum's textile department by the newspaper Bergens Tidende on 18 July 1929. She stated that she was not so impressed with what she saw in Stockholm, but that the traditional Norwegian textiles from Sognefjorden and Hardanger were incredibly beautiful and woven exactly as they should be with simple surface patterns and small square patterns which would later inspire her own weaving. Here we have concrete proof of a specific Norwegian source of inspiration in Bauhaus.
Berger also visited the library at the Western Norwegian Museum of Decorative Arts and the exhibition Western Norwegian Tapestry and her maternal grandfather Max Krausz. Krausz came to Bergen in 1879, started a family and became a typographer and editor of the newspaper Arbeidet. He was an important figure in the early socialist movement in Norway. His son Bjarne Krausz ran Wallin's printing house in Oslo. Apart from the family, we know little about who Berger met in Norway, but she later became friends at the Bauhaus school with the Norwegian architect Ola Mørk Sandvik and the Italian architect Ivo Pannaggi, who settled in Norway in 1943.
On the way to Bergen, Otti Berger also visited Deputy Director Henrik Grevenor at the Norwegian Museum of Decorative Arts in Oslo, and ordered seven photos from the textile collection (unfortunately it is unknown which photos were ordered). She probably also saw the recently deceased director Hans Dedekam's registrations of the Oseberg ship's sensational textiles and especially the diagonal textiles (twill weaves) in wool and nettle fibres. Shortly after returning to Bauhaus in the autumn of 1929, she began experimenting with twill weaving in a mixture of wool or cotton, viscose and ramie (nettle fibre from eastern Asia) in diagonal textiles which she produced in a number of variations.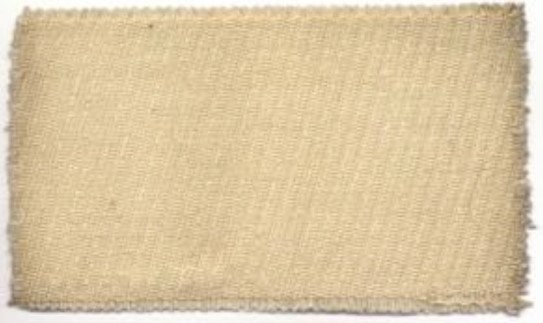 Oddly enough, Hjula Væveri created an almost identical fabric called "Diagonette kunstsilke" (diagonal artificial silk), which was exhibited at Foreningen Brukskunst (Association of Applied Arts) in 1934. The company was known for buying rights and producing under licence from German factories. 
Patents on innovative textiles
Berger continued to teach part-time at Bauhaus Dessau school until it was closed down by the Nazis in October 1932. She then set up her own studio in Berlin. Despite constant threats from the Nazis, she managed to complete assignments for the automobile, train and aircraft industries, most often with durable fabrics in artificial silk, wool and ramie with fibres that she often let float unbound over several weave threads to create structure and shine in the fabrics. She created revolutionary light-reflecting and sound-absorbing textiles, which were used in architect Hans Scharoun's famous Villa Schminke (1933). The living room with large windows had curtains around the whole room, which gave a kind of tent effect and created a room within the room. 
During this time, Berger also worked intensely to obtain a patent for the important inventions she had created in the textile field – a painstaking job in an otherwise anonymous textile industry. In February 1934 she was granted patent rights for her "artificial horsehair", a mix of wool, cotton or artificial silk that was durable and water-resistant, and which from 1936–1938 was produced by Schriever & Co in Dresden under the brand name "otti berger stoffe". In May 1933 she was granted utility rights – not a full patent – for her cellophane and viscose fabric intended for acoustic wall covering. That same year, she applied for a patent on her laméplume – a durable fabric made of ramie and cotton or linen, intended for use in aircraft, buses and cars. The Nazi regime refused her application and she therefore turned to England, where in May 1937 she was granted full patent rights. As a woman and a Jew, Berger must have felt particularly vulnerable, and perhaps that was also why she wanted this official recognition for her talented innovations.
Berger and Alto
From 1933–1937, Berger was a designer for the large textile company De Ploeg in the Netherlands, and she created around 40 patterns, mainly for curtains and portieres, which were sold all over Europe, also in the Sundt department store in Bergen from 1934. It was probably here that the composer Harald Sæverud bought the distinctive orange and yellow curtains for Siljustøl when he and his wife moved in there in 1939.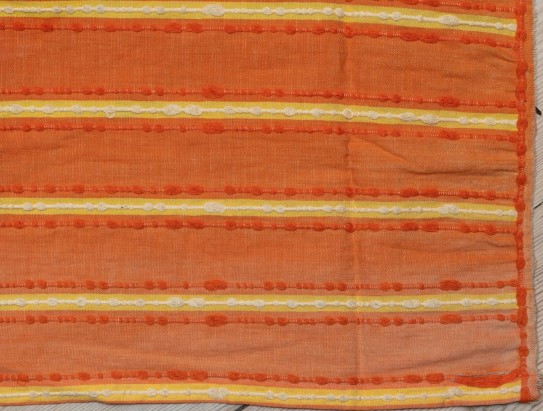 These are most likely designed by Otti Berger, who made three similar patterns; Atalanta, Iphigenia and a CSP textile (Count Strength Product – an old strength term) for De Ploeg.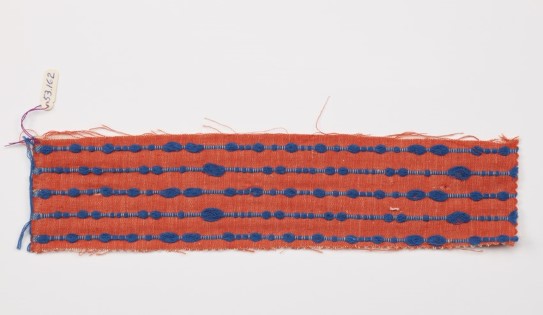 The weaver Åse Eriksen, wove copies of these worn-out curtains in 2004.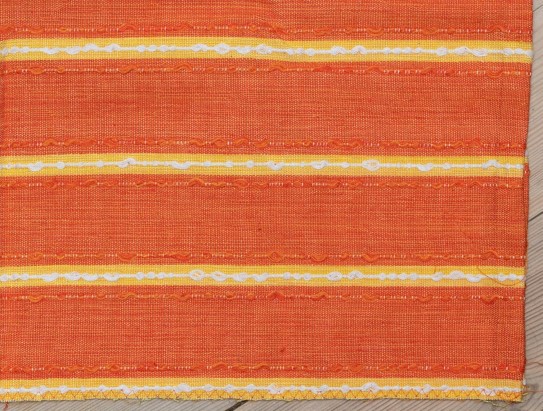 The visionary architect Sigfried Giedion employed Berger in his newly created interior design company Wohnbedarf AG in Zurich in 1933, where she worked until the end of 1936. Here, Berger applied many of the experiments carried out at Bauhaus, and she secured the right to brand the textiles "otti berger stoffe". In collaboration with the St. Gallen Technical Institute, she tested a number of ideas, which resulted in completely revolutionary and particularly durable and washable textiles for Marcel Breuer's and Alvar Aalto's furniture, which were sold under licence from Wohnbedarf from 1933. The textiles had names like diagonal, pointé, carré, bourette, sirius and zebra. All were in lower case according to the Bauhaus alphabet.
Sirius, which means ramie (nettle fibre) in German, and zebra were used on Alvar Aalto's sofa and chairs, which were exhibited at the major Alvar Aalto exhibition in Wohnbedarf in May 1934, and which later that year were used in the interior of the Corso Theatre's dance restaurant in Zurich. Berger also provided designs for curtains, portieres and wallcoverings, creating one of the most innovative interiors in Europe at the time. Aino Aalto ordered her textiles for Artek in Helsinki. In 1938 the company exhibited its furniture in Foreningen Brukskunst in Oslo, including Alvar Aalto's new recliner, model no. 39, with Otti Berger's striking zebra textile, which until today has been a trademark of Artek, but without Berger's name having been mentioned.
Otti Berger probably was not aware of this, because in 1937 she had to flee to London. In 1938 she returned to Zmajevac to visit her sick mother. She had plans to emigrate to the United States to follow her fiancé, urban architect Ludwig Hilberseimer, and most of the other professors from Bauhaus. When her visa to the United States was finally granted in 1941, the Yugoslav authorities, who collaborated with the Nazis, refused to renew her passport. In Zmajevac she gradually became increasingly isolated. Here she returned to the rya knotting technique she had studied in Sweden and Norway.
In 1944 she wrote to Ise Gropius in the United States:
I work on this all day long. It is dark blue and dusky pink, etc. From a distance, it looks uniform. A colourful, vibrating patch. Up close you see the structure. Do you have any idea what a joy it is to knot a rug? Of course, I have not made any preparatory drawings – nor followed a pattern. In this way I am not restricted, and besides, working from drawings is not my thing. It would always be something stiff and paper-like. I simply know what I want, and sometimes I dictate and sometimes the rug does ... It's so hard to be away from you all – it's so terribly lonely here – so always let me know that you do not forget me.
Letter from Otti Berger to Ise Gropius, 22 February,1944, Bauhaus Archive, Berlin, inventory no. 2108.
On 27 April, 1944, Otti Berger and her brothers Otto and Oscar were interned in the city of Mohãcs, and a month later they were deported to Auschwitz-Birkenau, where Otti was murdered by the Nazis. Unfortunately, we do not know the exact date on which the talented and distinctive Bauhaus weaver and designer Otti Berger died.
Read more about The Bauhaus influence on Norway here. 
Sources
Widar Halén, "The Bauhaus Weaver and Textile Designer Otti Berger (1898–1944/45): Her Scandinavian connections and the tragic end of her career", The Decorative Arts Society Journal, vol. 43, 2019, 114–149.
Widar Halén, "So always let me know that you do not forget me", Kunsthåndverk, vol. 41 / no. 158, 2021, 80–91.