Text by Ellisiv Brattfjord, Senior Communications Adviser
Why did Louise Bourgeois, at well over 90 years of age, choose to create a work of art for a memorial for 'witches' in Norway's far north? How did the project come about? Why do we today need to remember and reflect on the witch trials that took place in Norway in the 1600s?
The National Museum has had a chat with Knut Wold, who was a key contributor to what would become the 'witch memorial' in Vardø. He also knew Bourgeois personally.
Louise Bourgeois
 Louise Bourgeois was born in Paris on 25 December 1911.
 Her career spanned more than 70 years.
 Bourgeois's art thematises family relationships, sexuality and feelings such as anxiety, loneliness and guilt.
She made her breakthrough late in life, at 71 years of age, with a retrospective exhibition at the Museum of Modern Art in New York.
 She is now considered one of the greatest artists of our time and has been an inspiration to many.
 Bourgeois is perhaps best known for her monumental sculptures of spiders, but she also worked with everything from drawing, printing and painting to installation and performance art.
Bourgeois died in New York on 31 May 2010 at 98 years of age.
The National Museum, Oslo, has 30 works by Bourgeois in the collection. Several of these are long-term loans from the Savings Bank Foundation DNB.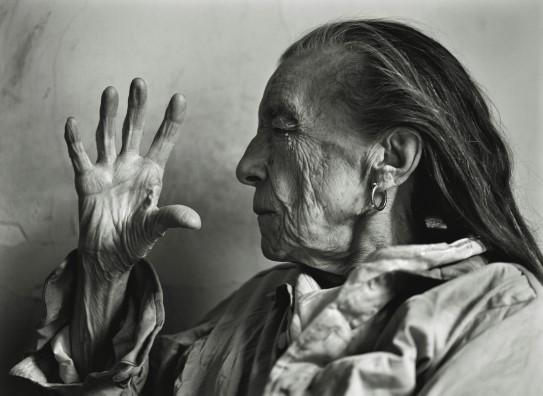 How to Create a Witch Memorial
Just after the year 2000, the municipality of Vardø contacted the administrators of the Norwegian Scenic Routes with a request to tell the story of the witch trials in Finnmark. This was in connection with the town of Vardø being Finnmark's 'millennium site'. A millennium site is a place selected to mark a Norwegian county's transition to the 2000s. To realise the project, Knut Wold worked with Svein Rønning, the Norwegian Scenic Routes' curator, and with representatives of the so-called 'millennium committee' in Vardø. Wold and Rønning submitted a 'wish list' of artists they wanted to work with. They aimed for the stars. One whom they both wanted was no less a star than Louise Bourgeois, well over 90 years old at the time.
'I had met her a few times before, so it was natural for me to contact her', recalls Wold.
He sent a proposal to Bourgeois in New York in the autumn of 2006. The letter included comprehensive documentation of the witch trials in Finnmark.
'If we were to get Bourgeois to create something in Vardø, it would need some protection around it. I knew who to ask to make this, someone who would also incite her to want to participate', says Wold.
Wold had previously collaborated with the Swiss architect Peter Zumthor. When he presented Zumthor with the idea of collaborating with Bourgeois, the architect was ready and willing. Bourgeois was familiar with Zumthor, and Wold envisioned that she would want to join the project. But he heard nothing from New York.

He mustered the courage and called her directly. After all, he had been given the artist's private telephone number. The phone call was answered. It turned out that the letter and documentation on Vardø had simply gotten lost in the mail.
'I re-sent them the information, and I don't think they could have had it even a whole day before they contacted me', says Wold.
Bourgeois was immediately interested in the project and was luckily also enthusiastic about the idea of collaborating with Zumthor. Wold's dream duo was therefore complete.
But it would take time before the project gained momentum.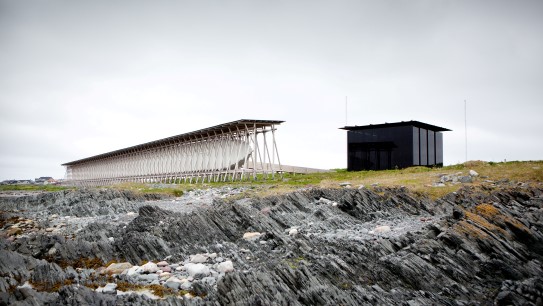 ''The Witch Memorial''
The monument was created by Louise Bourgeois through collaboration with the Swiss architect Peter Zumthor and with texts by the Norwegian historian Liv Helene Willumsen.
The Damned, the Possessed and the Beloved is the title of the installation by Bourgeois.
You can see the monument at Steilneset in Vardø.
The monument commemorates the victims of the witch trials in Finnmark in the 1600s.
The monument was completed in 2010 and opened in 2011, one year after Bourgeois died.
The monument consists of a four-sided glass pavilion inside of which one finds Bourgeois's installation, and a 125-metre-long Hall of Remembrance. The hall is lit by 91 small windows – one for each victim. Each victim has his or her own commemorative plaque with a text written by Willumsen.
The monument is part of Norwegian Scenic Routes. As explained on NSR's website, 'Norwegian Scenic Routes are 18 selected roads that run through landscapes with unique natural qualities, along coasts and fjords, mountains and waterfalls.' Norwegian Scenic Routes marks its 30th anniversary in 2023 with the exhibition ''RAST'' at the Oslo School of Architecture and Design.
Hysterical Witches and Vindictive Merchants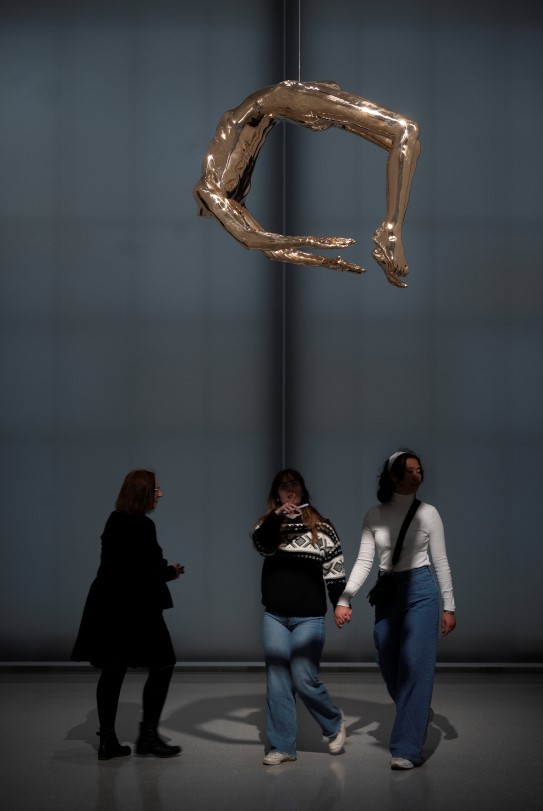 'She was deeply concerned that the atrocities that happened 400 years ago are still happening today, and this was one reason why she agreed to get involved in the project', writes curator Svein Rønning in the publication 'Louise Bourgeois. Peter Zumthor. Steilneset minnested'.
Bourgeois asked many questions about the people who were burned at the stake in Vardø. She was curious about how they were singled out and tried and how the society related to them.
'I think she felt a connection to those who were convicted', says Wold.
Wold adds that Bourgeois was concerned about whether those who were convicted in Vardø were seen as hysterical. Hysteria is a central theme in much of Bourgeois's art. A case in point is the Arch of Hysteria (1993), now on show in the National Museum in Oslo.
Those condemned to the 'eternal flames' in Vardø were ordinary people. According to Wold, people were often accused of practicing witchcraft by a neighbour or a travelling merchant, either due to envy or as revenge for getting a bad price at the local market. Some had fallen out of favour with the king in Copenhagen.
'There could have been practical, financial and political reasons for why people were accused of witchcraft', explains Wold.
Some were also pressured into incriminating others, so they themselves could avoid further torture while being interrogated. These stories interested Bourgeois. 
A Monument Comes into Being?
The 96-year-old Bourgeois was invited to Vardø but could not manage the long journey, understandably. Zumthor became her messenger and was entrusted with creating a proposal based on his own examination of the location.
'He was extremely busy with other projects, but we eventually took the trip up together', says Wold.
The pencil sketches emerged when Zumthor drew them directly at the site. According to Wold, Zumthor was inspired by the fish-drying racks he saw in Finnmark.
'He wanted everything to be as thin as possible', recalls Wold, adding that it was challenging to get the construction to function in such a weather-bitten landscape.
Bourgeois waited for Zumthor's ideas in New York. Through Wendy Williams, her studio manager, Bourgeois made it clear that time was of the essence. When you're almost 100 years old, you don't know how much more time you have to create monuments. After a bit of a wait, Zumthor's sketches finally arrived.
'She was probably a bit surprised when she saw the sketch for the long, narrow building', says Wold.
Bourgeois struggled to see how she could fit her sculptures into the narrow building.
'We would have been content if she had come up with a picture or something like that', explains Wold.
But Bourgeois thought up something different, something that would need more space. Wold looked into the possibility of creating an additional building. Or would it be possible to make part of the building more spacious by adding an extension? As Wold recalls, they mulled over a sketch that looked like a snake had swallowed an antelope.
'I well understand that Zumthor didn't want to make it.'
Zumthor said he was willing to put his own narrow building on the back burner and instead construct a new building around the work of art that Bourgeois want to make. But Bourgeois really liked his original sketches for the building. Wold thinks both Bourgeois and Zumthor liked the idea of the contrasts between his narrow construction and her apparently more spacious installation. At this point in time, no one quite knew what Bourgeois was thinking of making. But then they heard about her plans.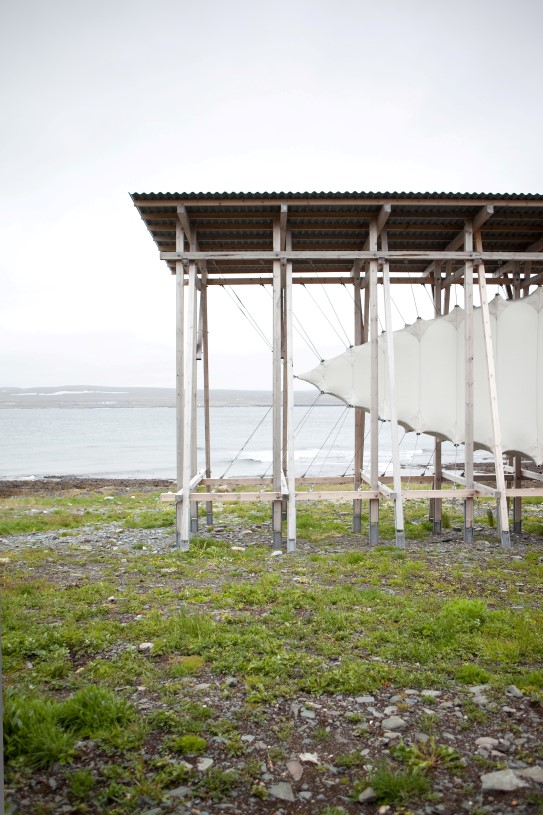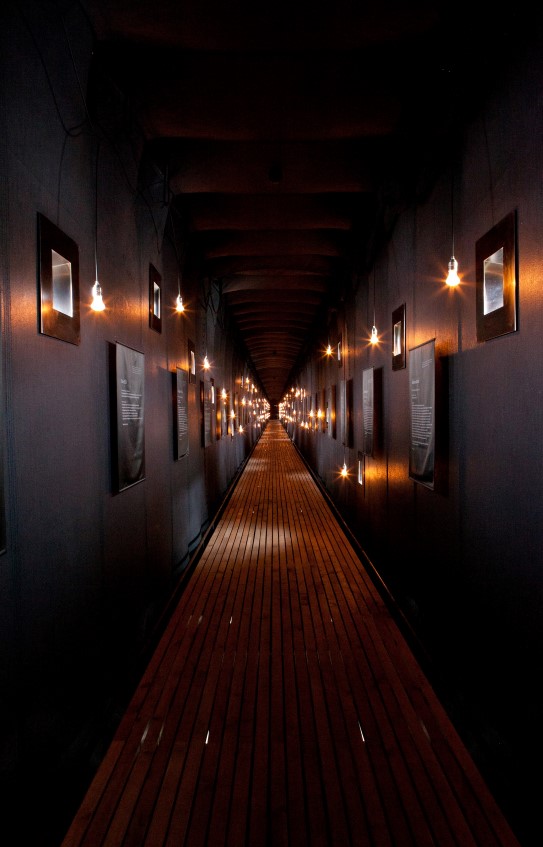 If you visit the monument, you will find Bourgeois's installation The Damned, the Possessed and the Beloved in a separate glass pavilion. The work consists of a metal chair on which burns five eternal flames. The chair is surrounded by seven large oval mirrors that can be experienced as both threatening and protective.
'You can really feel the heat from the flames when you stand inside the room', says Wold.
Jerry Gorovoy, Bourgeois's longtime assistant and close collaborative partner for many years, conveyed that, for Bourgeois, the five flames referred to her five family members: Bourgeois grew up in a family of five, and with her husband and children, she eventually became part of a new family of five.
'The mirrors reflect the flames but also the "here and now" and those of us who walk around the artwork. In this way, the viewer becomes part of the work itself', explains Wold.
Each mirror is distorted, like those one sees at a carnival. The distortion reflects the flames differently, symbolizing the various perceptions of reality that one individual has of the behavior and values of another.
'Over time you don't quite recognise yourself. For each step you take, the constellation changes.'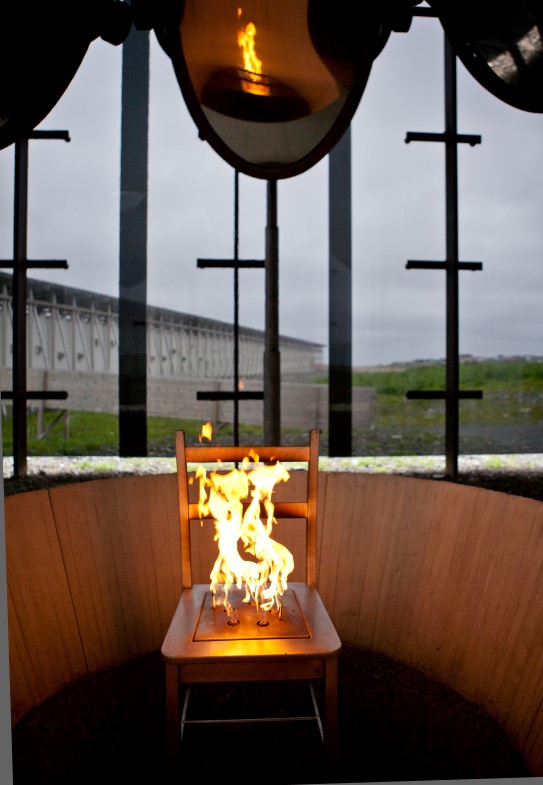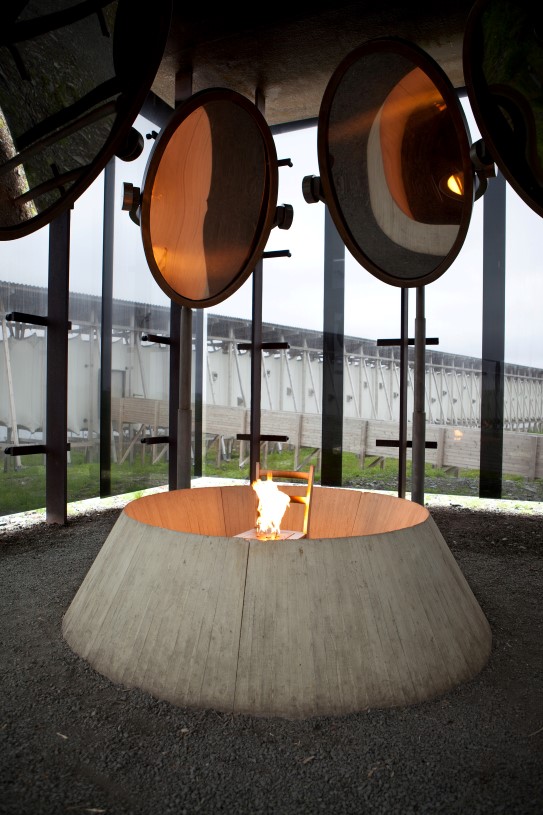 The Witch Trials in Finnmark
Finnmark is the county in Norway where the largest number of alleged witches were condemned to death.
91 people were executed in Finnmark, after being sentenced to death for allegedly practicing witchcraft.
Most were women.
In the 1600s, many people feared the devil more than anything else. They thought they saw his efficacy through ordinary people who, through their actions, could cause storms, shipwrecks, illness and death.
Several stories about the victims of the witch trials in Finnmark are told at Steilneset: 'In 1621, Lisbeth Nilsdatter of Gamvik openly admitted to rejecting her God and attending gatherings at Omgang, where there was drinking and dancing and the casting of spells over vessels. Peder Krogh's wife Ingeborg initially rejected the claims, but she floated like a balloon during the water test. After that, she admitted to killing fish for a neighbour. She was tortured to death. Margrete Jonsdatter, in 1663, admitted to having participated in gatherings with dancing, drinking and to playing cards with Satan on the Eve of Saint John at a place called Domen. In 1678, Synnøve Johannesdatter was found guilty of casting spells on a goat and of causing Anders Jensen's death.'
Two structures were eventually built. According to the artist and writer Anne Karin Jortveit, Bourgeois was grateful that Zumthor helped her see the idea from the outside: 'He made me see the piece in the distance, against the sea. He made me see the piece in terms of the changing quality of light and weather' (see 'Louise Bourgeois. Peter Zumthor. Steilneset minnested').
There was, according to Wold, a suggestion to hang up the 91 court records for those who were burned at Steilneset in the 1600s. Bourgeois, however, did not want any kind of explanatory text near her work. She liked the idea of having the specific histories inside the monument itself, but not in direct relation to her work.
Norwegian Scenic Routes eventually received the work of art as a gift from Bourgeois, in return for having paid for the materials.
'On our last visit with her in New York, as we were saying goodbye, she turned towards us, and, with her sly 'Bourgeois smile', said: 'I'm also a witch!'
Mari Lending, in 'Louise Bourgeois. Peter Zumthor. Steilneset minnested', points to Emily Dickinson when writing that 'Witchcraft was hung, in History / But History and I / Find all the Witchcraft that we need / Around us, every Day'.
Jortveit writes about The Damned, the Possessed and the Beloved: 'In typical "Bourgeois" fashion, the titular words are both precise and open to different approaches. Who, for example, actually is possessed when seen with a historical and critical gaze?'
The 91 people who were killed at Steilneset in the 1600s were mostly women. Three of the condemned were men. They never had burials. Several people living in Vardø today know they are related to those who were convicted for practicing witchcraft, says Wold.
'The most important thing is that those who experience the memorial will be strongly affected', says Wold. He himself is cautious about interpreting the art work and its significance for people today.
Like Bourgeois, he will not tell you what the work means. Presumably, you need to go to Steilneset and feel the heat yourself.
Sources:
Conversation with Knut Wold at the National Museum, Oslo, 13 June 2023
'The Damned, the Possessed and the Beloved. Louise Bourgeois and Peter Zumthor', by Alison Karasyk Hines in Louise Bourgeois. Imaginary Conversations, 2023, exhibition catalogue: https://shop.nasjonalmuseet.no/louise-bourgeois-imaginaere-samtaler
Nasjonale Turistveger, 'Louise Bourgeois. Peter Zumthor. Steilneset minnested', Forlaget Press, 2016
https://nordnorge.com/artikkel/heksemonumentet-i-vardo-er-til-minne-om-91-ofre-for-hekseprosessene/
https://no.wikipedia.org/wiki/Tusen%C3%A5rssted