I will show you what a woman can do.

–  Artemisia Gentileschi in a letter to Don Antonio Ruffo
7 August 1649
Artemisia Gentileschi is perhaps best known for her dramatic depiction of Judith slaying Holofernes, one of history's most bloody paintings.
She was not the only one who painted this motif in her time. Many previous and contemporary artists had depicted the story from the Old Testament. Caravaggio, a generation older than Gentileschi, also produced his own version. But Artemisia Gentileschi's first version stands out among the more or less contemporary renderings of the motif. The facial expressions of the women are intensely focussed and you get a clear impression of the strength needed in a situation like this. The sleeves are rolled up and the blood gushes over the bedsheet, in contrast to Caravaggio, with far less blood and more distance between Judith and Holofernes. In fact, Gentileschi painted her first version of the motif the year after she was raped by her father's colleague.
– Overall, she was more extreme, but also more nuanced than most of her contemporaries, says Nina Gram Bischoff, who completed a master's thesis on one of the Judith works in the National Museum, and continues to research Artemisia Gentileschi.
She believes that Artemisia's many versions of the Judith motif stand out. First, because she painted these murder scenes so graphically, and also because in a number of other scenes after the murder she depicted the psychological tension and the women's inner feelings. Artemisia brought out both the external and internal drama.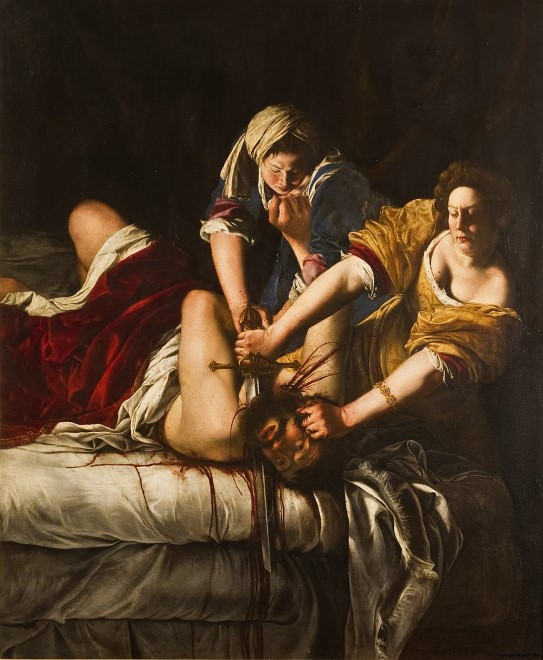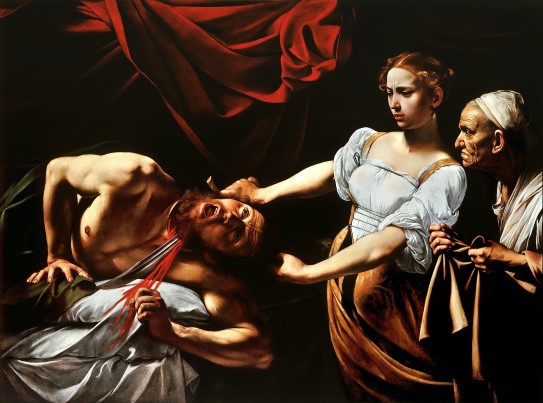 – Artemisia Gentileschi was a particularly talented and courageous painter, with an outstanding career and an extraordinary life. Her legacy – especially her historical female figures – is still a great inspiration over 400 years later, says Nina Gram Bischoff.
Artemisia Gentileschi excelled in her own lifetime. This was a time when women were not even allowed to move freely in Rome. Despite being a woman and despite much adversity, she became a recognised artist.
As was the case with several of the women who were active artists in her time, she started as a pupil with her father. She studied and copied the motifs she saw in her father's paintings.
Artemisia Gentileschi later had her own studio and her art was acquired by powerful figures, such as Cosimo II de'Medici, the Grand Duke of Tuscany and Philip IV of Spain.
Artemisia Gentileschi is also a role model for women because of her assertiveness and understanding of her own worth: "We know from her letters that she was concerned with treating and paying women fairly. She was a smart business woman and, for example, demanded more in payment for paintings with several figures," writes Katy Hessel in The Story of Art Without Men (p. 39). Hessel also produces the podcast The Great Women Artists, where Artemisia Gentileschi features in several episodes.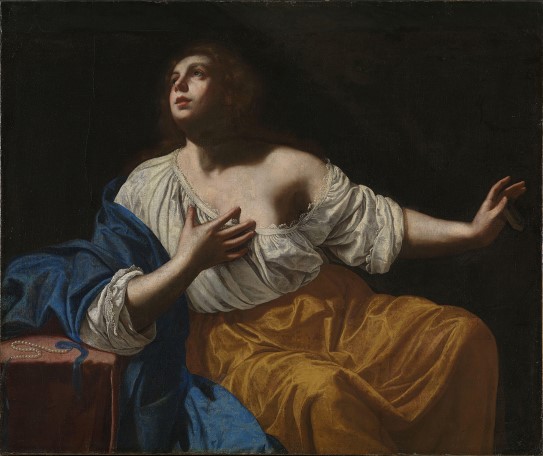 Conservator Sherlock Holmes
– Getting to work with a painting that is close to 400 years old and about which we know very little means that I get to be both a conservator and a detective!
Senior Paintings Conservator Thierry Ford has just begun an extensive job. For the rest of the year, and possibly longer, he will work with Artemisia Gentileschi's The Penitent Mary Magdalene from around 1640. The painting needs extensive conservation, to better withstand the test of time and to be exhibited for future generations in the National Museum. When we first take the picture down from the wall for a while, we can research everything from painting technique and previous conservation work, to the picture's structure and provenance. The painting must be X-rayed and viewed carefully with a magnifying glass and a microscope. Perhaps we will also discover something new about the pioneer artist Artemisia Gentileschi?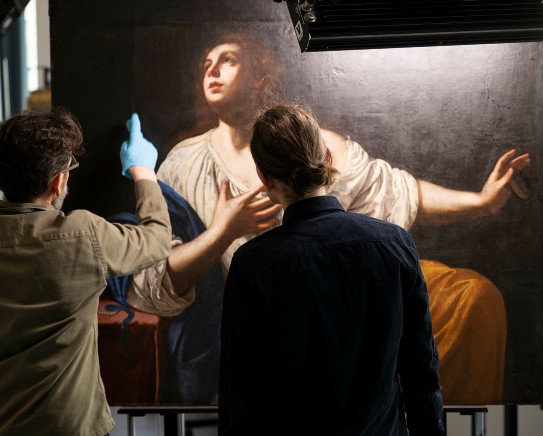 Artemisia Gentileschi
Artemisia Gentileschi was born in Rome on 8 July 1593.
She grew up in the home and studio of her father, Orazio Gentileschi, in Rome, as the eldest of five siblings.
She was apprenticed to her father and it is assumed that they also painted together.
She lived and painted in Rome, Florence, Venice, London and Naples.
She became the first woman to become a member of the "Accademia del Disegno" in Florence in 1616.
Gentileschi did not sign or date all of her works. Many paintings are therefore attributed to her on the basis of the style, which is not unusual when one is trying to find out the origins of older visual art.

In the National Museum, you will find four works that were painted in whole or in part by Artemisia Gentileschi, or attributed to her, in addition to a work that may have been painted by her. Further research will be conducted on some of these paintings.
Judith and her Maidservant with the Head of Holofernes (by Orazio Gentileschi, with Artemisia attributed as assistant), around 1608–1612, gift from A. M. Vik, Blomqvist Kunsthandel in 1945
Saint Catherine of Alexandria, 1614/15, private loan
The Penitent Mary Magdalene, around 1640, gift from Betsy Cappelen in 1866.
Judith and her Maidservant with the Head of Holofernes, 1639 or 1640, long-term loan from The Savings Bank Foundation DNB in 2022
The Interrupted Rendezvous (attributed to Rutilio de Lorenzo Manetti), year unknown, purchased by Joachim Frich in 1840, recently proposed to be attributed to Artemisia Gentileschi by the Baroque specialist Gianni Papi in Storia dell'arte.
 It is assumed that she died in Naples in 1654, but both the date and place of burial are uncertain.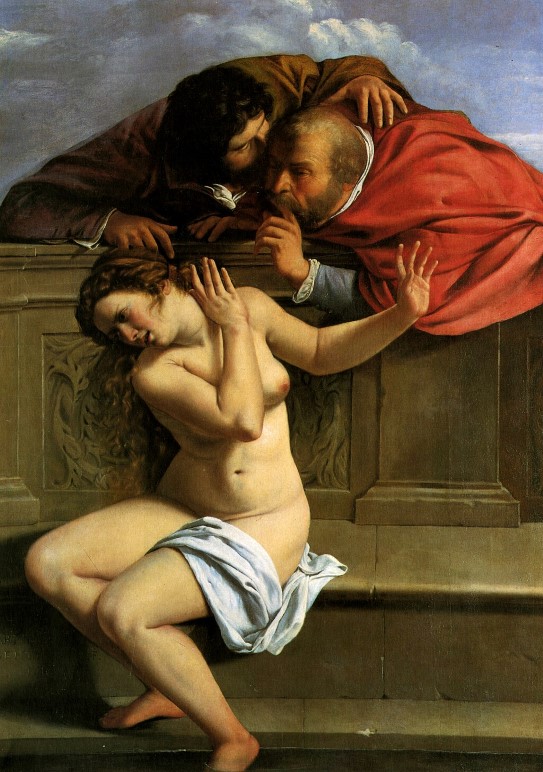 Senior Curator Learning at the National Museum, Ellen Lerberg, tells of a time when the non-reformed church placed great emphasis on the importance of images in the worship of God. At the ecumenical Council of Trent, held between 1545 and 1563, the church highlighted the art of painting as a means of highlighting biblical stories which, among other things, dealt with good morals.
– In line with the Council's guidelines, generations of artists in Catholic countries and areas painted such works of art for the Church, but also for private collectors.
Artemisia Gentileschi specialised in this form of prestigious narratives and motifs. She chose strong women from the Bible or history. An example is her portrayal of Susanna and the Elders, which she painted when she was 17, in 1610.
– The painting shocks me, says Gram Bischoff.
She considers the painting to be one of the strongest and most interesting in the history of art, because of both the motif and the painterly execution.
–  Susanna is portrayed as vulnerable and strong at the same time, says Gram Bischoff, who believes that Gentileschi's paintings have a special sensitivity and offer both psychological insight and narrative technique.
Susanna is central to the Greek translation of the Old Testament and in The Book of Daniel in the Bible. She is described as exceptionally beautiful and was married to Joachim in Babylon. Two of the congregation's elders try to seduce her when she is taking a bath, but she rejects them. Furious and vengeful, they accuse her of adultery. Over the years, many artists have depicted Susanna's meeting with the elders.
– Art historian Mary Garrard was the first to point out how Artemisia Gentileschi approached the motif differently from her colleagues. In many other versions of the abuse, the married woman is portrayed as flirtatious and seductive, as if she invites both them and those watching to a party. It seems to be more about an excuse for painting a naked woman, than portraying the abuse.
Artemisia's Susanna is different.
–  With a turned body, a distorted facial expression, averting gestures and an open mouth, she shouts out her despair and clearly says no, says Gram Bischoff.
Artemisia's place in the world in 2023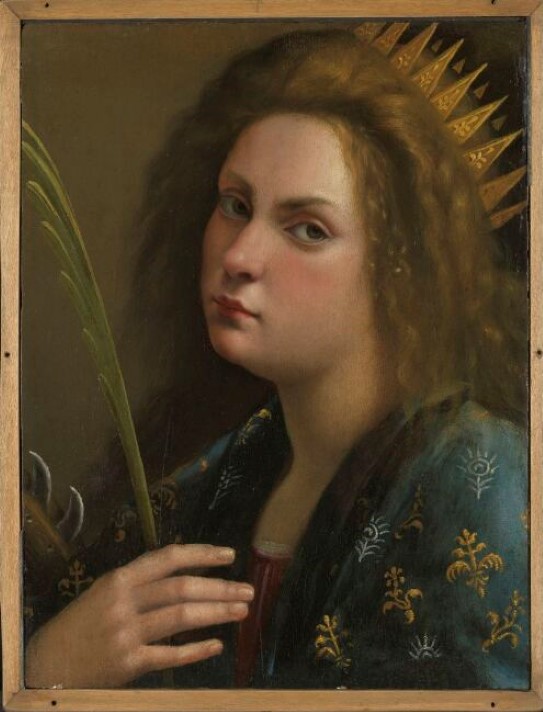 Artemisia often included herself in her paintings. This may have been because of a lack of other models. In the literature on the artist, a distinction is made between pure self-portraits and a form of self-representation. We can see Artemisia herself in Self-Portrait as Saint Catherine. Gram Bischoff also recognises traits in The Penitent Mary Magdalene and Judith and her Maidservant with the Head of Holofernes.
– Why she so often seems to have painted in her own facial features is much debated. The number of self-portraits may mean that these paintings were in particular demand. There are many indications that she used the pictures deliberately as self-promotion. This may also show that she identified with the fates of the women in the motifs, says Gram Bischoff.
This may also be due to the fact that Artemisia, like other women who painted at this time, often did not have access to models other than herself, according to Ellen Lerberg.
There is much we do not know about Artemisia Gentileschi's life or about who commissioned her works.
– New archival finds, laudatory referrals in contemporary biographies, correspondence and admiring poems in her honour show how well-known and recognised she was in her time, says Gram Bischoff.
In step with new knowledge and the discovery of previously unknown paintings, interest in Artemisia Gentileschi has exploded in recent years. According to Lerberg, feminism's entry into art history has drawn attention to a number of more or less "forgotten" women, such as Artemisia Gentileschi.
– After Mary Garrard's major monograph on Artemisia Gentileschi came out in 1991, interest in her has only increased. A number of books have been published, several exhibitions have been arranged, feature films made and novels written about Artemisia. And last but not least, she is an excellent artist!
Gram Bischoff considers her a feminist icon.
– Extensive international research has led to her now taking her rightful place as one of the foremost painters of the 17th century. It has also made her the most famous woman in older art history.
Artemisia Gentileschi's personal story and paintings can also be linked to the society we live in today, with #MeToo and the passing of consent laws in several countries.
– Artemisia became an artist against all odds. She had to fight, also to be believed, says Gram Bischoff.
The last point refers to the long trial that Artemisia went through in Rome in 1612, after being raped the previous year by her father's painter colleague, Agostino Tassi. In order to prove her honesty, she was, among other things, subjected to torture during interrogation, with thumb screws – a desperate situation for an artist who depended on her hands.
Tassi was found guilty and banished from Rome, but because of his powerful friends, the sentence was never carried out. For Artemisia Gentileschi, the verdict was nevertheless an important victory. Without the rape conviction, her chances of getting married and her family's reputation would have been greatly impaired.
– Artemisia braved great adversity. She eventually managed her own ateliers in Florence, Rome and Naples and became a pioneer who challenged the narrow role of women in Counter-Reformation Italy, says Gram Bischoff.
Artemisia Gentileschi has a great significance, as an artist and a woman, in a time when women artists were extremely rare.
– Today, at least in the Western world, it is completely accepted that men and women have equal opportunities for education and work. In the 17th century there were strict limits on what a woman could and could not do. By getting to know Artemisia Gentileschi's art, one can perhaps better understand that men and women with equal opportunities can achieve equally good results, says Lerberg.
Artemisia at the National Museum
Four or five paintings may not sound like very many. However, with three paintings attributed to Artemisia Gentileschi and a fourth believed to have been a collaboration with her father, Orazio Gentileschi, the National Museum actually has one of the largest Artemisia collections outside of Italy.
The works include both early and later paintings. The most recent addition came to the collection in 2022, as a long-term loan from The Savings Bank Foundation DNB. Judith and her Maidservant with the Head of Holofernes was probably painted in 1639 or 1640 and is signed by Artemisia. The painting was probably produced at the time when Artemisia was at the court of King Charles I in London. She had travelled from Naples to assist her father.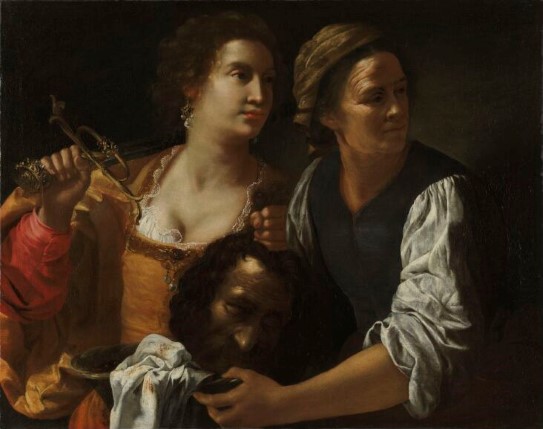 In an article in Storia dell`Arte the Italian baroque specialist Gianni Papi suggests that the painting The Interrupted Rendezvous, previously attributed to Rutilio Manetti, was actually painted by Artemisia Gentileschi.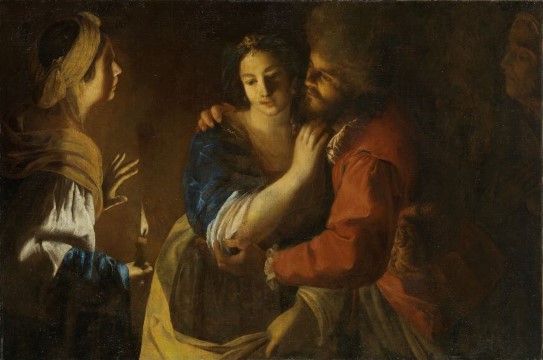 Senior Paintings Conservator Thierry Ford is fortunate. The conservation job with The Penitent Mary Magdalene will be his second close encounter with Gentileschi's works as a conservator. He has previously worked with the iconic Judith and her Maidservant with the Head of Holofernes from around 1608–1612, which you can see in The National Museum's collection exhibition. The work is said to have been painted by Orazio Gentileschi. The National Museum attributes the assistant role to Artemisia. There is some debate about which of the two should be given the most credit for that particular painting. But, that's a story for another time...
– Being able to work with two large pictures by Gentileschi is fantastic for me as a conservator, says Ford, who is looking forward to what the process will reveal about both the artist and the work.
Paintings conservation
At the National Museum, the conservators specialise in either objects, textiles, paper or paintings.
The National Museum's painting conservators look after over 6 000 paintings, from the 15th century to the present day.
The works encompass a wide range of materials and techniques.
The substrate for the paintings ranges from primed canvases and wooden panels, to fibreboard, metal and plastic.
All art ages over time. This aging and degradation will often result in the painting changing its appearance, often over several years, such as when a pigment bleaches or a varnish yellows. Varnishes are natural or synthetic resins dissolved in solvents that are applied over the paint to both saturate and protect colours.
Conservation measures can, for example, include strengthening the base material, removing dirt and yellowed varnish or affixing loose paint.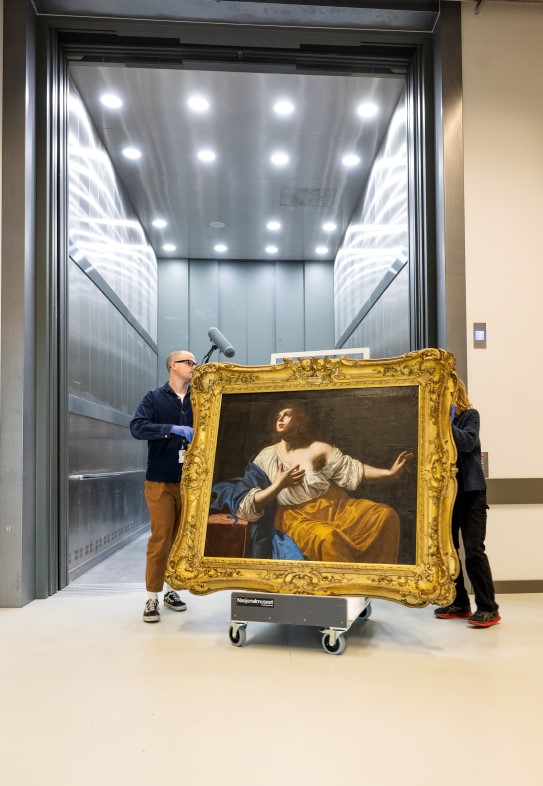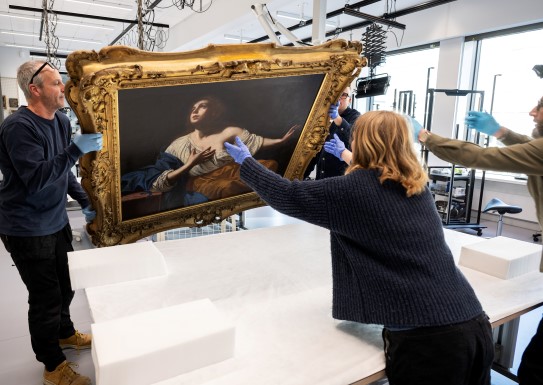 Ford says that the painting has many old damages. It has also been a "victim" of extensive restoration. This means that much of the depth in the image is lost.
– We have to retouch quite a bit for it to regain its original appearance, says Ford.
Nina Gram Bischoff invites ut to notice the details when looking at the paintings of Artemisia Gentileschi; the contrasts between light and shadow, the materiality and richness of detail in the textiles and the elegant jewellery, such as those seen in Judith and her Maidservant with the Head of Holofernes.
– It is also easy to be moved by the strong emotions in her paintings – ranging from rage to melancholy. In this range of painted emotions she surpasses both her father Orazio and most of her contemporaries, says Gram Bischoff.
Follow the National Museum on Instagram and Facebook for more about the conservation of The Penitent Mary Magdalene in the future!
Sources
Conversations and e-mail exchange with Senior Paintings Conservator at the National Museum, Thierry Ford during spring 2023
E-mail exchange with Senior Curator Learning at the National Museum, Ellen Lerberg, June 2023
Email exchange and conversation with Art Historian and Gentileschi scholar Nina Gram Bischoff, June 2023
Gina Siciliano, I Know What I Am. The Life and Times of Artemisia Gentileschi, 2019, Fantagraphics Books
Katy Hessel, The Story of Art. Without Men, 2022, Penguin