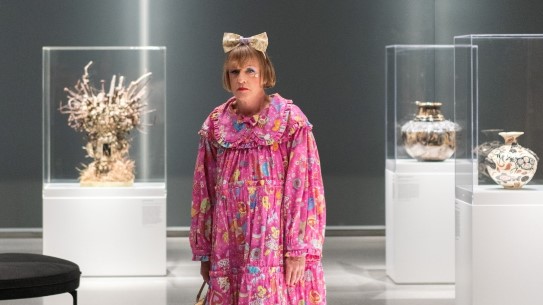 What qualities does it take to become a recognised and successful artist? The British artist Sir Grayson Perry has a unique ability to fit in and to stand out at one and the same time. This balancing act has been a driving force for his art. 
 
Article by senior curator Knut Astrup Bull 
 
Grayson Perry (b. 1960) fits certain stereotypes of the art world, while at the same time pushing against the flow and not quite fitting in. This contradiction has been a driving force for his art, evident both in his interpretation of the artist's role and in his choice of media and thematic content. In retrospect, everything that represented an obstacle to his getting a foothold in the world of contemporary art can be viewed as a factor that contributed to his success. Perry's art often balances on a knife edge between adherence to and rejection of the norms and value systems of the fine art world. 
 
The exhibition Grayson Perry. Fitting In and Standing Out can be seen in the Light Hall at the top of the National Museum until 26 March 2023. 
Class differences and tensions
Grayson Perry's upbringing, class background, and choice of ceramics as one of the media through which to express himself have all significantly informed the content of his art. He grew up in the town of Chelmsford, Essex, near London. Essex is a largely agricultural county punctuated by a few sizeable towns that developed during the era of industrialisation in the 19th century. After World War II, many people moved out to Essex from the poorer parts of London. Given the serious housing shortage in the old working-class districts of the capital, what attracted them was the chance of being allocated a home. At the same time, London's wealthier citizens moved out to the villages served by the railways, to raise families in a more rural setting. 
 
Since the 1980s, industry in Essex has been struggling, and many businesses have failed, with all the social consequences that ensue. As a result, Essex now has some of the poorest areas in England alongside some of the wealthiest. It is a region where class distinctions are highly conspicuous and politics and daily life are deeply coloured by the tensions between town and country, poor and rich. 
Teddy as a source of security
Perry grew up in a working-class family and describes his childhood and upbringing as difficult and full of anxiety. At the age of three, he contracted measles, and during his illness, he personified his teddy bear, giving him the name of Alan Measles. Alan becomes an ersatz father for Perry during a troubled childhood. Perry was just four years old when his father moved out and his mother's new boyfriend moved in. He describes his stepfather as a lout who brought insecurity into the family. In reaction, Perry created a fantasy world in which Alan Measles became a protector and father figure. Alan has evolved into an important persona who appears frequently in Perry's art. 
The emergence of Claire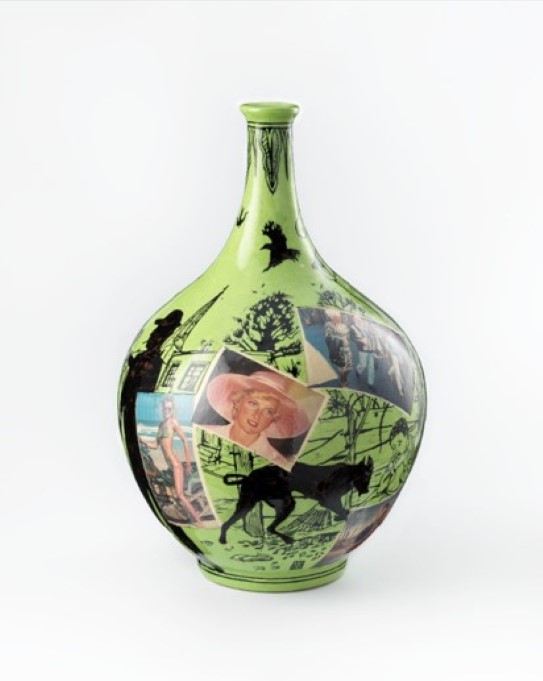 In 1973, Perry discovered a taste for dressing in women's clothes. This urge was a further source of anxiety, due to the fear of being discovered. He made his first public appearance dressed as a woman in 1975, marking the birth of his transvestite personality Claire, who would also later figure in some of his works. In the same year, he moved in with his biological father and his partner, only to be kicked out again when they discovered his transvestism. In due course, these significant experiences of his younger years, together with his working-class background and the social tensions of Essex as a region, would all feed into his art.i
The road to art
At the age of eighteen, Perry attended an art course that represented his first step on the path to becoming an artist. The following year he left home and began a BA course in fine art at Portsmouth College of Art and Design, from where he graduated in 1982. Perry was active as an artist during his student years, participating in exhibitions and producing works in a variety of materials and techniques, sometimes using them to explore his transvestite identity. 
 
In the early years after his studies, he devoted much of his energy to performance and film as forms of expression. Among other things, he participated in a performance group who described themselves as neo-naturalists and who focused on the body as an artistic medium. His main preoccupation during this period was, however, the production of art films in which he himself played the female roles.ii In addition, he created works and installations from an assortment of found objects, an approach that clearly showed the influence of his former teacher in Portsmouth, Larry Knee. Encouraged by fellow artist Christine Binnie, he attended evening classes in ceramics, although it wasn't until 1983 that Perry recognised the potential of the medium for his own art.iii 
The first works
Sir Grayson Perry exhibited his first ceramic works in 1983 at the Ian Birksted Gallery in London. The following year he was invited to hold a solo exhibition at James Birch Fine Art, also in London. Evidently attracting attention, he took the unusual step of exhibiting ceramics made during evening courses in a fine art gallery. It was probably not the quality of his craftsmanship that earned him the opportunity to exhibit, so much as what his ceramic objects conveyed. It is generally assumed that fine artists do not waste their time on cups and vases, and within the art world, Perry's ceramics project was apparently interpreted as an ironic commentary on crafts. 
 
In his early ceramics, Perry confined himself to traditional forms, such as plates and simple sculptural objects. It was evident from their somewhat amateurish execution that he was not a trained potter. What was interesting, however, is that right from the start he drew inspiration from an older type of ceramics with a long tradition in the history of English pottery, namely slipware, with its characteristically decorative surface patterns created through the application of coloured, liquid clay. This technique was commonly used in older, rustic domestic crockery. 
Provocative messages
Perry's works from the 1980s can be described as direct, honest, and reckless, in terms of both idiom and subject matter. They can be read as a rebellion against England's established studio ceramics, with its emphasis on sober decoration and fine craftsmanship. His Kinky Sex plate from 1983 is a good example of a kind of rough-and-ready approach to ceramics combined with provocative themes and decorative elements. The work dates from the year Perry acquired his first pottery kiln.iv
Breakthrough
Perry also began to attract attention in international ceramic circles, and it was as a contemporary ceramicist that he had his artistic breakthrough in the 1990s. Up until the 1980s, studio ceramics was still largely dominated by the values of the pioneering English potter Bernard Leach (1887–1979), which included high standards of technical execution, a thorough understanding of materials, and masterful handling of decoration and glazes.v 
 
During the 1980s, a number of artists chose to challenge the paradigm of traditional studio ceramics. Many began to explore unglazed pottery and freer sculptural forms. The medium become more expressive with a conspicuous element of "sloppiness". Notions of what constituted good ceramics expanded and new approaches to materials and traditions found acceptance. The field developed in several directions, establishing sculptural and conceptual strategies alongside the more traditional. The use of glue guns, ready-mades, and transfer images became as common as the use of the potter's wheel and hand-painted decoration. The focus was no longer exclusively on technique, materials, and functional forms, but equally on what the artist wanted to convey through the use of clay. 
 
Perry's ceramics were in tune with the times, quickly earning him a place among the innovators within the field. He became part of a larger group of ceramicists who worked with printed decoration and pictorial representations on fired clay, a group that included artists such as Paul Scott, Charles Craft, and Robert Dawson.vi 
Direct and immediate imagery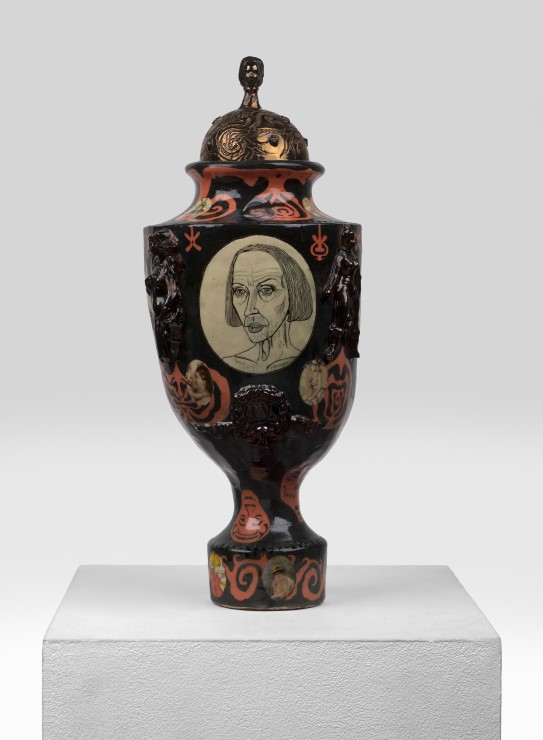 But it is in terms of their subject matter and imagery that Perry's pots stand out from the crowd. He worked with a combination of transfer images based on popular culture or art history, and his own paintings, which are stylistically indebted to comic strips. A direct and immediate idiom with a recognisable frame of reference. Thematically, his pictures represented – and told stories about – people who challenge social norms through their sexuality or gender roles, or lives marked by violence and anxiety. He depicted people and subcultures on the margins of society, a preoccupation that has become an enduring feature of his art. There is a parallel between his themes and his choice of ceramics as a medium. 
 
As a fine artist who has chosen forms of expression and media that defy the norm, Perry himself can be said to live on the margins of the art world. In his own words: "Pottery is my gimmick,"vii and without doubt it is his ceramic works that have made him famous.  
Challenging society's male ideal
Many of the themes Perry addresses in his works have to do with mechanisms and phenomena that define us as either belonging or not belonging to certain social groups – our everyday ideas of what is normal in a society or community. His interest in these issues can be attributed to his troubled childhood, his social background, and his later experiences of navigating the hierarchies and commercial structures of the art world. Growing up in an insecure home in the presence of taciturn, aggressive men, or the fear of being discovered in women's clothes, would appear to have fed his curiosity about gender roles and the social factors that shape them. He challenges society's male ideal and shows us instead that masculinity can be expressed in many different forms. 
Crossing the boundaries of class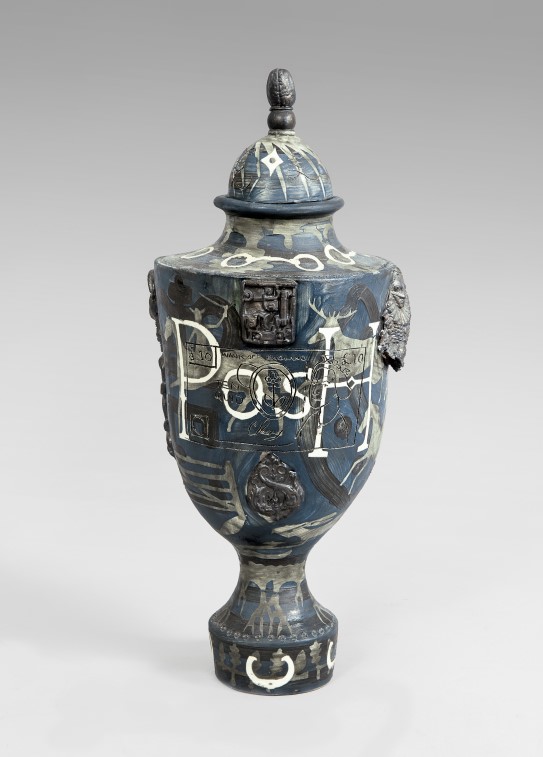 In 1992, Perry married a woman from the middle classes, and this migration from one class to another seems to have heightened his awareness of his own social background and class identity. One of his perennial interests is the ways in which class identity shapes us as individuals and helps to determine our tastes and value systems. The social structures that ensure we all share the same values and fit in as individuals also serve as markers that distinguish one class from another. The fascination with these social phenomena has informed most of his work.viii 
 
Another kind of class division that Perry has encountered concerns the norms and genre hierarchies that govern much of what happens in the art world. As a ceramicist who works with the forms of functional objects, it can be hard to gain recognition in the fine art domain. It is fine art that dictates the norms of the art institution. This is a field in which the artistic idea takes precedence over technique, material, and function. As a rule, a vase is not accorded the status of an artwork. 
 
Despite having made a name for himself as a contemporary ceramicist during the 1990s, Perry did not initially achieve recognition in the fine art sector. His exclusion from the elite circles of the contemporary art world has been a source of both frustration and inspiration, as many of his works illustrate. Perry's relationship to the art world is ambivalent and he has frequently depicted the superficiality, vanity, and pursuit of status associated with it to satirical and ironic treatment.ix Exclusion, whether in relation to sexuality, identity, or ceramics, can be viewed as an important source of inspiration in his art. He often highlights the things that lurk in the shadow of "normality", exposing them unfiltered. 
 
In 2003, Perry was awarded the prestigious Turner Prize for his work. In their justification for the decision, the jury highlighted his combination of an uncompromising commitment to the individual and the articulation of societal challenges with traditional ceramics and the use of innovative pictorial narratives. Since the prize was given for fine art, Perry's status changed overnight from humble potter to fine artist. This gave him access to the most prestigious exhibition arenas, to private art collectors, and the media. 
Recognition at last
Perry was no longer excluded from the elite circles of the fine art world. Henceforth, most people would regard his vases as genuine works of art, albeit sometimes reluctantly. He was now in a position to take on more ambitious projects, also in the fields of sculpture, graphics, and textiles. Over the years, tapestries have become perhaps his most important genre after ceramics. Today, Perry could reasonably be described as an artist who works in a range of media and art forms, although ceramics remains his primary focus.
A common feature of the art genres Perry works with is that they have long traditions as crafts. In Perry's view, the quality of craftsmanship is no less important to an artwork than the artistic idea.x The artist's temperament, skill, and treatment of materials help to define an individual artistic signature. How the chisel lies in the hand or how skilful the potter is in handling the wheel are factors that influence the final result; they leave traces that help us to recognise whether two objects were made by the same person.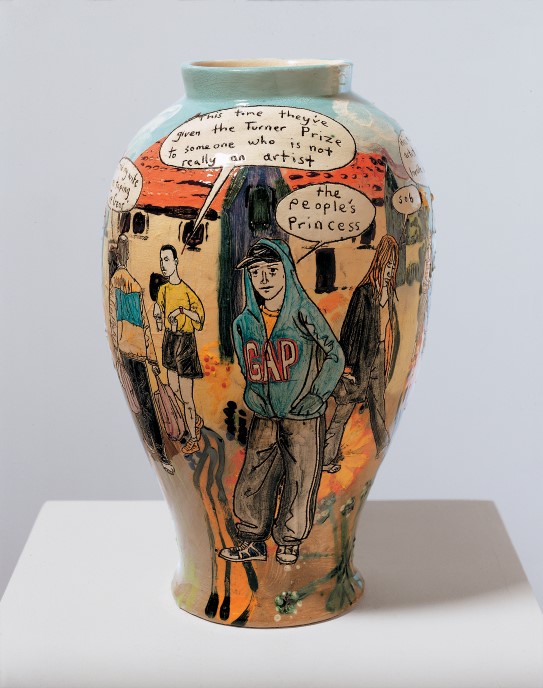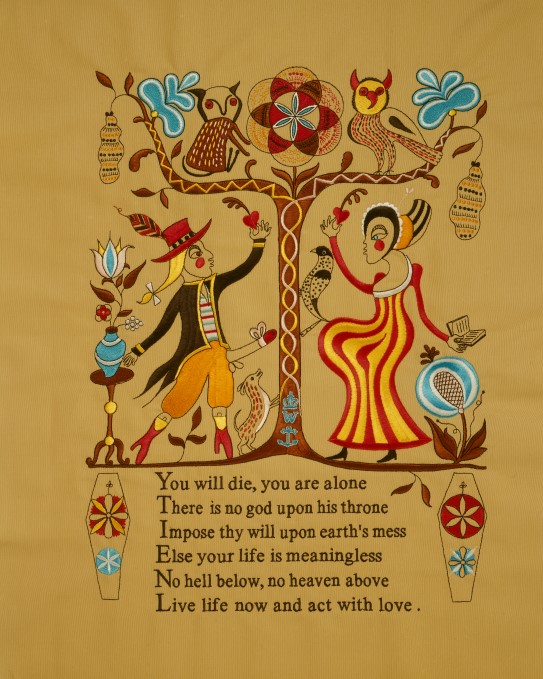 The unknown craftsman
One characteristic of the early history of fine art and the decorative arts is that we rarely know the names of the people who made the artefacts from those periods. Some of the great masterpieces in the history of art were the work of now nameless craftsmen. Perry honoured these unknown craftspeople in his 2011 exhibition The Unknown Craftsman at the British Museum, where almost every object in the collection was made by someone whose identity is no longer known. Yet it is thanks largely to them that we have access to the cultures of the past. The exhibition highlighted the central significance of craftsmanship in art and human cultural history. Perry's art and his choice of media are concerned in part with turning a spotlight on genres and techniques that the fine art field has ignored as untrendy in recent decades, media such as printmaking, woodcarving, ceramics, and tapestry weaving, genres where craftsmanship and materials are integral to the aspect of artistic expression. 
Over the years, Perry has become an experienced ceramicist who has mastered the methods of hand-building vases and various time-consuming decorative techniques, but when it comes to printmaking, sculpture, and tapestries, he does not carry out the actual crafting process himself. Instead, he delivers designs for the works to specialised workshops and engages in dialogue with the craftsmen and technicians who turn his ideas into reality. The practice of entrusting designs to craft specialists has a long historical pedigree. Regardless of whether he undertakes the crafting process himself or engages the assistance of others, the intersection between craft, materials, and artistic idea is crucial to his work. His stance pays tribute to the artists of past times while simultaneously forging a link to the history of arts and crafts. Materials and techniques also have a story to tell, and in Perry's universe they create a resonance that reinforces the message of his stories. 
The Vanities of Small Differences
This point is best illustrated by one of Perry's most important works, the tapestry series "The Vanity of Small Differences" from 2012. This consists of six tapestries for each of which Perry produced a so-called cartoon – a full-sized design for the work, drawn and coloured by hand – which is translated into textiles by a professional weaver. In dialogue with Perry, the design and colours are coordinated and entered into a computer program that controls the actual weaving process. The tapestries are woven on a highly sophisticated Jacquard loom, which produces a three-dimensional effect in the weave. The roots of this technique date back to the medieval period, although its heyday was in the 16th and 17th centuries. This was an exclusive art form, and only the richest could afford to decorate their walls with examples of it. Tapestries woven in this technique are often referred to as Gobelins, named after an illustrious French tapestry workshop in Paris. Gobelins often told a story across a number of separate panels, for example, the progress of the seasons or the Passion of Christ. 
 
Perry's tapestry series is a retelling of William Hogarth's (1697–1764) "A Rake's Progress" (1732–34), a pictorial story in eight pictures. This describes the tragic fate of Tom Rakewell, the son of a successful merchant. Hogarth's pictures trace Tom's descent from privileged heir at the start of his adult life through to destitution and madness in a mental hospital. In Perry's retelling of this story, we follow Tim Rakewell on a journey up through the classes of English society, from working class, via the middle classes, to the upper class. Here as well the story ends tragically with a fatal accident in a red Ferrari. 
 
In his picture series, Perry also includes references to historical religious motifs, invariably rendered with his refreshing and somewhat cartoonish use of line. By constructing "The Vanity of Small Differences" as a classic pictorial narrative in the tapestry medium with religious references, he invests the work with an aspect of monumentality and claims for his own narrative some of the prestige associated with historical Gobelins. The work engages in a complex dialogue between history and the present. The biblical and mythological narratives of classical tapestries are thrust into the background in favour of a social drama from our own day and age. By telling a relatable and topical story about the present through the medium of monumental tapestries, he elevates and expands the meaning of ordinary people and their daily lives. This may well explain why Perry has become public property in the UK. The stories he tells are those of the people at large. 
Identity-creating objects for contemplation
The history of the vase stretches much further back in time than that of the tapestry. Vases, pitchers, and other ceramic vessels are among the oldest archaeological artefacts ever to have been found. Household items of this kind are closely connected with the history of humanity. Used for thousands of years as ritual objects in religious ceremonies, jars and vases have been regarded as possessing spiritual power. Throughout history, the vase has also been associated with worldly power and status. For the Chinese emperor, they were a symbol of dignity, for princes they signalled wealth and good taste. Whether decorated with the emperor's dragons or to commemorate an important regal event, the vase has served to establish identity. As an item used in religious ceremonies, it has also been an object for contemplation, something that renders the spiritual world visible to man. Both in form and decoration, this archetype is charged with meaning. 
The past into the present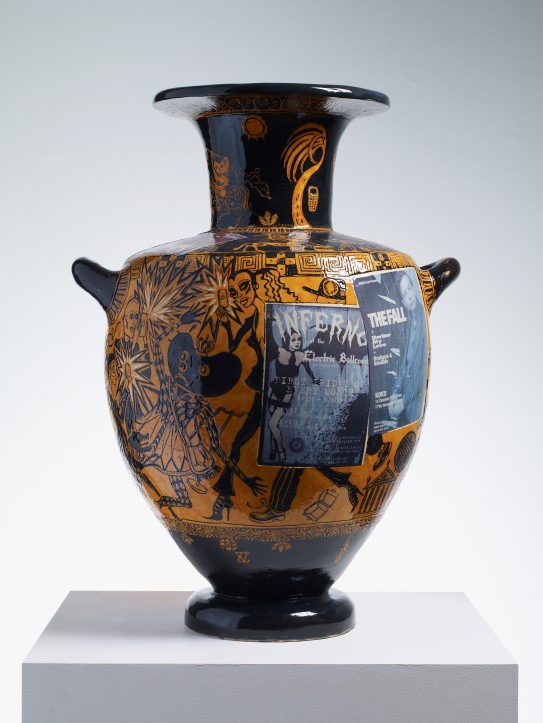 Vases decorated with images go far back in time. The material we know best are Greek and Roman painted vases, Persian and Peruvian ceramics, and Chinese porcelain. These objects provide archetypes and motifs that have inspired artists right up to the present. In this respect, Perry draws on a long tradition in ceramics while at the same time participating in a larger group of contemporary artists who work with images on pots. Several of these, like Perry himself, explore the history of objects and traditional motif clusters, thereby bringing the past into the present by introducing contemporary themes, forms of expression, and new interpretations.xi It is an approach that reinvigorates the vase as an object for contemplation and as a status symbol, now as a work of art.
Although vases have historically served as high-value showpieces that were only available to the few, the category also includes mundane items that have been, and still are, used in most homes. As an object that most people are familiar with, the vase is an appropriate medium through which the artist can engage the viewer in dialogue. It does not create distance, and for people with little experience of viewing art or visiting exhibitions, it represents an easily approachable object. The threshold for immersing oneself in the subject matter of the work is fairly low, and consequently the artist can convey his message to a broader audience. From a distance, Perry's vases appear harmless and elegant, while up close, they are often provocative in terms of their themes and imagery. 
Devaluation
It could be argued that the history of the vase in Western art is a tale of devaluation from an art object to something functional. From its role in religious ritual or as a highly valued artistic and symbolic commodity, in modern times the vase has become a much more mundane item that is perhaps most appreciated for the elegance of its design. For many people, a decorated vase is first and foremost something grandma had on her mantelpiece, an object they may well dismiss as a trinket. 
 
It was due to the rise of the modernist understanding of art during the 19th century that the vase lost its status as an artwork. Modernist art theory draws a clear distinction between works of art and ordinary objects. In the world of fine art, the vase belonged to the sphere of everyday life and had nothing to do with art. Perry, however, has challenged the reductive view of craft that such a view entails. 
Restored status
It would be fair to say that Perry's starting point is that the vase is more than just a silent functional object; its form reflects a history of profound significance and retains an enduring capacity to communicate ideas and ideals. A status that has been looked down upon and sometimes ridiculed in the art world. The awarding of the Turner Prize to Perry represented a challenge to the art world to reconsider the ideology that distinguishes between utility object and artwork and to accept the vase as the latter. 
 
Critics and writers have had a tendency to describe Perry's vases as mere canvases for his true artworks, which are the pictorial narratives he puts on their surfaces. In this way they avoid the problematic issue of the object as such.xii From an aesthetic perspective, Perry's interest in the history of ceramics, functional forms, and the craft aspect of art practice effectively excluded him from the artistic elite. He has striven to be accepted as a fully worthy artist whose working materials just happen to include ceramics and textiles. Acceptance means that he is now on the inside, yet thanks to his unusual choice of media he continues to stand out among the fine-art crowd. He is both outsider and insider at one and the same time, a position Perry himself is comfortable with. 
Observer and commentator
Perry is a socially engaged artist whose work often addresses the less flattering, more conceited, yet often comical, aspects of society. It would be wrong to describe him as a political artist, in other words as someone who promotes a vision of society that is either utopian or dystopian. Rather, he is an observer of and commentator on what goes on in society in both its brighter areas and its darker corners. He himself has said that the role of the artist is to see what the rest of us don't see. To turn a spotlight on what we fail to notice in everyday life, or perhaps prefer not to notice. 
 
With this as our vantage point, it is interesting to consider Perry's work in the light of an artistic tradition that can be traced back to the early 18th century. Around that time a new genre of painting emerged that used pictorial narrative as a means of commenting on contemporary social and cultural issues. The most prominent practitioner of this new form of socially engaged art was the painter and printmaker William Hogarth (1697–1764).xiii Perry's decision to include direct references to one of Hogarth's most celebrated picture narratives in "The Vanities of Small Differences" makes it relevant to consider him in the context of this genre. 
New art market
In the early years of the 18th century, a new form of visual art emerged in Europe's largest administrative and commercial centres – places like London, Amsterdam, Paris, and Venice. These cities were enjoying a rapid rise in prosperity, and their burgeoning and increasingly wealthy middle classes wanted to buy art. But the art they wanted was something that reflected their tastes and the world they saw around them. Accordingly, a market emerged for a kind of art that was different from the academic style favoured by the court and aristocracy, with its emphasis on classical models and allegorical themes. Instead, the middle classes wanted depictions of everyday life in the modern metropolis. In response to this new demand for representations of the daily activities and amusements of the citizenry, artists and printmakers began to produce series of pictures based on a common theme, or which told a story. 
 
This new trend borrowed elements from Dutch group portraits and so-called genre painting, a form that depicts ordinary people engaged in mundane pursuits. What was new was the thematic emphasis on the middle classes and the city as the stage on which the drama of their lives unfolded. 
Hogarth's picture stories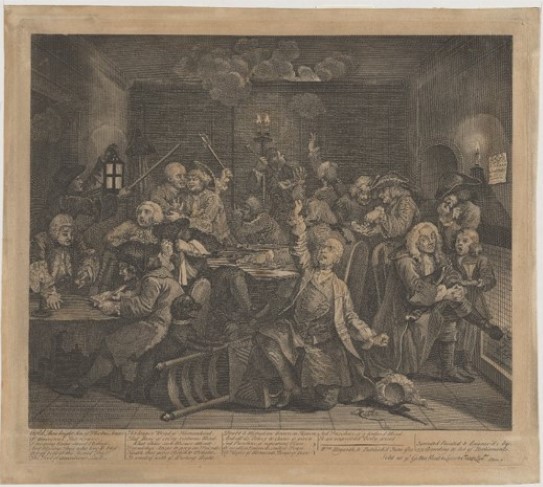 No one excelled at this socially engaged and commentative picture narrative more than William Hogarth. Conditions in London at the turn of the 18th century were somewhat different from those in other major European cities. England was ruled not by an absolute monarch, but by a parliament, which meant there was greater freedom of speech than elsewhere. Accordingly, Hogarth's stories were juicier in terms of content than similar work produced in, for example, Paris. In many of his pictures, satire, caricature, humour, and fine art all coincide. And they frequently carry some kind of moral message. 
 
Hogarth depicts the murky, laughable, and conceited aspects of life in the big city. He shows us the depravity and hopelessness of the lower social extreme and the hypocrisy, power, and wastefulness of the higher. There is plenty of humour and satire, not least in his representations of the tastes and lifestyles that define the identities of the various classes. In order to recount the story, the theme is invested with movement and presented as a sequence of events either in a single image or via a series of images.xiv
Social and political sting
The similarities between Perry and Hogarth are certainly not stylistic and the differences between 18th century society and our own are significant. What links Perry to the Hogarthian tradition is the storytelling strategy and the artistic eye for social foibles. Like Hogarth, Perry also combines caricature and satire with the established art genres. And like Hogarth, he bases his work on the observation of people from all walks of life and his familiarity with mundane existence to create art with a social and political sting. He conveys his message in formats his viewers feel comfortable with, making it easier for them to recognise the observations he offers. As a result, Perry, like Hogarth, has become a popular British artist. 
 
Sir Grayson Perry's ability to balance between fitting in and standing out has earned him success in the art world. What makes him such a phenomenon is his social engagement, his ability to communicate, and his humour. His readily accessible idiom reaches both the elite of the art world and the man in the street. That makes Grayson Perry a unique artist. 
Born 25 March 1960 in Chelmsford, Essex, England 
Distinguishes himself with works in ceramics and textiles 
Receives the Turner Prize in 2003 
Nurtures an anthropological interest in the ways social and cultural status is expressed through taste 
Challenges the hierarchy that places material and craft-based art below art based on ideas 
Characteristic features of his art: 
exposure of social power structures, our vanities, and our perceptions of the normal 
challenges to the rigid norms that society, communities, and popular culture impose on men 
visualisation of the myths and the inherited values that form society 
use of incisive satirical imagery in combination with widely recognisable artistic idioms and objects 
The exhibition Grayson Perry. Fitting In and Standing Out can be seen in the Light Hall at the top of the National Museum until 26 March 2023. 
References
[i] Andrew Wilson, «Towards a pre-history of Grayson Perry», Grayson Perry – The pre-therapy years, Red. Catrin Jones og Chris Stephens, s. 15. Thames & Hudson, 2020  
[ii] Andrew Wilson, «Towards a pre-history of Grayson Perry», Grayson Perry – The pre-therapy years, Red. Catrin Jones og Chris Stephens, s. 24. Thames & Hudson, 2020  
[iii] Andrew Wilson, «Towards a pre-history of Grayson Perry», Grayson Perry – The pre-therapy years, Red. Catrin Jones og Chris Stephens, s. 16. Thames & Hudson, 2020  
[iv] Jacky Klein, Grayson Perry, s. 16. Thames & Hudson 2013  
[v] Jacky Klein, Grayson Perry, s. 40. Thames & Hudson 2013  
[vi] Mark Del Vecchio, Postmodern Ceramics, s. 114. Thames & Hudson 2001  
[vii] Film med Grayson Perry, Tate shots 2011, YouTube  
[viii] Jacky Klein, Grayson Perry, s. 65. Thames & Hudson 2013   
[ix] Jacky Klein, Grayson Perry, s. 225–226. Thames & Hudson 2013  
[x] Jacky Klein, Grayson Perry, s. 42. Thames & Hudson 2013  
[xi] Mark Del Vecchio, Postmodern Ceramics, s. 106. Thames & Hudson 2001  
[xii] Jacky Klein, Grayson Perry, s. 39. Thames & Hudson 2013  
[xiii] Hogarth and Europe, Red. Alice Insley og Martin Myrone, s. 18. Tate Publishing 2021  
[xiv] Hogarth and Europe, Red. Alice Insley og Martin Myrone, s. 97. Tate Publishing 2021