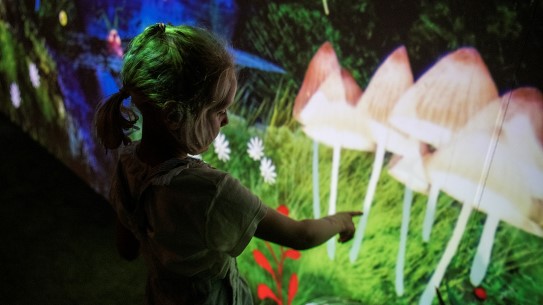 Loss of biodiversity is a major threat to life on Earth. Almost 50 percent of threatened species in Norway live in ancient or near-primeval forests. How can we take better care of the biodiversity in our forests?
Primeval forest Silva is an interactive workshop where we invite children into a world where they can explore art and nature and also help to save a primeval forest. In the permanent collection exhibition, all the family can find out how forests have influenced the work of artists throughout history. We recommend spending some time in the permanent collection before or after your visit to Silva.
Silva is open on Saturdays (and Tuesdays in July) at the following times:
12 noon – 12.45 pm
1 pm – 1.45 pm
2 pm – 2.45 pm
3 pm – 3.45 pm

Silva is suitable for everyone aged three and above.
The workshop is in the basement of the National Museum, next to the cloakrooms. Please arrive five minutes before the start of the workshop to be sure of getting a place.
All participants must have a valid admission ticket to the National Museum. Tickets can be purchased at the ticket desk on arrival at the museum or here.