The history of the National Museum – Architecture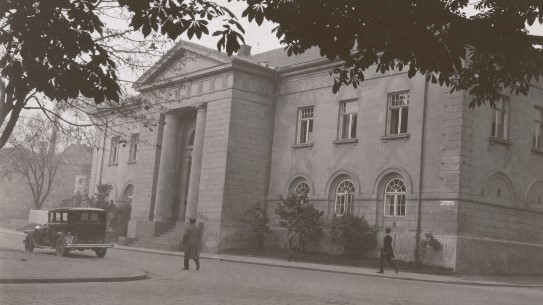 The Norwegian Museum of Architecture was founded by the National Association of Norwegian Architects in 1975. The museum became an independent foundation in 1998, and has been part of the National Museum since 2003.
Until 2005, the Museum of Architecture was located in Kongens gate 4. From 2005 to 2008, architectural exhibitions were shown at Tullinløkka and at the Museum of Decorative Arts and Design. In its current location at Bankplassen 3, the National Museum – Architecture opened to the public in 2008.
The move to Bankplassen 3 was proposed as early as 2001. The proposal that the Museum of Architecture presented to the Ministry of Culture found wide support in the media, and was approved by the government later that year. The Ministry of Culture financed the conversion of the former bank building, while Jens Ulltveit-Moe sponsored the construction of Sverre Fehn's exhibition pavilion.
The history of the building
Bankplassen 3 is an important work in the history of Norwegian architecture. It was built in 1830 as a branch office for Norges Bank. The architect, Christian Heinrich Grosch, designed many of the most prestigious public buildings that Christiania needed when it became Norway's capital city after 1814. When the National Archives of Norway took over the bank building in 1896, a new storage wing was added, designed by Henry Bucher. The architect entrusted with converting the building to a museum and with the design of a new exhibition pavilion was Sverre Fehn, the 1997 winner of the prestigious Pritzker Award.
The building's place in the history of architecture
As an important architectural statement in its own right, Bankplassen 3 is an ideal arena for architecture. Blending the classicism of Grosch and the modernism of Fehn, it represents an encounter between two of Norway's foremost architects, one from the 19th century, the other from our own era.