The study room at the National Museum – Architecture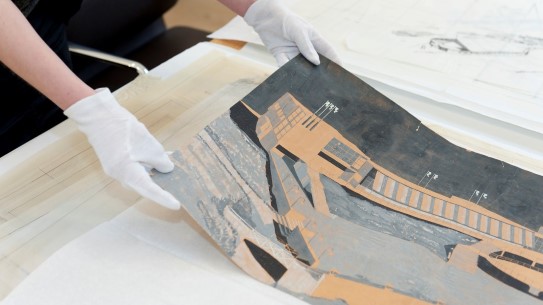 With more than 300,000 artefacts dating from the 1830s to the present, the National Museum's architectural collection is the most important in Norway.
Assembled largely from the private archives, complete and partial, of individual architects, the collection documents and illuminates various aspects of architectural culture. The items include a wide variety of materials and media: architectural drawings, photographs, models, conceptual studies, sketch books, correspondence and ephemera.
The architecture collection is accessible to students, researchers and other interested parties. Items from the collection must be ordered three workdays in advance of the intended visit and are made available for inspection during opening hours in the study room.
Opening hours
Open by appointment Wednesday and Thursday 12:00–16:00.
Contact
Visiting address: National Museum – Architecture (upper floor), Bankplassen 3
Postal address: Pb. 7014 St. Olav's plass, 0130 Oslo