The National Gallery's future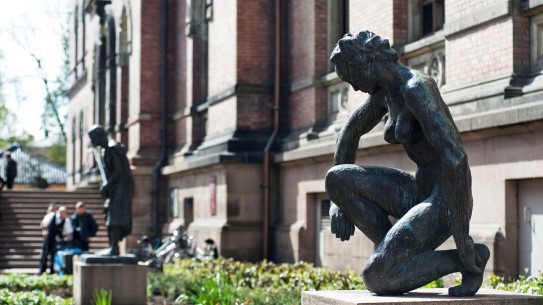 Over 120,000 works has been moved and safely installed in the new museum, which is now open to the public.
The National Gallery closed temporarily in January of 2019.
The works of Edvard Munch and all the other collection highlights are now part of the permanent exhibition in the new National Museum.
Moving to the new museum
Over 120,000 works has been moved and safely installed in the new museum, which is now open to the public. More than 53,000 of these works are coming from the National Gallery. The National Gallery had to be temporarily closed, in order to ensure the art was safely transported, since normal operations in the building would compromise safety during the removal period.  
A long-term solution
With government backing, the National Museum has begun a cooperation with Sparebankstiftelsen DNB to define the future use of the National Gallery. A restoration of the building will open up areas that are currently inaccessible to the public, such as the top floor and the basement. This will allow for new functions, with larger visitor areas, workshops and production halls. The contemporary art scene will become central to the building's future, while the National Museum will continue to present exhibitions within its walls.  
Although cultural buildings are currently benefitting from a major investment programme, the actively creative art scene lacks facilities for display and production. As a National Museum, we are asking how we can intensify our dialogue and collaboration with artists. Accordingly, we are also exploring possibilities for cooperation with organisations such as the Young Artists Society (UKS).
Having considered a number of options for the National Gallery, the National Museum and Sparebankstiftelsen DNB are now embarking on a pilot project to explore ways to develop this plan. It is widely agreed that the building should reopen as soon as possible and that the chosen solution should have long-term viability. All renovation work will respect the history and architecture of the building while at the same time meeting contemporary requirements for universal design.
In its Political Platform for 2018, the Norwegian government resolved "to conserve the National Gallery as an art gallery associated with the National Museum, provided this does not involve undue renovation costs."
Central artworks on the road
In 2019 45 central works of art by artists such as Munch, Sohlberg and Hertervig traveled to institutions in Norway. These included KODE, Trondheim kunstmuseum and Stavanger Art Museum. 
Four touring exhibitions was shown nationwide in 2019 and 2020: "Aase Texmon Rygh: Evighetens form", "Gerhard Munthe: Eventyrlige interiører", "Visuelle nabolag" and "Gustav Vigeland. Angsten står i sofaen". 
More than 40,000 objects are also available through the National Museum digital collection
If you have any questions, please contact our Director of Communications, Eirik Kydland, by e-mail: eirik.kydland@nasjonalmuseet.no