Practical information for your visit to the National Museum
Here you will find information about accessibility and facilities at the museum, and useful tips to make your visit a success.
Due to a recent event in the museum some extra security measures are in effect. We ask for understanding and apologize for the inconvenience.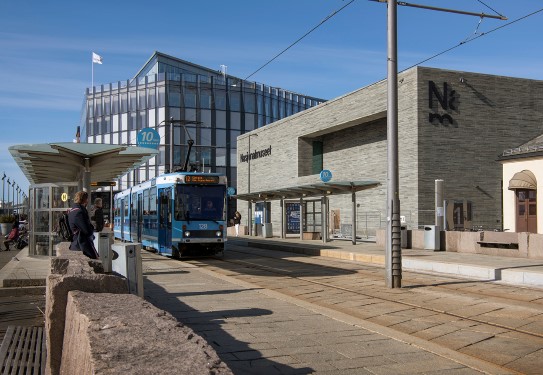 Visitor regulations
Bags under A4 in size may be brought into the exhibition spaces if controlled by security staff. If you do not wish for the bag to be controlled, or if it is larger than A4 in size, it must be placed in the lockers in the cloakrooms on floor -1. The same applies to umbrellas and similar objects.
Jackets must also be placed in the lockers.
Liquids and food may not be brought into the exhibition spaces. Refreshments can be bought and enjoyed in the Lounge on floor 2, in addition to the cafe on floor 1.
E-bike batteries may not be brought into the museum due to the fire safety risk of lithium-ion batteries.
You can use your own stroller in the museum, but strollers larger than 100 cm long and 75 cm wide must be parked in the wardrobe. You may be asked to switch to one of the museum's rental strollers. Ask a museum host for assistance. Due to security reasons, the contents of bags and strollers may also be checked by security staff.
You may not touch the art unless permission is given. Markers in front of the artworks help you keep a proper distance.
Before coming to the museum
Arrival
In addition to the main entrance at Brynjulf Bulls plass 3, there is a separate entrance to the library at Dronning Mauds gate 3, and to the café and shop from the museum plaza on the 1st floor.
There are four parking spaces for visitors with disabilities in Dokkveien, on the side of the museum facing Aker Brygge. There are no other parking spaces available for motorized vehicles.
Tickets are scanned at the entrances to exhibitions.
You will find toilets and cloakrooms in the basement at level -1. There are also toilets within the exhibition areas on all three floors. Ask a member of staff if you need help.
Accessibility in the new National Museum