The prints and drawings study room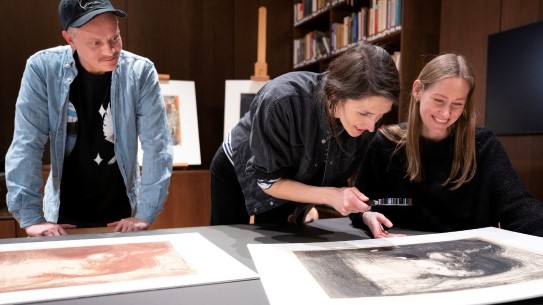 In the new National Museum you can once more get close to the art works in the study room.
The National Museum's collection of prints and drawings covers over 500 years of art history and about 50, 000 works of art. The collection represents a variety of works on paper, such as woodcuts by Albrecht Dürer, etchings by Francisco de Goya, costume studies by Adolph Tidemand, watercolor paintings by Charlotte Wankel, drawings by Ane Mette Hol and lithographs by Britta Marakatt-Labba.
Individuals and groups are invited to make appointments to view works on paper by choice in the study room.  Before making an appointment, visitors are encouraged to consult the collection online, which will be continuously updated.
We accept individual visitors by appointment from 16 August 2022. Groups can arrange visits from October 2022. The opening hours will be Tuesday, Wednesday and Thursday from 10–16.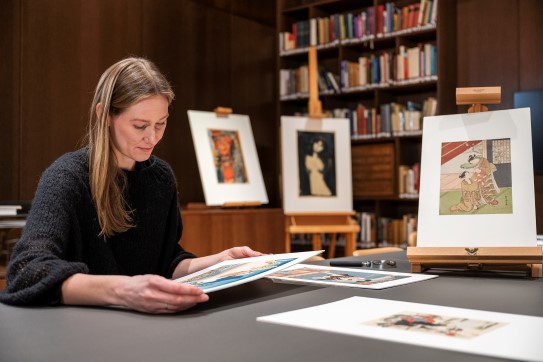 Curious about the study room?
Not sure what to look for or just curious? Every Wednesday from 17 August, the study room well be open between 12 and 14 for anyone who would like to see works on paper from the collection or learn more about the study room. 
Pop-up
One Thursday every month from September 2022, the doors will be open between 14 and 16 for small pop-up exhibitions. The study room will show a selection from the collection based on contemporary topics and different art historical themes. Stay tuned to the National Museum's websites and social media for updates.
Feel free to send us an e-mail if you have any questions about the study room or art on paper in the National Museum.
Contact us by e-mail:
Studiesalen.grafikkogtegning@nasjonalmuseet.no