Bridging the Gap – Synergies between art history and conservation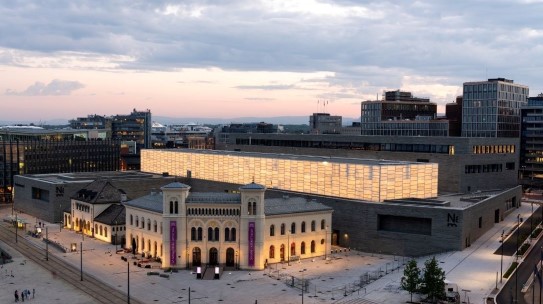 "Bridging the gap – Synergies between art history and conservation" aims to bring forth new research in conservation and conservation science by highlighting the benefits of multidisciplinary research.
The conference is divided into three sessions: "Conservation narratives and practices", "Material practices, reconstructions and archival research" and "Material changes".

For more information see our Call for papers. 
The conference program is available via this link. 
The conference is organized with the museum's collaborators: the University of Amsterdam, the University of Oslo, and the Cultural Heritage Agency of the Netherlands.
It will be possible to register for the conference from 16.00 to 19.45 on Wednesday 22 November, with the entrance to the museum's library at Dronning Mauds gate 2. After registration, you will be able to enjoy the exhibits at the National Museum until closing time at 20.00.
There will be a reception after the sessions on Thursday 23 November at the museum with refreshments and tapas.
When the sessions conclude on Friday 24 November, participants have the option to join an exclusive, guided tour with a curator and conservator from the National Museum. The tour groups will be made up of 20 participants each, with registration upon arrival for the conference being first come, first served.
Prices for attendance at the conference*:
Ordinary price: 1850 NOK / approx. €156
Student price: 950 NOK / approx. €80
The conference fee includes:
Participation in all three sessions, to be held in the National Museum's Auditorium
Lunch for both days
Entrance to poster sessions
Entrance to the exhibition from Wednesday 22 November 16.00 and Sunday 26. November. You can pick up your free ticket with your conference badge at reception.
Reception after the sessions on Thursday (attendees must be at least 18 or older) 
Free guided tours after the sessions on Friday with a curator and a conservator from the National Museum. See program. Registration for the guided tours is possible when registering at the museum. First, come – first served.
If you cannot make it to Oslo, it is possible to participate on the live streaming. To access the live streaming, you must purchase either one or both tickets separately. The streaming will be available through the access link for one week after the event.
Prices for digital attendance:
Thursday 23 November: 250 NOK / €21 Click here
Friday 24 November: 250 NOK / €21 Click here

* All physical attendees at the conference must accept that they might be filmed, or their voice might be heard on the streaming link. The recording is only available to paying, digital attendees, and will be deleted one week after the conference.