Text by Anita Rebolledo, Curator Learning
Several of Ryggen's works were direct reactions to political events that occurred in her lifetime. An example is Fishing in the Sea of Debt from 1933. The work addresses the harsh living conditions in Norway after the Great Depression hit in the 1930s.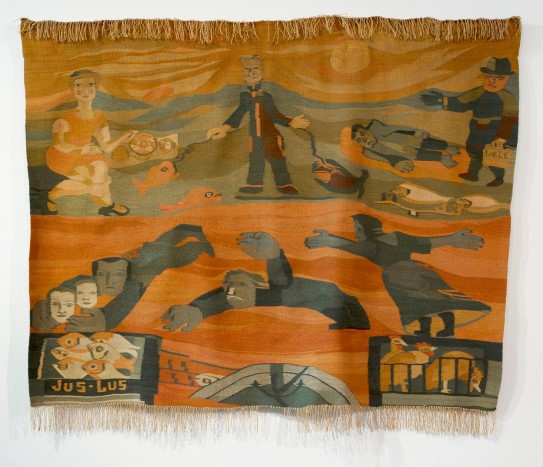 Ryggen grew up in a working class community in Malmö, Sweden, and trained as a teacher. She taught during the day, and took evening classes in drawing and painting with the artist Fredrik Krebs at the technical college in Lund.
On a study trip to Dresden, she met her future husband, the artist Hans Ryggen. The young couple moved to Norway, to Ørlandet in Trøndelag County.
Hannah Ryggen
Born 21 March 1894 in Malmö, Sweden.
One of the leading textile artists in Norway.
The National Museum has 17 of her works in its collection.
Died 2 February 1970 in Trondheim.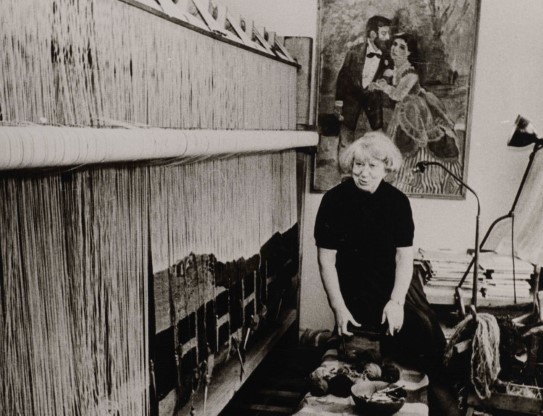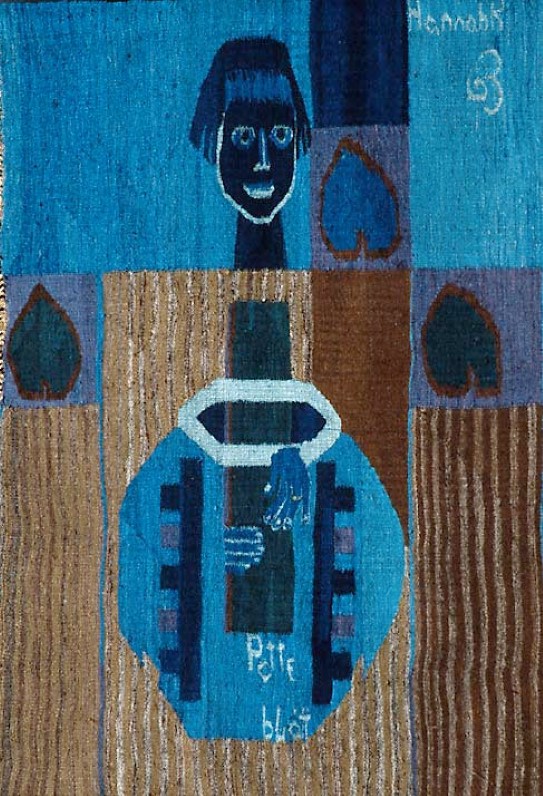 Pot blue
Ryggen was self-taught in weaving technique and choice of materials. She often took control of the entire artistic process: carding, spinning and dying the yarn herself. With wool coloured with plant dyes, and with current political themes, she helped elevate tapestries from a handicraft to fine art.
Pot blue, also known as "pee blue", became the main colour of her tapestries and stood for the positive aspects of life, longing and dreams. Her love for this colour is reflected in, among other things, the self-portrait Pot Blue. 
She used urine to create the beautiful blue colour in the yarn, so the "pee bucket" always stood ready for her guests.
Activist works
The struggle against war, fascism and social injustice characterised Ryggen's works in the 1930s. Two of Ryggen's best-known tapestries in the National Museum's collection originate from the Spanish Civil War: Horror and  Spain. In Horror she portrayed the civil war's gruesome bombing of cities, with the civilian population as targets.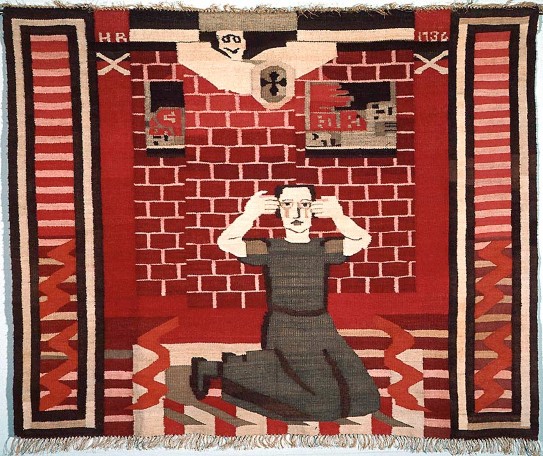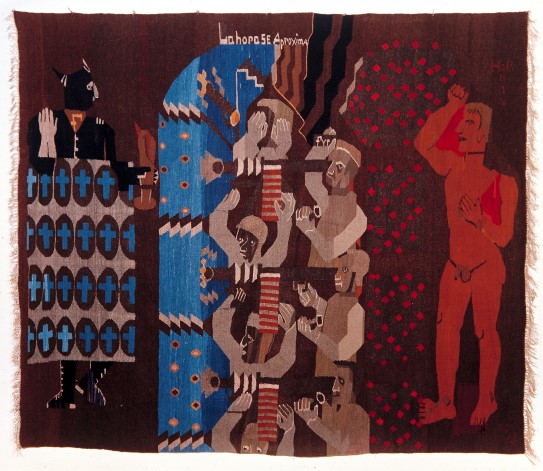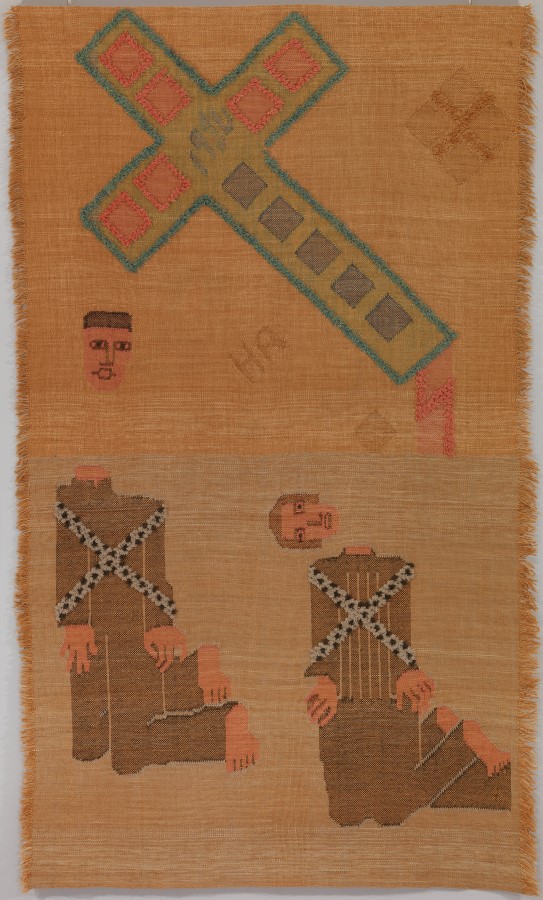 When the war came to Norway in 1940, Ryggen was personally impacted when her husband was arrested and sent to Grini prison camp. This forms the theme of the tapestry Grini. During the war years, Ryggen wove several tapestries in which she protested against the abuse of power by the Germans and honoured Norwegians who died for freedom.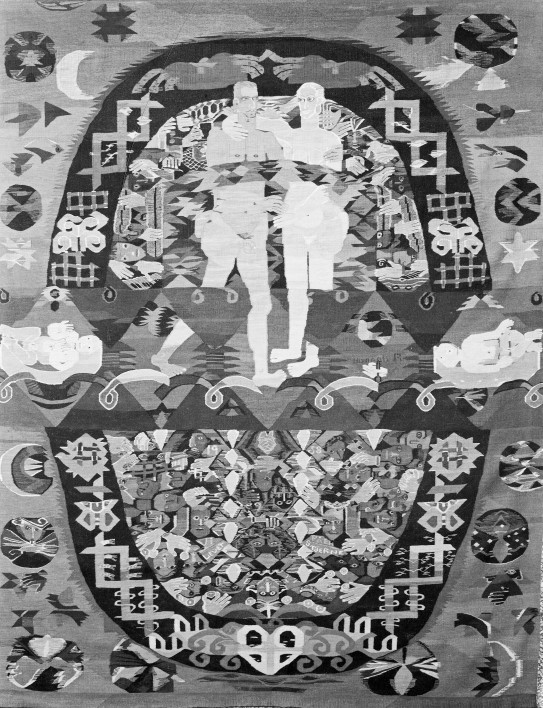 Eternal activist
In 1958, Ryggen was commissioned to create a work for Erling Viksjø's new government building, H-block (Høyblokka) in Oslo. The result was the large-scale tapestry We live on a star. The naked couple and children symbolise life's eternal renewal.
Just over 50 years after the tapestry was unveiled in H-block, it became relevant once again when Norway was subjected to a terrorist attack by a Norwegian with fascist and Nazi ideology, ideas against which Ryggen fought in her artistic work.
Ryggen was a rebel and a peace activist her entire life. Even after her death, her works continue to inspire us to stand together and fight injustice, abuse of power and human humiliation. You can experience several of Ryggen's artworks in the collection exhibition at the National Museum.