Text by curator Cynthia Osiecki and collections assistant Eilif Salemonsen
The portrait of this young man appears to be a detailed and realistic depiction. He is staring right past the viewer. The work is dated 1841. Who was the young man? Where did Adolph Tidemand paint his portrait?
The quest for the answer to this question will take us on a long journey. And as we attempt to reconstruct who was painted and where, we will learn more about what it was like to be black in 19th-century Europe. The monochrome background and the simple white shirt give us no clues as to the young man's identity. Thus, we first must look at the artist behind the painting and at his whereabouts at the time it was painted.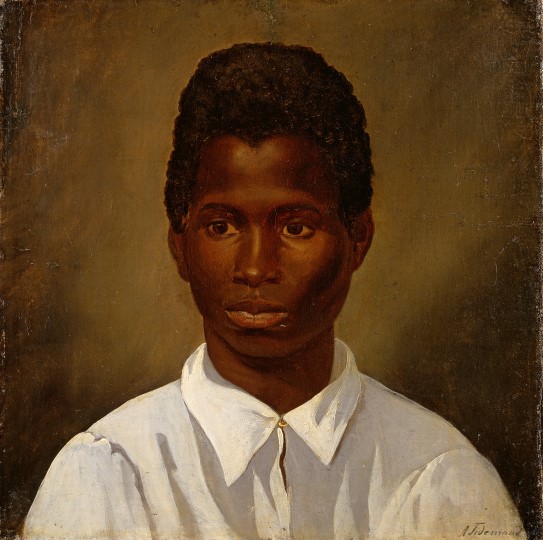 The genre painter Tidemand
Adolph Tidemand was born in 1814, the same year that Norway received its constitution, and his art is an expression of the young nation's growing self-awareness in the 19th century. Today Tidemand remains the most important genre painter in the Norwegian tradition, and with his art he presented Norwegian rural culture to Norwegian and international audiences. His best known work is Brudeferd i Hardanger (Bridal Procession on the Hardangerfjord) from 1848, which he painted with his friend, the landscape painter Hans Gude. His other important works include Haugianerne (The Haugeans, or Low Church Devotion), also painted in 1848, and Bjørnejegerens hjemkomst (The Return of the Bear Hunter) from 1862. 
Already as a child, Tidemand showed an interest in drawing, and in 1832, aged 18, he travelled to Copenhagen to study history painting. More specifically, his intention was to devote himself to the depiction of important scenes from the nation's history. It was only later, during a study trip to Norway in 1843, that Tidemand decided to devote himself to the depiction of life in rural Norway. He was still committed to becoming a history painter when he completed his studies in Copenhagen in 1837, though it was not decided where he was to continue his studies. In those days it was common for Danish artists to take their first trip abroad to Munich, and then to Rome, but Tidemand decided instead to continue his studies in Düsseldorf.
An encounter with a Polish-Jewish man who had sat as a model for him in 1837 was an important factor in Tidemand's decision to travel to Düsseldorf. When the man sat for Tidemand, he told him about important Düsseldorf artists he had modelled for, and not least about the exciting artistic life in the city on the Rhine River. Before Tidemand had finished painting the man's head, writes Tidemand's biographer Lorentz Dietrichson, Munich had been replaced by Düsseldorf on the itinerary.
Dietrichson attaches great importance to this meeting, and asks himself the following question: "Who can measure the extent of the significance that Jew had, not only for Tidemand, but for the entire direction of Norwegian and Swedish art for two decades?" Tidemand's encounter with this man has not been emphasised in later art history literature, but it is worth noting, because it says something important about the international and multicultural environment Tidemand would join in Düsseldorf.
Tidemand's first breakthrough came in the spring of 1841. In the master class at the Düsseldorf Academy, he completed his first major historical composition, Gustav Vasa som taler til Dalkarene i Mora kirke (Gustav Vasa Speaks to the People of Dalarna in Mora Church). The painting was purchased by the important Rhineland art association, and the money from the sale helped enable Tidemand to embark on a study trip to Munich and Rome in the summer of 1841. Finally, the aspiring history painter would get to see the new monumental history paintings in Munich and, not least, the works of Raphael and other old masters in Italy. 
Adolph Tidemand set out on the journey southward on 8 June 1841. Travelling to Munich along the Rhine by steamship and horse and carriage, he visited many sights, cities, towns and artists along the way. Almost three and a half months later, on 21 October, Tidemand arrived in Italy. It was clear from the lengthy trip southward and all the detours he had made along the way, that it was the journey itself and the people he met that were the prime reason for making the journey.
More than a quick sketch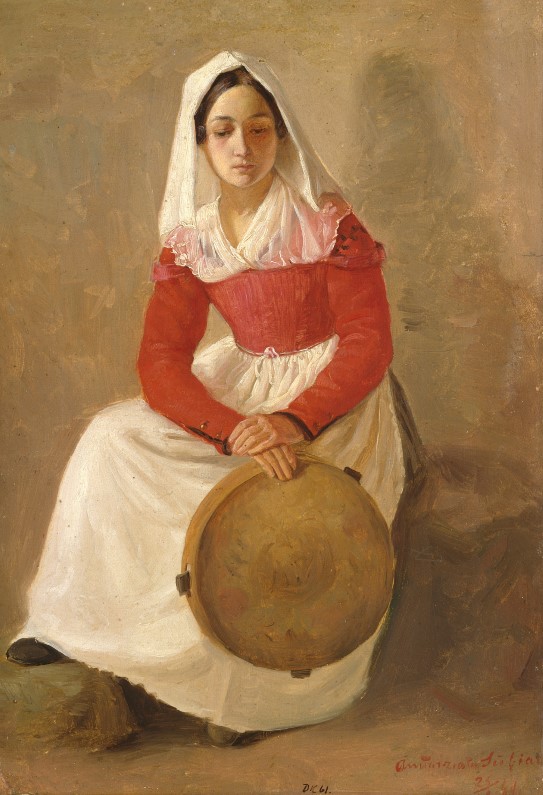 In 2003 it was suggested that this painting of the young man may have been painted on the steamship Constitutionen, which sailed from Oslo to Kristiansand. But since Tidemand was actually in Norway in 1841, this could not have been the case. Tidemand did not return to Norway until September 1842. More recently, in 2019, it was claimed that the work was one of the first the artist painted while living in Rome. This is another assertion that cannot be verified, since no mention of the painting has been found by himself or by any of his contemporaries. It is not known where the painting was kept between 1841 and 1925, but in 1925 the National Gallery bought the work for its collection.
The painting is not mentioned in the book Adolph Tidemand: hans Liv og hans Værker from 1878 by the Norwegian art historian Lorentz Dietrichson. This is peculiar, given that Tidemand died only two years before the book was published and that Dietrichson was well acquainted with Tidemand's works in Norway, including the ones in private collections. It might indicate that the painting was located abroad at the time.
It is not unlikely that Tidemand met the young man, either on a steamship while heading southward, or in Rome. The finished state of the work and its execution in oil on canvas suggest it was more than just a quick sketch made on a ship. It is a fully completed painting, which means he took the time to paint it. It was more than just a quick sketch done with paper and pencil, and was most likely painted in a place where he spent more time, such as in Rome. But it cannot be ruled out he sketched the portrait along the way and then painted it at a later time. The National Museum's collection holds one more finished sketch painted with oil, but on paper instead of canvas. It is a portrait of a woman named Anunziata, painted on 25 November 1841.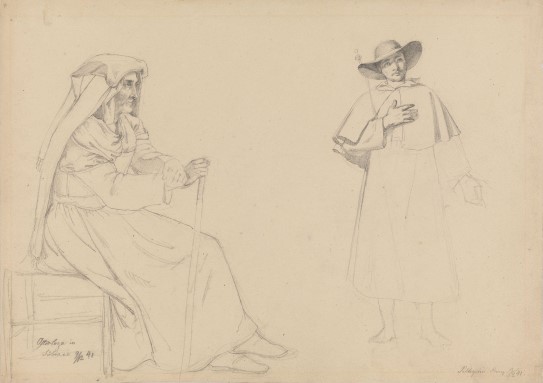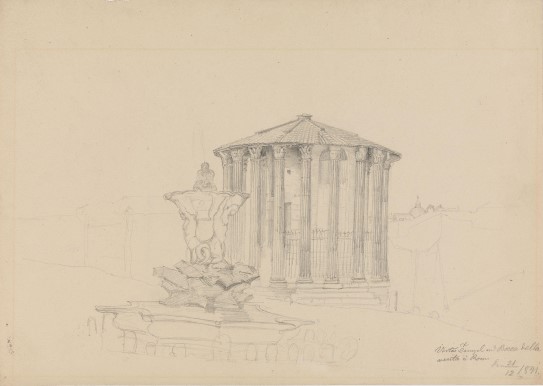 We know of several sketches make in 1841, especially from when Tidemand arrived in Rome. He sketches Roman sights such as the Temple of Hercules Invictus (wrongly identified by Tidemand as the Vesta Temple) and people in noteworthy dress. Some of these drawings are dated precisely.
As the journey southward took several months, no definitive conclusions can be drawn about where the painting was painted. The black community in Europe was not large, but by the 18th century several thousand were living in France and in the Low Countries, and several hundred were spread throughout Scandinavia, Germany and Russia. In Europe, meeting a black person was not as rare an event as many might believe. It is a myth to say that Europe was once a purely white society; the black community was very diverse, and its members could be born in Europe or come from colonialized areas in Africa, Latin America or North America.
Pilgrims in Rome
Since the Catholic mission was active in many colonial areas in Africa during the 19th century, some of the clerics and pilgrims who came to Rome were black. The Ethiopian church, one of the oldest Christian communities in the world, had its own church and monastery in Vatican City. The church, St Stephen of the Abyssinians, still stands today, and remains one of the official state churches of Ethiopia in Rome.
Depictions of black people in the 19th century
Tidemand was probably interested in painting the young man because of his skin colour. Black people were an object of fascination in western European art for a long time. On the surface this portrait seems realistic, beautiful, romantic and alluring. This work is not a stereotypical depiction of a young black man, but it stands out in a nineteenth-century context where stereotyped images of black people were the standard, with exaggerated facial features: broad nose, full red lips and pronounced forehead. Black models were depicted in submissive roles, or as savages or sexualized beings. Black people in servile roles are overrepresented in early modern European painting.
By the 18th century it was a sign of fashion and wealth to have a black servant in your entourage. They were 'employed', but more often than not unpaid for their service and thus basically enslaved. A young servant is depicted in a work by the Dutch painter Jan van Bijlert in the National Museum's collection.
The Portrait of a Young Man raises more questions than answers. We have not yet managed to identify the young man who modelled for the painting. From archives we know a lot about people in public roles such as politicians and about people high up on the social ladder, but we know very little about ordinary people with ordinary jobs in the 19th century. For now, the identity of the young man remains shrouded in mystery, but some time in the future we may discover his name and where Tidemand met him. Then we would be able to tell his story.
The continued search for an answer is a step in recognizing that we can tell different stories with the works in the collection. The dominant narrative of 'Norwegianness', often told with Tidemand's works of art, is misleading; during his career as a painter he was more than an artist who studied Norwegians.
This portrait helps us question national and colonial heritage and teaches us to tell stories about Europeans that do not fit into the white narrative written by historians of the past. By placing these works at the centre of our attention and learning how to talk about them, we will learn more about people and stories that have been kept in the shadows.
The portrait is exhibited in room 45 in the Collection at The National Museum.
Sources:
David Bindman and Henry Louis Gates, Jr. (ed.)., The Image of the Black in Western Art, Volume IV: From the American Revolution to World War I, Part 1: Slaves and Liberators — Part 2: Black Models and White Myths, Boston 2012
Mischa Honeck, Martin Klimke, Anne Kuhlmann (ed.), Germany and the Black Diaspora: Points of Contact, 1250-1914, Brooklyn New York 2013.
Adrienne L. Child and Susan H. Libby (ed.), Blacks and Blackness in European Art of the Long Nineteenth Century, Farnham & Burlington 2014
Elmer Kolfin and Epco Runia (ed.), Black in Rembrandt's time, Zwolle 2020
Olivette Otele, African Europeans: An Untold History, London 2020
Frode Ernst Haverkamp and Marit Ingeborg Lange (red.), Der aander en tindrende Sommerluft varmt over Hardangerfjords Vande...... , Oslo 2003: https://www.nb.no/nbsok/nb/90a1425ba7f3b2508a405e39d9e27268?lang=no#0
Jan Askeland. Adolph Tidemand og hans tid. Oslo: Aschehoug, 1991: https://www.nb.no/items/bdfce9051516469287e29b92b255a8a0?page=0&searchText=askeland%20tidemand
Lorentz Dietrichson. Adolph Tidemand: hans Liv og hans Værker. Et bidrag til den norske Kunsts Historie I. Tidemands Ungdomsliv (1814–1850). Christiania: Chr. Tønsbergs Forlag, 1878: https://www.nb.no/items/5345cdc7a6d76ea47f14cb763aba5aea?page=215&searchText=dietrichson%20%22hin%20j%C3%B8de%22
Tone Klev Furnes. Adolph Tidemand : 1814–1876 : - at fastholde, hvad endnu bestaar. Oslo: Dreyers forlag, 2019: https://www.nb.no/items/5126681ffff872d57789582fc76fe951?page=0&searchText=furnes%20tidemand