Guided tours in the National Museum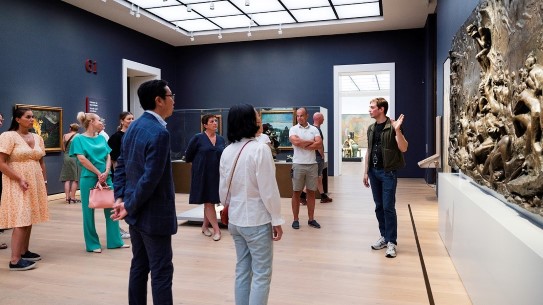 In the period up to 1 September, there will be no guided tours under the auspices of the museum or the opportunity for external people to hold guided tours of the new National Museum.
From mid-August, you can book guided tours through our booking office. Guided tours in the new National Museum will start on 1 September.
Tourist groups must make use of the National Museum tour guides after 1 September or download the National Museum's Museum guide and let the group explore the Collection through the app. You can choose from several audio guide routes or create your own.
In the new National Museum there will be guided tours for everyone. Whether you want to become a little wiser about the relevance of art, architecture and design today, or want to dive deeper with one of the museum's experts. The guided tours start on 1 September, 2022.
Among other, you will be able to join in on these tours this autumn...
Curious about the Collection…
Get to know parts of the Collection through meetings with selected works of art and objects.
Curious about the new museum…
Join an architectural walk through the museum and get to know a selection of exhibition rooms and spaces for activities and breaks.
Curious about the temporary exhibitions…
Join a tour of the museum's temporary exhibitions.