Katherine Fairfax Wright & Malika Zouhali-Worrall: "Call Me Kuchu"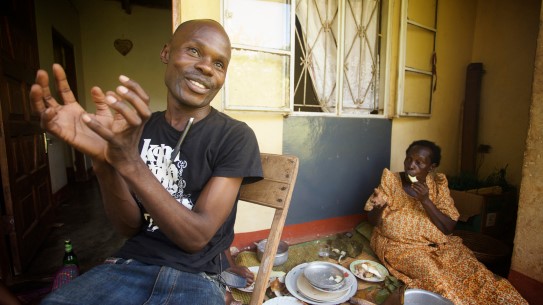 The documentary film Call Me Kuchu (2012) gives a unique insight into what it's like to live as a queer in a country where homophobia is widespread.
The film will be screened in the auditorium of the new National Museum at Brynjulf Bulls plass.
Shot in Uganda, Call Me Kuchu follows the activist David Kato, who is fighting a new bill that threatens homosexuals with the death penalty. The film illustrates how common homophobia is in Uganda and the intensely negative attitudes towards gays, lesbians, bi and transsexuals, so-called "kuchus", typical of the news media. Some sequences were shot in Uganda's first lesbian club, Sappho Islands.
The screening is part of the supplementary programme for the exhibition Coming into Community. For this exhibition, the Swedish art and architecture collective MYCKET has taken inspiration from queer nightclubs, creating, among other things, a tribute to Sappho Islands. Coming into Community is part of the Oslo Architecture Triennale and Queer Culture Year 2022.
Technical details
Title: Call Me Kuchu
Year: 2012
Director: Katherine Fairfax Wright and Malika Zouhali-Worrall
Duration: 1 hr 25 mins
Language: English