Remaking and Re-Viewing: Cy Twombly's Sculpture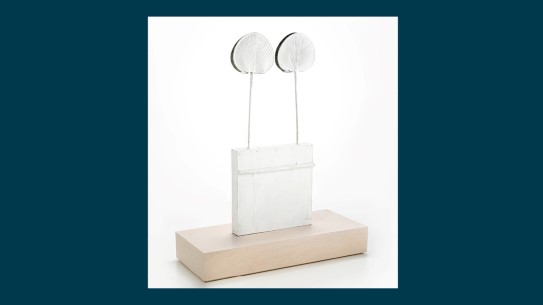 The event is not ticketed. Due to limited seating available, please show up early.
Cy Twombly (1928–2011) remains better known today as a painter than as a sculptor, but he made intimately scaled assemblages—and later, bronze casts of them—on and off for more than six decades.
These sculptures can illuminate Twombly's own broader, multi-media practice, as well as longer histories of how and why certain materials, certain forms, and certain narratives circulate. This talk will trace the many lives of one Twombly sculptures, Untitled (Funerary Box for a Lime Green Python), the title and composition of which haunted the artist from its inception in 1954 to its final bronze casting in 2002. Importantly, the last iteration of this sculpture is now seen anew at the National Museum, installed among a wide range of works by others that together raise a running list of questions about color, surface, materiality, and perception.
Kate Nesin is an art historian, curator, and writer. From 2013 to 2017, she served as associate curator of contemporary art at the Art Institute of Chicago, where she organized exhibitions with Helena Almeida, Lucy McKenzie, Frances Stark, and Kemang Wa Lehulere, among others. Until 2022 she was a guest curator at the Museum of Fine Arts, Boston, collaborating on the traveling survey "Philip Guston Now" and advising the team for "Cy Twombly: Making Past Present". Kate's recent publications include texts on Donald Moffett, Sara Greenberger Rafferty, Jessi Reaves, and Nairy Baghramian. Her book on Twombly's sculptures, "Cy Twombly's Things", was produced by Yale University Press in 2014.
The talk is part of the event program concurrent to the exhibitions in The Pillars, where Cy Twombly's Untitled (Funerary Box for a Lime Green Python) is on view along with art with works by Bruce Nauman, Olafur Eliasson, Ruth Asawa, Robert Longo and others.
The Pillars exhibitions and event program is generously supported by the Fredriksen Partnership.