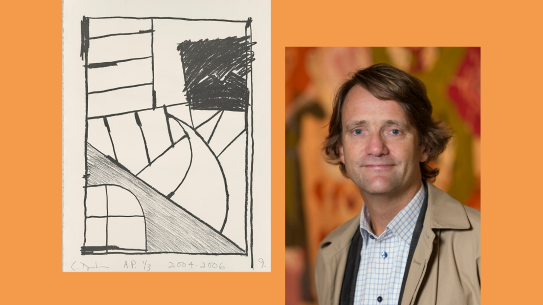 Join us, as we examine the American artist Carroll Dunham's prints in light of the renewed interest in the print medium in the United States, from the 1960s until today!
This is a lecture by art historian and curator at the National Museum, Øystein Ustvedt, about the major wave of printmaking in the United States from Jasper Johns and Helen Frankenthaler to Carroll Dunham and Tauba Auerbach, as part of the exhibition "Carroll Dunham. Where am I? Prints 1985–2022", on display at the National Museum 3 February–21 May 2023. The exhibition shows a selection of works recently gifted by the artist to the museum.
Dunham had his big break through as an artist in New York in the early 1980s, and is internationally renowned for his paintings, drawings and prints. Dunham's work contain references to art history, popular culture and personal experiences, and show a wide range of styles, motifs, themes and techniques.
Øystein Ustvedt has worked extensively with American graphics and previously curated the exhibition "The Great Graphic Boom", at the National Gallery in 2017. The exhibition examined how interest in prints in the United States flourished after the Second World War.